In the mainstream and high end motherboard markets, there seems to be an "arms race" between the various manufacturers; each stuffing as many integrated peripherals and features into its products as possible. Consumers are definitely benefitting, motherboards these days come with almost every features you can think of, and ample expansion space on top of that.
While most of the attention has been spent on physical attributes, a few manufacturers like Foxconn are moving beyond the hardware and into software features. Overclocking is big business now and a strong software overclocking/tweaking utility can help win over users. After all, who wouldn't love the ability to tweak their computer settings while from the comfort of the Windows desktop?
Foxconn has made a pretty big splash in the retail market with its motherboards and videocards, and the company is considered a top tier manufacturer (in terms of quality) with the likes of Asus, MSI and Gigabyte. The Foxconn MARS motherboard certainly looks like a great enthusiast friendly motherboard, particularly because it's based on Intel's hot P35 Express and ICH9R chipsets.
With a retail price of $187 CDN ($190 US, £92 GBP), Foxconn is targeting high end users with the MARS motherboard. In terms of integrated goodies, the motherboard has a Gigabit network card, two IEEE 1394a ports, onboard 7.1 channel high definition Azalia audio codec, six Serial ATA II ports (with RAID 0,1,5,10) along with an eSATA jack and twelve USB 2.0 (six on the rear I/O, six headers).
In terms of expansion the Foxconn MARS motherboard offers up two PCI Express x16 slots for videocards, two PCI Express x1 and three 32 bit PCI slots. This Intel P35 Express based motherboard will support all current Intel Pentium 4/D/XE and Core 2 Duo/Quad processors running on an 800/1066/1333 MHz FSB. The four DDR2 memory slots will accommodate a maximum of 8GB of DDR2-667/800/1066 memory. The Mars platform supports Windows Vista and the next-generation 45nm Intel multi-core processor.

Foxconn MARS Motherboard




Includes:
User's Manual, Driver CD, 6x Serial ATA cables, 6x Molex to Serial ATA Power Cables, Ultra/133 IDE Cable, Floppy Cable, USB/IEEE 1394a Bracket I/O Shield, 5x Foxconn Stickers, Dog Tags
Accessories of importance include a two-port 1394 bracket, six sets of SATA data/power cables and a dog tag. Yup. It seems once you go Foxconn, you're part of its quantum-force.net team!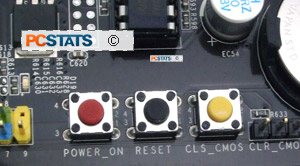 The Foxconn MARS motherboard is fancy, and it's hard to miss the very elaborate chipset and MOSFET cooling systems. The big Intel P35 Express chipset heatsink jumps out of the center of the Mars motherboard like a hulking V8 engine block! Despite the theatrics, the Foxconn Mars is well laid out and on-board components are organized. We're particularly happy with the six USB 2.0 ports and eSATA port at the rear of the board. The six additional USB2.0 headers will accommodate front panel case connectors and things of that nature. There is one IEEE 1394a port on the rear I/O, and the other is available by the Firewire bracket.
Installation and Set Up
The Foxconn MARS motherboard comes with a few special measures for desktop tweakers, so if you like to run computers without cases, you'll find the power, reset and clear CMOS buttons within fingertip reach. If the Clear CMOS button doesn't work for some reason, there is a set of jumpers next to the battery.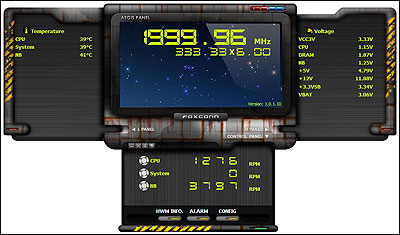 Alongside the driver CD, Foxconn include an Intel Matrix storage manager floppy diskette. This is useful if you're installing Windows and need that driver. In typical Foxconn fashion, the User's Manual is well written, clearly documenting how to set up the motherboard physically, tweak the BIOS, install the software and create a RAID array.
In terms of custom software, Foxconn bundle in a program called the "Aegis Panel" What this does is display CPU speed, system temperatures, fans speeds and voltages. By the look of it, you'd think the Aegis Panel would also allow you to overclock the PC from the desktop, but sadly the software is a rather clunky display, and that's about it. From the hype, we would have thought this program did a lot more, but alas it does not.
Intel P35 Express and ICH9R Chipsets

PCSTATS has talked a lot about the features of the Foxconn Mars motherboard, so let's quickly go over the Intel P35 Express before seeing some more of this enthusiasts motherboard in the highlights section.
The P35 Express handles all LGA775 processors running on 800/1066/1333 MHz Front Side bus (theoretical 10.6GB/s bandwidth), so it is ideally suited towards Intel's 45nm "Penryn" CPU. Alongside it is Intel's ICH9R southbridge, which supports RAID via Intel's Matrix storage technology.
Intel also modified the memory controller in the P35 Express, boosting DDR2 memory support to 1066 MHz and consequently increasing maximum theoretical bandwidth to 17GB/s (in a dual channel DDR3 configuration).
These changes are all incremental, the most significant improvement in the P35 Express chipset has been the inclusion of DDR3 RAM support. Intel P35 Express motherboards can support either DDR3 or DDR2. The Foxconn MARS is a DDR2 RAM platform, so it is not compatible with DDR3 (yes, we're stating the obvious folks).
By default the Intel P35 Express chipset handles a single 8GB/s PCI Express x16 videocards with 16 PCI Express lanes devoted to it.
However, on the Foxconn MARS you'll find two physical videocard slots (one red, one blue). There are six PCI Express lanes associated with the ICH9R Southbridge and four of them can be used for a secondary graphics card, thus a second PCI Express x16 slot. It's not as ideal a solution as two videocards receiving a full 16 or 8 PCI Express lanes each, but in this case a dual videocard Crossfire set up will see 16/4 PCI Express lanes respectively - and that will at least get you into the game with dual graphics cards.
Up next, a closer look at the highlights of the Foxconn Mars motherboard, and then it's straight into overclocking!