Compared to the rest of the computer industry, hard drive technology has moved at glacial speeds. Sure storage capacity and bandwidth have continually increased, but the fundamental design of desktop hard drive has remained the same now as it was 20+ years ago. Data is stored in 1's and 0's on spinning platters which are accessed by magnetic read/write heads. Through the years platter density and RPM has increased, and the data interface has shifted from parallel to serial, but these have all been evolutionary steps.
Whether you're ready or not, the solid state drive revolution is here. Hard drives, the last bastion of incredibly complex mechanical devices inside the computer are going solid state - that means no moving parts, no sound, and better power efficiency.
Prior to the emergence of Solid State Drives, a few Hard Drive manufacturers were toying with the idea of adding a large memory cache onto conventional hard drives. The idea was to improve performance by caching frequently accessed data, but even these "hybrid" hard drives are obsolete now. The benefits of a solid state drive will first hit the notebook markets, where shock and reliability, lower power consumption and an acceptance of higher costs from consumers makes an ideal ground for the introduction of Solid State Drives (SSD). From there, SSDs will eventually drop in price to the point where the desktop computer market embraces them. For the time being though, SSDs are limited to capacities of 32GB, 64GB, 128GB and at most 256GB. An adequate capacity range for notebooks and portable computers, but not quite big enough for the average desktop computer these days.
Along with the small range in capacities, SSDs are being sold in a range of sizes; 1.8" and 2.5" for new and legacy notebooks, and 2.5" for desktop environments. The drives come in both IDE and Serial ATA flavours on all fronts, and virtually every hard drive manufacturer has models out now, or is planing to release them soon.
In the race to deliver to deliver large capacity 2.5" Solid State Drives, Supertalent has already introduced and commercially released its products. Available in the range of sizes and capacities we mentioned, PCSTATS is pleased to have had the chance to test out Supertalent's latest 2.5" Serial ATA 128GB Solid State Drive - the Supertalent FSD28GC25M. The price for this SATA SSD is around $4,000 USD.

| | | |
| --- | --- | --- |
| | SuperTalent FSD28GC25M 128GB Solid State Drive | |
| | | |
The Supertalent FSD28GC25M is capable of a sequential read speed of at least 60MB/s, a sequential write of 45MB/s and access times of 0.1ms. With no moving parts, the Super Talent 128GB SSD is obviously silent, it creates no vibrations and does not get warm during operation. In fact if the system didn't give it away, you wouldn't even know the Super Talent 128GB SSD was even in operation. Like any other Serial ATA drives, the Super Talent 128GB SSD is hot swapable (as long as the motherboard supports it).
Read/write cycles affect the longevity of solid state NAND flash based devices. The SuperTalent 128GB SSD obviously supports an unlimited number of read cycles, and in terms of write/erase cycles the manufacturer states its endurance is "140 years of use at 50GB write/erase cycles per day." We're not sure what number of write/erase cycles that translates into, and perhaps that's the point of quoting endurance stats like this.
Solid State drives are traditionally aimed at industrial or even military use, and as you'll see a lot of the expectations desktop users have around solid state anything... do not necessarily hold up. We'll expend on that shortly, first let's see some more specs.
SSD Specifications
The 128GB Super Talent FSD28GC25M SSD adheres to the 2.5" drive standard and is compatible with both desktop and notebook SATA systems. Physically the drive measures 100 x 70 x 13 mm in size, it weighs 110 grams. According to Super Talent, the 128GB FSD28GC25M SSD has a sequential read speed of at least 60MB/s, a sequential write of 45MB/s, a sequential read IOPS of 58,675 IOPS and access time is rated at 0.1ms.

One specification that really separates the Super Talent SSD from other hard drives is its shock values. A hard drive like the WD Raptor can handle 65Gs of operating (read) shock and 250Gs of non operational shock. The Super Talent 128GB SSD can withstand 1500Gs of operating shock thanks to the absence of moving parts. The WD Raptor can handle a maximum of 3G linear vibrations, the Super Talent SSD on the other hand can withstand 16Gs without any problem.
That durability makes these kinds of SSD drives ideal for vehicle use.
Even Panasonic's famous "Toughbook" line of laptops would benefit from using a solid state drive. At the moment Panasonic places hard drives around shock absorbing material. With storage like Super Talent's 128GB FSD28GC25M SSD, the drive has gone from being the weakest point in the system to one of the strongest.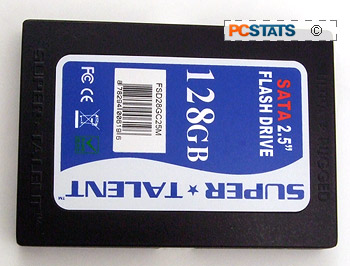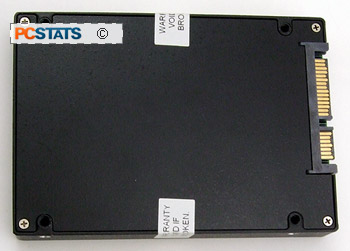 The Super Talent 128GB FSD28GC25M SSD withstands more adverse environmental conditions than standard hard drives. Again going back to the Western Digital Raptor (itself a durable HDD), it can operate in temperatures between 5-55 degrees Celsius. The SSD can run reliably in a temperature range between 0-70 degrees Celsius!
Next up, benchmarks.