Every generation or two, motherboard manufacturers come up with a new way of surprising consumers. Mainstream acceptance of overclocking, enthusiast software utilities, an abundance of LED lighting and complex cooling systems - you name it, its been done. Good games are starting to make their way into motherboard software packages, a treat that used to be reserved for super-expensive videocards.
Asus has introduced a select group of gamer friendly motherboards this past year that have generally raised the bar quite high. The company has just put forth its BLITZ line, which really goes over the top. The boards are laid out well for the kind of gear true gamers use (big fat videocards, lots of hard drives, gigantic CPU heatsinks), and come with such diverse things as an LCD peripheral display, Northbridge waterblock among others. The Asus BLITZ series is the new face of what a high end motherboard really represents.
Built on the venerable Intel P35 Express chipset, Asus has two version of the BLITZ motherboard currently available. The only difference between the two, the BLITZ Formula and BLITZ Extreme, is the memory standard supported. The Asus BLITZ Formula runs on DDR2 memory and the BLITZ Extreme on DDR3. PCSTATS will be testing out the DDR2 version in this review, the DDR3 BLITZ Extreme can be found here.
The Asus BLITZ Formula motherboard is based around Intel's P35 Express Northbridge and ICH9R Southbridge chipsets. It supports up to 8GB of DDR2 800/1066 MHz memory. The motherboard also has two integrated Gigabit network cards, two IEEE 1394a ports, 12 USB 2.0 slots, six Serial ATA II slots (RAID 0,1,5,10,JBOD), one IDE channel and supports AMD CrossFire technology too. Asus bundle a mountain of accessories, including a SupremeFX 11 8-channel audio card and software like a full version of 3DMark06 (good for the benchmark freaks out there) and the game STALKER: Shadow of Chernobyl! For dual videocard CrossFire goodness, Asus has a special chip that splits the PCI Express bus evenly between the two physical PCI Express x16 slots, so each receives eight PCIe lanes.
The Asus BLITZ Formula works with 45nm Core 2 Duo and Core 2 Quad processors, and every other socket 775 CPU that runs on a 800/1066/1333MHz Front Side Bus. The Asus BLITZ Formula is a high end motherboard and as such comes with a high end price of $309 CDN ($297 USD, £146 GBP). Make no mistake about it, this Intel motherboard is only for those who want the absolute best.

Asus Blitz Formula Motherboard



Includes:
Driver CD's, User Manual, Ultra/133 IDE Cable, Floppy Cable, 6x Serial ATA Cables, Molex to Serial ATA Power Cables, audio card, 2x MOSFET fans, front panel IO headers, rubber stands, LCD display, tubing connnectors, USB/Firewire bracket, I/O Shield
Isn't she a beauty? Yes the Asus BLITZ Formula motherboard is certainly a looker! While the Northbridge heatsink is watercooling compatible, it's not necessary to use watercooling with this motherboard. There's plenty of space between the expansion slots so you shouldn't have any problems installing any stand alone peripherals.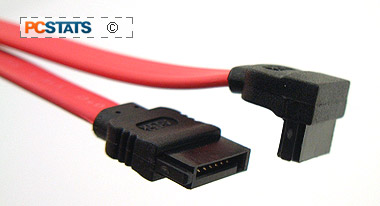 The layout of the motherboard is great, all six Serial ATA ports are placed together at the bottom right hand corner of the motherboard. There you'll also find the Parallel IDE port, three USB headers, the second IEEE 1394a slot and the power/reset buttons.
Something enthusiast users may like, there are a total of six 3 pin fan headers on the Asus BLITZ Formula motherboard. About the only thing the BLITZ Formula is missing is a Port 80 diagnostics card.
Asus did a great job with the rear I/O of the BLITZ Formula motherboard. There are six USB 2.0 slots, one IEEE 1394a and two eSATA ports, lots of connectivity which is great considering all the external peripherals available. Just a quick note though, the BLITZ Formula does not have a PS/2 port for the mouse so you'll need to get a USB mouse to use with the motherboard. Tweakers will absolutely love how Asus places a Clear CMOS button on the rear I/O, talk about making overclocking easy!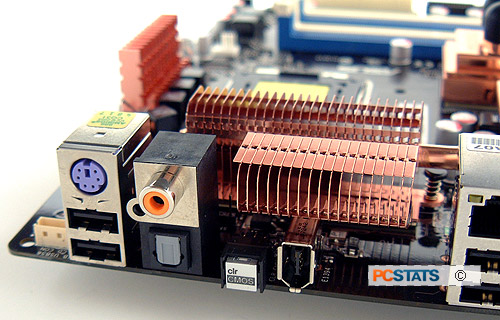 Asus place a waterblock on the Intel P35 Express Northbridge. It's not just for looks, with your own watercooling system you can hook up the motherboard using the supplied tubing connectors. If you're not already using a watercooling loop then you can get by with just air. If you are using watercooling though, connect up the Northbridge waterblock. Asus makes that easy with all the accessories that it includes. If you're going to be heavily overclocking the motherboard watercooling may help you reach those high speeds.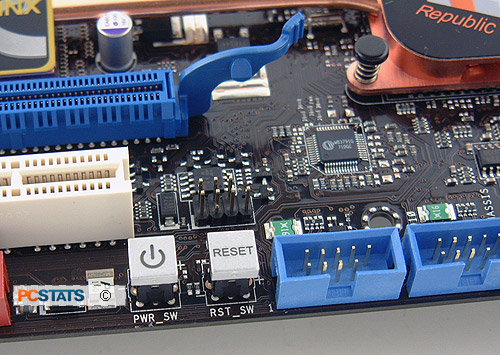 Asus bundles nine rubber pads with the motherboard and before you ask, they're for propping up the motherboard. At 1cm in height, the pads are too thick to use when installing a motherboard into case but for the enthusiast who runs their computer without a case, it's exactly what the doctor ordered. Makes setting the motherboard on top of the table or motherboard box much easier. Again for the caseless users, Asus places Power/Rest buttons on the PCB. Both buttons light up when the motherboard receives power so even in the dark you can find things.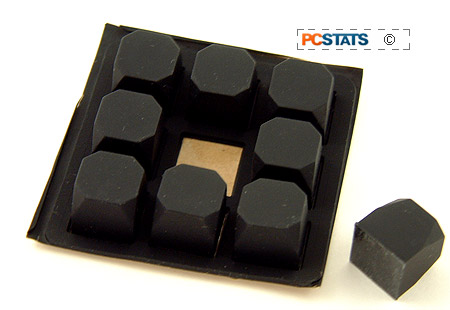 Solid Capacitors in place of the Electrolytic variety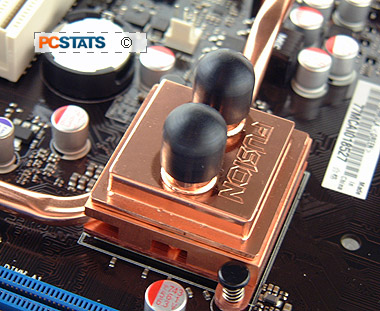 Asus have opted to use low ESR solid state polymer capacitors on the BLITZ Formula motherboard. This kind of solid capacitor has a longer lifespan than the electrolytic variety. As temperatures increase inside the computer case, the lifespan of electrolytic capacitors begins to decline. Compared to standard Electrolytic capacitors which use a fluid electrolyte, the 'all-solid' style polymer capacitor last longer under the same conditions.
A few years back there was a huge problem with motherboards suffering from burst and leaking electrolytic capacitors. This industry-wide event blossomed into a full blown epidemic, and single handily dragged ABIT's name through the mud if you recall. If you'd like to read up on the back story that led to the whole problem of burst and leaking caps, have a look at this PCSTATS article. It's a rather fascinating story of industry espionage gone awry.
The Asus BLITZ Formula uses conductive polymer aluminum solid capacitors of the kind pictured right. The solid-state Low ESR conductive polymer capacitors are housed in very distinguishable aluminum cans. Next up, PCSTATS investigates the silent chipset and motherboard cooling solutions on the ASUS' BLITZ Formula motherboard.