The easiest and most useful way of entering safe mode is to do so via the Windows Vista Advanced Boot options menu. Let's look at how to access this.
To load Safe Mode via the Advanced Boot Options Menu in Windows Vista:
Restart your computer. Depending on the hardware in your computer system, you will either get a graphical splash screen while the computer does its POST (Power On Self Test) routine, or a series of text screens.
To get into the Vista Advanced Boot Options Menu, you will need to press the 'F8' key after the POST screens disappear but before the Vista loading graphic appears. This can be tricky. To make it easier, you can start pressing F8 repeatedly while the POST screen is still displayed, but some hardware will interpret this as a request to change the default boot device (i.e. hard-drive, CD drive, floppy, etc.) and present you with a menu of choices. If this happens to you, simply select your hard disk drive from the menu then immediately begin pressing F8 again. You will be rewarded with the Vista Advanced Boot menu.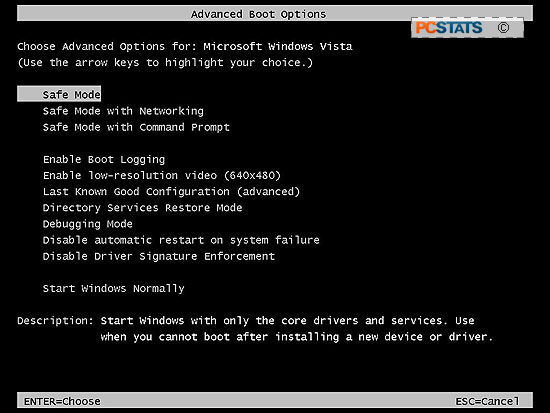 As you can see there are several choices here, but for the purposes of this article, we are only going to concern ourselves with Safe Mode. Select the version of safe mode you want from the menu and press ENTER. If in doubt, choose Safe Mode with Networking.
Repairing your computer in safe mode: Where to begin?
If your computer boots successfully in safe mode, continue reading below for a variety of techniques you can use to recover your operating system to normal working order. If your computer system fails to boot in safe mode, you either have a hardware problem or a software problem too serious to be solved with the instructions presented here. PCSTATS has an excellent guide on dealing with situations such as these, and in most cases it will help you make a crashed PC run again.
Determining if a problem is hardware or software related? Try booting with safe mode
This is the most useful function of safe mode for your professional computer technician, who may not be as concerned about the status of the operating system, but needs to know if the problem that is manifesting is due to a hardware malfunction or just a software glitch.
Generally speaking, if you can load Windows Vista in safe mode when you cannot load it normally, your hardware is not to blame for the problem. Now this does not always hold true, but at least 90% of the time, if you can load in safe mode, your computer hardware is fine.