The best time to scan for Viruses, spyware and other nasties is when the computer is in safe mode. Most of these programs, like other software, do not load in safe mode, it's a great time to remove them while they are inactive and incapable of many of the crafty survival tricks they may have been created with.
There are many effective commercial virus scanners on the market, too many to name here except to advise you to stick to well known name-brands - Symmantic is a good choice.
Interestingly, there are also a number of effective free antivirus solutions out there, like AVG, Avast! and Clamwin. It should go without saying that you should fully update these products prior to running an antivirus scan. Do the updates via the safe mode with networking, then run the scan while in safe mode.
As for anti-spyware/malware programs for Windows Vista, PCSTATS advises you to stick with Windows Defender for now, since it has proven effective thus far and is an integral part of the operating system.
To scan for spyware and malware with Windows Defender :
Open the 'start' menu and type 'defender' in the search bar. Hit ENTER. Be sure to update your definitions as prompted by using the 'check for updates now' button. Click the down arrow next to the 'scan' button and choose 'full scan'.
IMPORTANT: If either your virus scanner or Windows Defender indicates that you have a virus or spyware problem, there is one additional step you must take even if the offending virus/spyware is removed. You need to reboot in normal Windows Vista mode (assuming this is now possible) and disable the system restore feature, then run the virus/spyware scan again. The reasoning behind this is that viruses and spyware are backed up in the system restore files, and will be restored if and when system restore is used to return the computer to a previously saved point.
To disable system restore in Windows Vista (you must be in the normal Vista environment, not safe mode):
Open the 'start' menu and type 'backup'. Hit enter. In the left hand pane, click 'create a restore point or change settings.'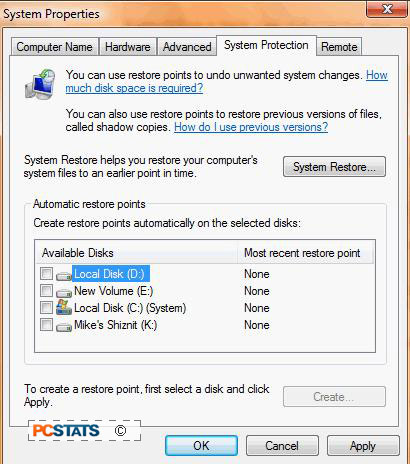 Under the 'available disks' heading, uncheck all entries. Confirm and hit 'ok'. Check and Repair system files with the System File Checker
Windows Vista includes a command line utility called the System File Checker (SFC) which can examine and repair all of your essential operating system files. If you suspect that system file corruption might be the cause of your Vista problems, it's worth giving this utility a try.
You should definitely run SFC if you have already detected and removed virus or malware programs from your computer in safe mode as detailed above. It's quite possible for these types of programs to damage or remove system files, so a run through SFC should be considered mandatory.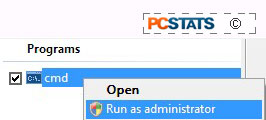 To run the Windows Vista System File Checker in safe mode:
Open the 'start' menu. Type 'cmd' in the search bar, do NOT press ENTER. Right click on the 'cmd' executable file in the search results and choose 'run as administrator'.
When the administrative command prompt window opens, type the following:
sfc /scannow
And press ENTER. Windows Vista will begin checking all essential system files and making repairs when necessary. This may take quite a while, and you may be required to insert your Windows Vista installation disk.