A few years ago LCD displays began replacing big bulky CRT monitors, and now wide screen LCDs are making those first adopted 17" and 19" LCD displays obsolete. The simple reason for this cycle of upgrades is the shift in video, gaming and television formats from Standard Definition to High Definition... not to mention the pervasiveness of purely digital content. Anyway, to really appreciate High Definition content you need a wide screen display capable of handling the resolution and picture aspect ratio.
As the places we work and the places we watch movies and other media on have converged, so too has the once basic computer monitor. Most PCs pull double duty as mini-home theatre systems for almost as much of the time they are used for genuine work, so ideally we ought to have a monitor which can fulfill both roles. This is a more affordable route than going with a separate 27"-37" LCD television next to your computer, and it makes watching video on your computer more enjoyable too.
With the adoption of High Definition Content Protecting by Windows Vista, it has also become rather important to ensure the LCD display you want is HDCP compliant. The Samsung Syncmaster 275T 27" LCD display PCSTATS is reviewing for you today, is. What that translates to in real world speak, is the ability to watch a 1080i HD movie in all its glory on the computer over a standard digital DVI monitor cable.
HDCP is a form of encryption used to control how media is played back, and most recent videocards support it. The Samsung 275T has three different video input formats, in case you want to connect up a game console, standalone DVD player, camcorder, or personal media player. But let's not get ahead of ourselves....
Samsung's Syncmaster 275T LCD/TFT display is a 27" wide screen (16:10 aspect ratio) monitor with a native resolution of 1920x1200 pixels. The LCD panel has an anti-reflective non-glossy coating and features a brightness rating of 500 cd/m2, contrast ratio of 1000:1 (dynamic contrast of 3000:1). The LCD panel boasts a 6ms G-to-G pixel refresh time and a moderately tight pixel pitch of 0.303mm.
In our experience, brightness and contrast ratio take a back seat to viewing angles, and in the Syncmaster 275T's case it has the best you can hope for - 178° / 178° horizontal / vertical.

Samsung Syncmaster 275T 27" LCD Display

SPECIFICATIONS:

Screen size: 27"
Brightness: 500 cd/m2
Contrast Ratio: 1000:1
(Dynamic Contrast Ratio: 3000:1)
Viewing Angle: 178°/178°
Interface: DVI-I, Analog
Resolution: 1920x1200
Pixel Pitch: 0.303mm
Response Time: 6ms (G-to-G)
Power Draw: 130W
Dimensions: 24x19x11"
VESA Mount: 200x100mm

MEDIA SPECS:

Aspect Ratio: 16:10
HDCP: Yes
Video Inputs:
SVideo,
Component,
Composite,
DVI (HDCP)
Audio: No
USB2.0 Ports: (4)


Includes: Quick start guide, DVI and Analog video cable, AC power cable, driver/manual CD.

The 27" wide Syncmaster 275T draws upwards of 130W power, which is a little on the high side for a desktop computer display. It makes some concessions on the power efficiency front with a standby power draw of 2W, and a physical power switch at the rear of the panel that will cut phantom power consumption to zero.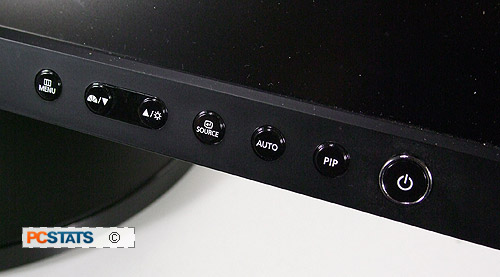 There are six control buttons on the face of the Syncmaster 275T display. The power button glows blue when the monitor is on.
Costing about $900 CDN ($890 USD / £450 GBP), the Samsung 275T ships with a stand that allows the panel to tilt back and forward, rotate to either side, and raised up to 80mm vertically. The stand removes to reveal 200x100mm VESA mounting points.
A four port USB hub is built into the side and rear of the Syncmaster 275T for convenience sake. Plugging an iPod or USB memory drive into ones' monitor is much easier than reaching around to the back of an old tower PC to blindly find a USB port.
Other than that, the Samsung Syncmaster 275T has a gracefully simple matt-black aesthetic.
The all-black bezel is under an inch wide, and user controls are limited to six simple keys. A broad array of user adjustments is possible through a manual (not software driven) On Screen Display, and the illuminated power button is situated off to the far corner where it is least distracting. To curb potential theft the Syncmaster 275T even has a Kensington lock.
Samsung's 275T monitor is Microsoft Vista, Apple Mac and Sun OS compatible.The display comes with a software manual on the CD. Rather than a static document, the digital manual has little animations to illustrate features, and handy links to the support website. Also provided is a DVI and Analog video cable, and power plug. Okay, now that we've gone over the basics, let's get in for a closer look at this beauty of a 27" LCD monitor...