In this review PCSTATS will be testing Biostar's V903GT52-NV1AN Geforce 9600GT, a reference card in every sense of the word. While the V903GT52-NV1AN may lack the extra HD ports and pre-overclocked tuning of Palit's 9600GT Sonic, Biostar's card is affordable, fairly quiet, and single slot.
The Biostar V903GT52-NV1AN retails for about $189 CDN ($190 USD, £110 GBP) and comes with the basic essentials, which is fine. I think most consumers would agree that it's better to pay less than have a couple bundled video games thrown in.
In contrast to the Palit 9600GT Sonic, Biostar has kept this Geforce 9600GT at the stock clock speeds for the Geforce 9600GT family. At its heart an nVidia GPU runs at 650MHz, its memory at 1800MHz, and the shader clock at 1625MHz. There's a lot to like about a mainstream videocard like the Geforce 9600GT, foremost that you don't need a pre-overclocked version. Overclock it yourself and squeeze a little more performance out of it with nTune, it's not hard.
Biostar's V903GT52-NV1AN videocard is equipped with 512MB of GDDR3 memory. Like all videocards from the nVidia Geforce 9-series, the 9600GT is DirectX10 and Shader Model 4.0 compliant. The GPU itself features 64 stream processors, and the card supports SLI, PCI Express 2.0 and is HDCP compliant.
Maximum resolution through each of the two dualink DVI outputs is 2560x1600 pixels, and for connecting an HDTV we also find a Component Output dongle cable. The V903GT52-NV1AN videocard requires one 6-pin 12V auxiliary power connector, a big step up in power requirements for any mainstream-oriented videocard, but otherwise all you need is a free PCI Express x16 slot.

Biostar V903GT52-NV1AN Videocard




Includes:

User's Manual, Driver CD, DVI to analog converter, SLI 6-pin power cable, component output dongle cable.
The Biostar V903GT52-NV1AN videocard is about 22cm long, and requires one 6-pin auxiliary power connector. At the top left hand corner of the videocard you'll see the SLI bridge connector; the card can be run with one other GeForce 9600GT videocard in SLI mode for extra 3D goodness. Noisy videocards are like water torture, so it's reassuring that the Biostar V903GT52-NV1AN is not too loud when running stressful 3D benchmarks.

As mentioned, the accessory package is a little light on things to get excited about. There is however one crucial item Biostar ought to have provided but did not: a DVI-to-HDMI adaptor. There is one DVI-to-analog adaptor so you can use older CRT monitors, but connecting one's PC to a big screen television is pretty high on a lot of people's lists these days. Component output will get you there, but HDMI is much more convenient and the image quality tends to be better too.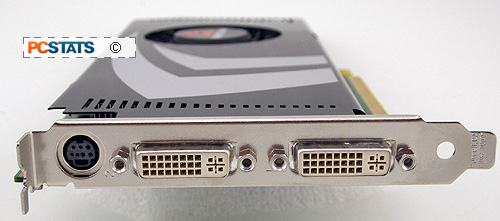 We should also note that the Biostar V903GT52-NV1AN has a digital 2-pin audio header at the top right by the SLI connector. This brings an audio signal into the videocard so it can output audio over the HDMI cable (if you connect up a DVI-to-HDMI adaptor).

For this, you'll need to connect the motherboard SP/DIF audio header to the videocard with a short jumper cable (not included). The reason for all of this is that nVidia's graphics cards do not incorporate an audio codec. The audio signal needs to be connected to the videocard, in order for the HDMI cable to carry both video and audio signals to a HDTV. A quick look at the NVidia Geforce 9600GT core is next, and then PCSTATS gets into the overclocking!