Overclocking Results:
Palit's Geforce 8800GT Super+ 1GB videocard comes with its GPU and memory running at stock clock speeds (600MHz GPU / 1800MHz memory), yet most Geforce 880GT videocards are sold pre-overclocked. You know what that means.... PCSTATS should be able to overclock the 8800GT Super+ 1GB nicely!
Starting with the GeForce 8800GT GPU first, PCSTATS will be increasing the clock speed in 25 MHz increments.
Overclocking the Palit 8800GT Super+ 1GB was accomplished with nVidia's nTune software. The Geforce 8800GT wasn't too challenging to overclock, and in a matter of minutes it was running at 738MHz. From there we coaxed it to 757MHz, and then 764MHz fell by the wayside. At 778MHz the system instantly crashed, bummer, so the GPU speed had to brought back down to 764MHz for stability.
Beginning at 1800 MHz (900MHz), the 1GB of memory came next. Overclocking in rapid 40 MHz increments proved a little too adventurous... the GDDR3 RAM didn't cooperate very well. After a good amount of time trying different settings, we eventually settled on a speed of 1960MHz (980MHz). Any higher and the card became unstable.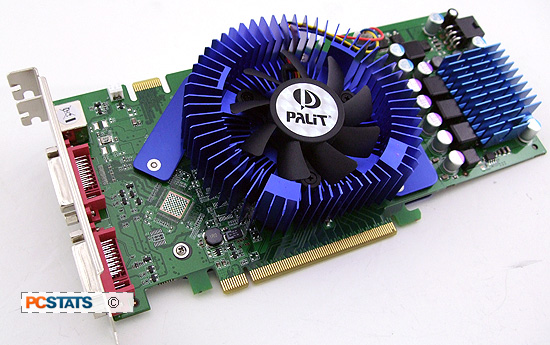 As soon as we set about overclocking both the memory and GPU together to the maximum speeds the Palit 8800GT Super+ 1GB was capable of independently, the entire system crashed. After a few more clock speed adjustments it was looking like the memory was overclocked too far, and the GPU just a little bit too fast. In the end the Palit 8800GT Super+ 1GB was reasonably stable with the Geforce 8800GT GPU overclocked to 750MHz, and memory at 1930MHz (965MHz).
Discovering the safe overclocking limits of a videocard usually doesn't take very long, but the Palit 8800GT Super+ 1GB was a bit trickier than usual.
Prelude to Benchmarks:
The details of how the Palit 8800GT Super+ 1GB test system was configured for benchmarking; the specific hardware, software drivers, operating system and benchmark versions are indicated below. All benchmarks for the Palit 8800GT Super+ were run in Windows Vista Ultimate, the reference videocards were tested in both Windows XP and Vista for the DX10 benchmarks.
PCSTATS is in the process of making the transition to a Windows Vista only test platform, so keep this in mind as you scan the benchmark results. In the second column are the general specs for the reference platforms this nVIDIA GeForce 8800GT videocard is to be compared against. Please take a moment to look over PCSTATS test system configurations before moving on to the individual benchmark results on the next page.

PCSTATS Test System Configurations
Benchmarked results are grouped by GPU manufacturer first (AMD/ATI or nVidia), then by GPU generation, and then by GPU class (high end, mainstream, value). This approach provides a clearer view of how performance can differ from generation to generation, and class to previous generation. The product being tested is marked with the red colour bar.
On with the benchmarks!