SiSoft Sandra 2008
Source: Sandra
Sandra is designed to test the theoretical power of a complete system as well as the individual components. The results are also purely theoretical and may not represent real world performance.
Sisoft Sandra 2008 Storage Benchmark Results

Drives
Combined Index
Endurance factor
Repeated sector rewrite:
Sequential sector write:
Random sector write:
Drive Index
Random Access time:
Thermaltake BlacX
18678
3.9
1115 kb/s
1159 kb/s
215 kb/s
32
12ms

Units:

op/min
MB/s
MB/s
MB/s
MB/s
milliseconds
With an 80GB Seagate SATA hard drive installed in the Thermaltake BlacX docking station, we see drive performance as expected for a device connected through the USB 2.0 port.
HD Tach is a physical performance hard drive test for Windows 95/98/ME and Windows NT/2000. In Windows 9X/ME it uses a special kernel mode VXD to get maximum accuracy by bypassing the file system. A similar mechanism is used in Windows NT/2000/XP. HD Tach reads from areas all over the hard drive and reports an average speed. It also logs the read speeds to a text file that you can load into a spreadsheet and graph to visually read the results of the test.
Hard Drive Tach 3.0.1.0 - Benchmark Results

Physical Drive Size
Access Time
Read Burst Speed
Read Speed Max
Read Speed Min

Read
speed Avg

CPU utilization
Thermaltake BlacX

80GB

13.2

34.4

34

31

33.4

4%

Units:

ms

MB/s
MB/s
MB/s
MB/s

%
HD Tach confirms Sandra's results. The Thermaltake BlacX offers users a very flexible external HDD platform that while being a little slower than an internal hard drive, is still quick enough to be useful.
Easy External Hard Drive Docking Station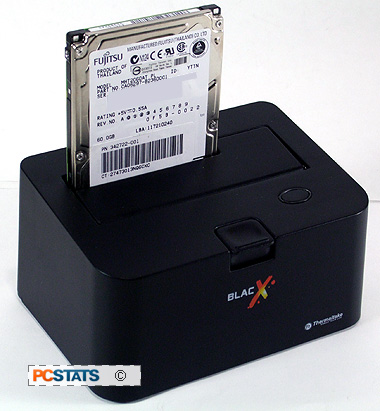 The Thermaltake BlacX is a very convenient platform for quickly connecting and disconnecting serial ATA hard drives to a computer. Be it a 3.5" or 2.5" hard drive, sliding the disk into the bay till the connectors engage is as complicated as this docking station gets.
The USB2.0 cable transfers data at an acceptable pace to the host PC, easily fast enough to not make dumping an entire 20GB folder too much of a chore. A second BlacX model offers USB2.0 and eSATA connectivity, and given the choice we'd definitely opt for the eSATA version for that level of extra flexibility.
PCSTATS' experience testing the Thermaltake BlacX has been quite positive; it's simple and it works. If you've long desired a solution to rapidly connecting different SATA hard drives without powering down the PC first, I think you'll be satisfied with the BlacX's capabilities.
In our line of work the Thermaltake BlacX is a real time saver. If you aren't a techie with five open computer systems on the go, and a mountain of hard drives loaded with 40 GBs of benchmarks and drivers, the usefulness of the Thermaltake BlacX may be lost on you. External drive enclosures offer more hard drive protection, especially when transporting data to different locations. With this device, you've alway got to be mindful of handling the bare drive carefully.
From a critical standpoint, having a half-exposed hard drive sitting out in the open while the drive is spinning poses some risks. For example, if you knock into the Thermaltake BlacX, you can damage the spinning disk. If you splash coffee on the drive, that could short it out. Dust, static electricity, magnets, metallic objects, being bumped, these are all potential hard drive killers... However, when used in the appropriate desk environment where such hazards are kept well away from powered computer hardware, the $39 CDN / USD Thermaltake BlacX should prove is usefulness very quickly indeed.
Find out about this and many other reviews by joining the Weekly PCstats.com Newsletter today! Catch all of PCSTATS latest reviews right here.
Related Articles
Here are a few other articles that you might enjoy as well...
- Western Digital RaptorX WD1500AHFD 150GB Clear Top SATA Hard Drive Review
- DataTec DS350 eSATA External Hard Drive Enclosure Review
- IcyDock MB452 eSATA/USB2.0 External Hard Drive Enclosure Review
- IcyDock MB122SKGF SATA Hard Drive Rack Review
- Super Talent 2.5" Flash IDE 8GB Solid State Drive Review
- IcyDock MB453SPF-B SATA Multi-Bay Backplane Module Review
- Vantec NexStar GX USB2.0 Hub & HDD Enclosure Review