Intel's next-generation processor microarchitecture is called "Nehalem", and it will usher in the era of CPU-based memory controllers for the chip maker by the end of 2008. According to manufacturers PCSTATS spoke with at Computex, the core has been under development for a while and is very mature. To illustrate the point a live system was demo'd by Intel to underscore the stability of the platform as it exists now - B2 silicon allegedly. This core design utilizes hafnium-based 45nm hi-k metal gate silicon technology, and is widely expected to have significant performance gains over current Intel Extreme-series processors.
A new CPU with even more potential than Core 2 Duo, but what's the catch?
For starters, Nehalem is only going to release in Extreme-versions at first - in other words the most expensive high performance chips that drive enthusiasts wild and break bank accounts. There's also one other little change, Nehalem isn't compatible with current Intel Core 2 Duo 775 pin sockets.
Nehalem's architecture requires about twice as many connects, thus it's being introduced with a new 1366-pin LGA socket that is slightly rectangular in shape. Obviously, this means entirely new motherboards and heatsinks. On the plus side, Nehalem can operate with DDR2 or DDR3 memory, depending on the path mobo manufacturers take. At least one heatsink manufacturer, Noctua, is already talking about issuing free socket 1366 mounting bracket adaptors for its range of low-noise heatsinks going back to 2005.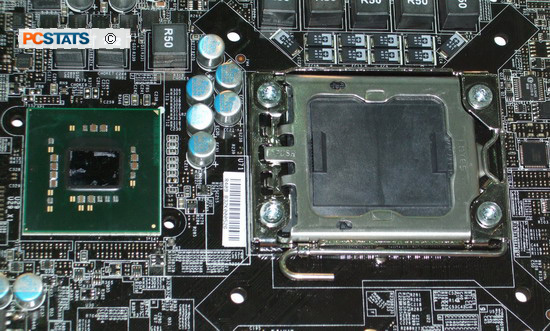 Intel X58 chipset and new socket 1366 processor socket. The spacing of the heatsink mounting holes is different than with LGA775 processors, so older heatsinks are not compatible.
The short list of Nehalem features is highlighted by an integrated memory controller - a design choice AMD made with the Athlon64 two years ago. Other features include: dynamic scalability, managed cores, threads, cache, interfaces, and power for energy-efficient performance on demand, 2-8+ cores and up to 16+ threads with simultaneous multi-threading (SMT), scalable cache sizes and Intel QuickPath technology.
At Computex 2008 this week, Intel showcased a half dozen socket 1366 Nehalem-ready motherboards in its booth at the new Nangang exhibition hall in Taipei. The Nehalem motherboards and demo system were all based on the upcoming Intel X58 "Tylersburg" chipset. Tylersburg is a PCI express 2.0 solution which supports 2x16 or 4x8 PCI-e videocards, Intel QuickPath Interconnect, and most notably three channels of DDR3.;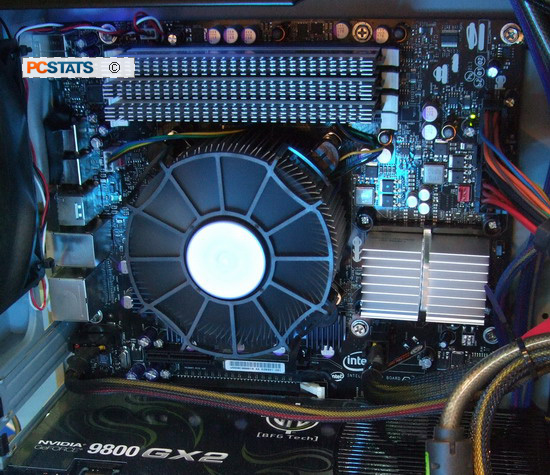 Inside the working Intel Nehalem LGA1366 CPU and Tylersburg chipset demonstration platform. Note the 3-channel DDR3.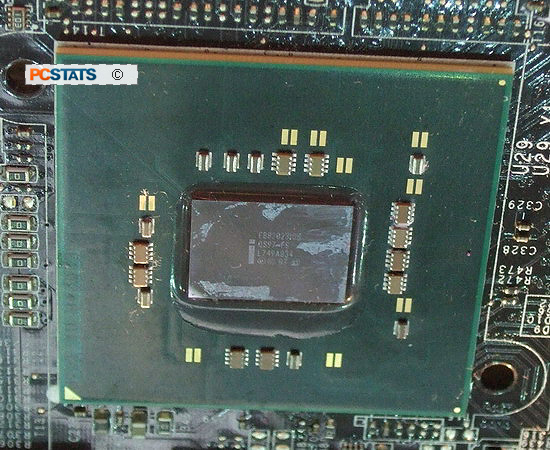 PCSTATS gets up close with the Intel X58 Tylersburg chipset. Release date is Q4' 2008.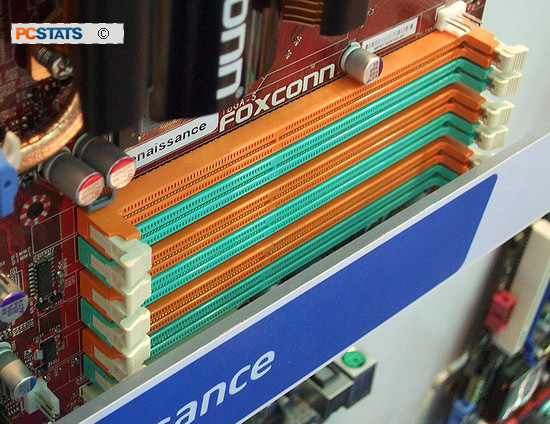 Two sets of three-channel DDR3, in other words at least three DIMMs must be populated to run.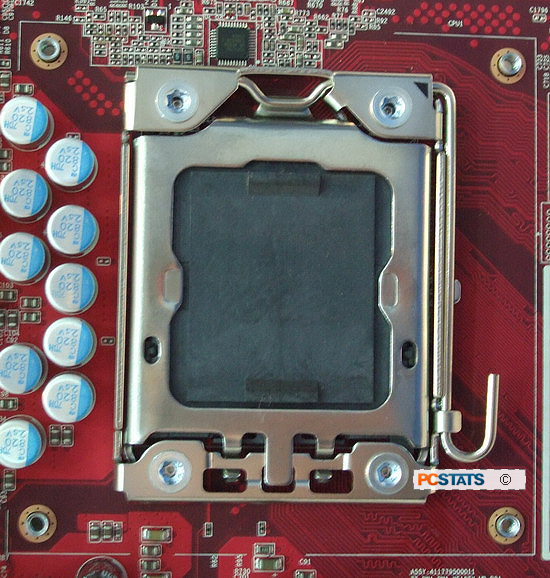 The new LGA1366 processor socket. The holes for the heatsink mounting clips are in a different place than with LGA775 heatsinks, so those heatsinks are incompatible. The CPU itself is also a little rectangular compared to the LGA775 Core 2 Duo. Processor TDP is estimated at 95W.... but PCSTATS was unable to verify this directly.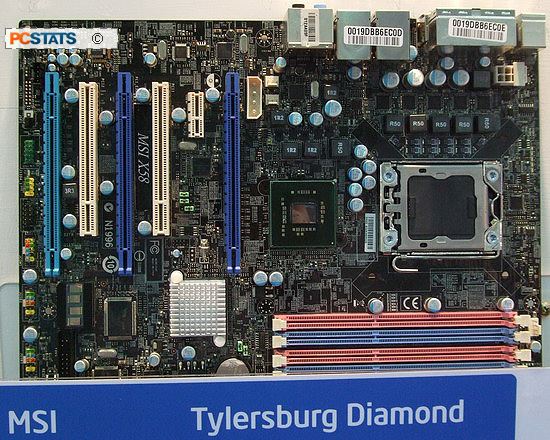 MSI Tylersburg Diamond socket 1366 / Intel X58 / ICH10 motherboard.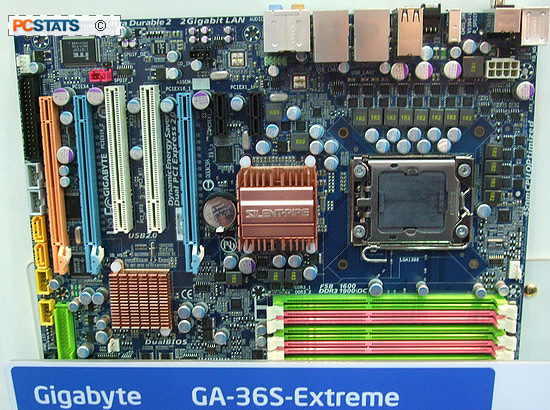 Gigabyte GA-36S-Extreme socket 1366 / Intel X58 / ICH10 motherboard..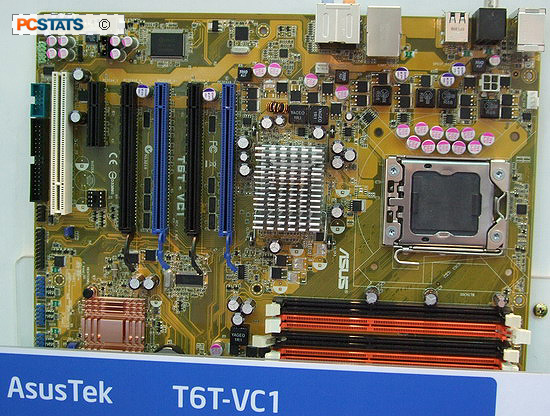 Asus T6T-VC1 socket 1366 / Intel X58 / ICH10 motherboard.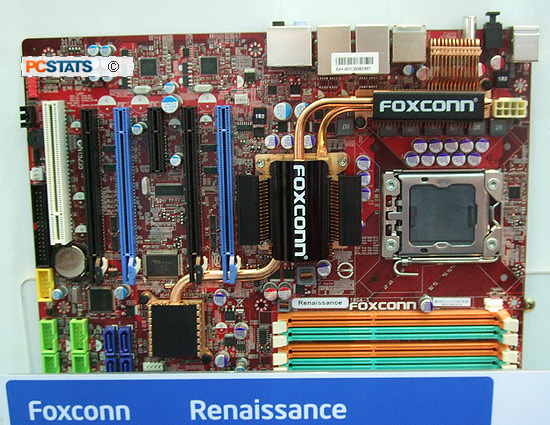 Foxconn Renaissace socket 1366 / Intel X58 / ICH10 motherboard..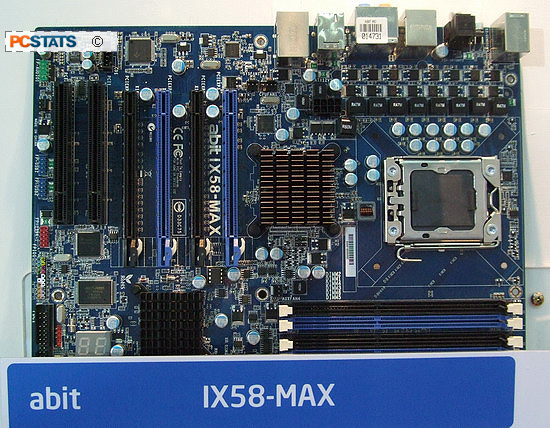 ABIT IX58-Max socket 1366 / Intel X58 / ICH10 motherboard.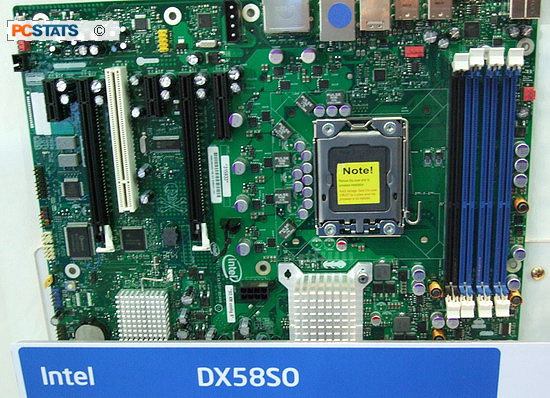 Intel DX58SO socket 1366 / Intel X58 / ICH10 motherboard.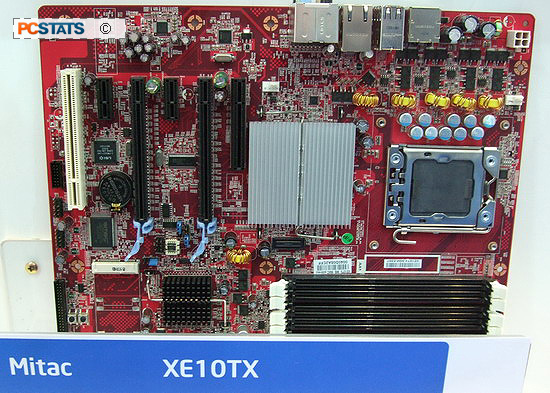 Mitac XE10TX ocket 1366 / Intel X58 / ICH10 motherboard.