Once the darling of the budget constrained computer gamer, nVidia's Geforce 9600GT has been pushed aside by AMD's mainstream HD4850 and the sudden swell in Crossfire supporting 4-series Intel motherboards.


78% Rating:

Home > Reviews > Video Cards > ASUS EN9600GT Top/HTDI/512M
Power Consumption of Videocards
The computer industry is slowly but surely moving towards more energy efficient products and better manufacturing processes. As consumers the best we can hope for are products which lightly sip electricity, resulting in lower electrical costs and generally less heat and quieter operation. High end graphics cards use a lot of power, so this is why PCSTATS is including figures on total power consumption in our reviews now.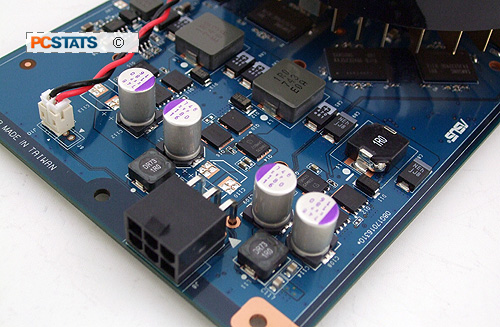 Clearly, to be seen as conserving energy is the PC industries newest marketable trend.
Naturally evolving die-shrinks have helped reduce the power demands of graphics cards, but ATI and nVidia really need to do more to reign in their flagship GPUs. In many high end gaming computers, the graphics cards alone draws more power than the CPU, sometimes even the entire PC system!
nVidia's G94 GPU is manufactured on TSMC's 65nm technology, so it's naturally a little more power efficient than the 90nm generation that came before it.
For clearer view on the power demands of the Asus EN9600GT, PCSTATS will measure the total system power draw with a power meter and comparing this against the same basic installation with a couple different videocards. A short list of nVidia and ATI videocards that span the mainstream to high end market segments are listed below; total system power draw, Watts, is noted for the stressed and idle states of the graphics card.
Videocard Power Consumption (Total System Power Draw)
Idle at Desktop
Watts*
Ranking
Asus EAH3870 X2 1GB TOP/G/3DHTI/1G/A
153
Diamond Viper Radeon HD 2900XT in CrossFire
195
Asus EAH4850 HTDI/512M
120
Asus EAX1900XTX 2DHTV/512M/A
160
Asus EAX1950PRO/HTDP/256M/A
150
nVidia Geforce 9600GTs in SLI
166
Asus EN9600GT Top/HTDI/512M
152
Palit Geforce 9600GT 512
151
MSI NX8800GTX-T2D768E
196
MSI NX7950GX2-T2D1GE
183
MSI NX7900GTX-T2D512E
165
Gigabyte GV-NX76T256D-RH
140
3D Loaded:
Watts*
Ranking
Asus EAH3870 X2 1GB TOP/G/3DHTI/1G/A
390
Diamond Viper Radeon HD 2900XT in CrossFire
549
Asus EAH4850 HTDI/512M
202
Asus EAX1900XTX 2DHTV/512M/A
333
Asus EAX1950PRO/HTDP/256M/A
252
nVidia Geforce 9600GT SLI
313
Asus EN9600GT Top/HTDI/512M
220
Palit Geforce 9600GT 512
221
MSI NX8800GTX-T2D768E
345
MSI NX7950GX2-T2D1GE
315
MSI NX7900GTX-T2D512E
277
Gigabyte GV-NX76T256D-RH
213
[*figure represents total system power consumption in Watts, either with the system at idle, or the peak value recorded while running 3DMark06. ]
The Asus EN9600GT Top/HTDI/512M videocard unsurprisingly ranks in towards the lower end of this list; it's total system power draw is a moderate 220W under load (roughly a 68W increase over the idle state). For comparison, the system equipped with the Radeon HD 4850 hovers around 202Watts while stressed in 3Dmark06.
One thing is clear, neither ATi or nVIDIA is a saint when it comes to the power consumption of modern graphics cards, but at least each successive generation is decreasing it's power requirements while improving gaming performance!