With the onslaught of Radeon HD4850 videocards hitting the streets right now, it's got be tough being a graphics card with a mainstream nVidia GPU. Once the darling of the budget constrained computer gamer, nVidia's Geforce 9600GT has been pushed aside by AMD's mainstream HD4850 and the sudden swell in Crossfire supporting 4-series Intel motherboards.
You see, the dominant motherboard chipset plays a big role in determining which videocard species gamers turn to. Multi-videocard technologies like nVidia SLI and AMD Crossfire are not universal, so when Intel chipsets are dominant Crossfire thrives. When nVidia motherboard chipsets rule the roost, SLI thrives. As it stands, for all its past might nVidia and it's nForce chipsets were virtually absent from the floors of Computex 2008. Hence the foreseeable future belongs to Crossfire capable platforms...
Now there's no getting around the fact that AMD's mainstream Radeon HD4850 card leaves a single Geforce 9600GT trailing. While the price difference between the two isn't insignificant, it's less than the cost of running two Geforce 9600GTs in SLI. However, an SLI'd pair of Geforce 9600GTs holds its own against a lone Radeon 4850, so users already invested in an nVidia nForce platform still have a viable route for better gaming results - and that brings us to the Asus EN9600GT videocard PCSTATS is looking at in this review. Let's begin.
The Asus EN9600GT Top/HTDI/512M is a Geforce 9600GT based PCI Express graphics card. It ships pre-overclocked from the factory for roughly a 10% gaming edge, and packs in a typical 512MB of GDDR3 memory. It's nVidia Geforce 9600GT GPU runs at 720MHz (up from the stock of 700MHz), while memory and shader clock speeds sit at 2000MHz and 1800MHz respectively.
Asus retail the EN9600GT Top/HTDI/512M videocard for roughly $160 CDN ($160 USD, £80 GBP), about $50 less than a Radeon HD4850 card will set you back. The Asus EN9600GT ships with a pretty basic accessory bundle; most notably it includes an HDMI adaptor, component output splitter and SP/DIF audio jumper cable (to allow audio to be carried over the HDMI port). There are no big-ticket games included here. The Asus EN9600GT Top/HTDI/512M is DirectX10, Shader Model 4.0, and HDCP compliant. It supports nVidia SLI and is PCI Express 2.0 compatible.

Asus EN9600GT Top/HTDI/512M Videocard




Includes:

User's Manual, Driver CD, DVI to analog converter, DVI-to-HDMI converter, SLI 6-pin power cable, component output dongle cable, SPDIF audio jumper cable.
PCSTATS has tested a handful of Geforce 9600GT videocards which were nice compact single-slot solutions that didn't run too hot or too loudly. With the EN9600GT Asus have chosen a slightly less desirable approach that make this graphics card a double-slot affair, rather unnecessarily. The large fan it selected runs pretty quietly so noise isn't a problem, it's just that the heatsink stands tall enough to occupy an extra slot of space. The videocard itself is 22cm long and requires one 6-pin auxiliary power connector - par for the course for this GPU generation.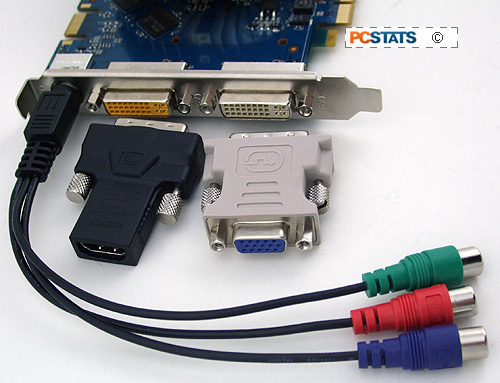 Along the upper top left is a single nVidia SLI bridge connector, this means you can team up two 9600GTs in SLI mode for an extra boost in 3D games. Of course, you'll have to have an nForce based motherboard to do this. Around front we find two Digital DVI jacks, one yellow the other white. If you haven't already connected twin monitors to the videocard, one of these ports can support the DVI-to-HDMI adaptor with sound (provided the SPDIF jumper cable is attached).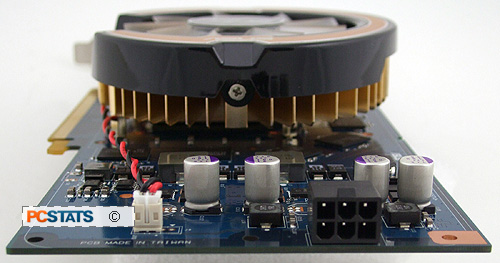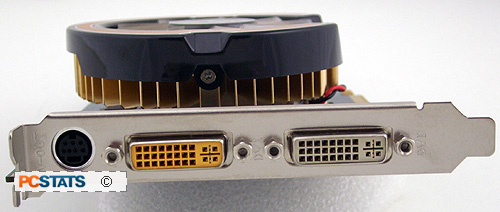 I think we can all agree that HD video output is a necessity, and the Asus EN9600GT Top/HTDI/512M has got you covered on that front. The card ships with an audio SP/DIF jumper cable that connects to the motherboard to bring a digital audio signal into the EN9600GT so it can be integrated in with the high definition HDMI video output signal. The DVI video jacks don't natively carry audio, so this is reason for the extra jumper cable.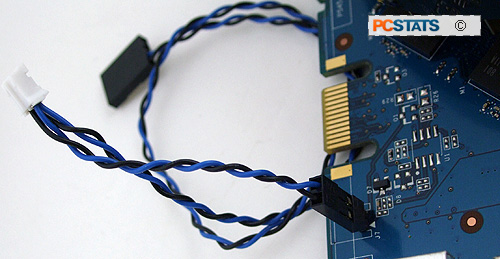 The SP/DIF jumper cable is simply plugged into the 2-pin audio header at the top right corner next to the SLI connector, the other end into the motherboard. NVidia's graphics cards do not incorporate an audio codec, so the audio signal needs to be connected to the videocard manually. ATI solutions have a built in codec so jumper cables are not generally necessary.