I'd love to know what magic Biostar engineers infused into the TPower I45 motherboard to make it an overclocking monster, but reaching +600MHz FSB with this board is a real possibility!
PCSTATS did it (just barely), the guys at ExtremeSystems did it and then some, and a tweaker at X86-secret.org even boosted the TPower I45 to 736MHz FSB with LN2 cooling. That's a veritable world record. Biostar face serious competition from established players like Asus and DFI, so this degree of overclockability is all the more remarkable...
Now if overclocking isn't your thing, don't fret. Biostar's TPower I45 is a well featured and fairly affordable Intel P45 motherboard for basic computer needs too.
On first glance the Biostar TPower I45 motherboard has the appearence of a standard mid-range enthusiast friendly platform, but it's not until you start overclocking that it's true potential becomes apparent (as we'll see later in the review). Based on Intel's new and very popular P45 Express and ICH10R chipsets, this motherboard supports all Socket 775 Intel processors running on a FSB of 800/1066/1333/1600MHz bus - that's Pentium D right through to the latest Core 2 Quad processor.
As chipsets go, the Intel P45 Express is largely identical to the P35 Express which preceded it, so if you're familiar with that platform the P45 will be a comfortable fit from the first boot up. The main difference is PCI Express 2.0 compliance, and to that end Biostar have equipped the TPower I45 with a pair of PCI Express x16 slots. Electrically that means a single videocard, either ATI or nVidia, will runs with 16 PCIe lanes (x16) of data bandwidth, while two ATI videocards operating in Crossfire will receive 8 PCIe lanes each (x8/x8). The second PCI Express x16 slot is disabled unless it's being used for Crossfire, but both slots are PCI Express 2.0 compliant.

Biostar TPower I45 Motherboard
(Model No.: IP45AA7P-R01 Ver 5.0)



Includes:
Driver CD, User's Manual, IDE Cable, 6x Serial ATA Cables, 6x Molex to Serial ATA Power Cables, SP/DIF Bracket, MOSFET Heatsink, I/O Shield
While the P45 Express chipset may be used with DDR2 or DDR3 RAM, Biostar has opted for DDR2 on the TPower I45. The boards' four DDR-2 RAM slots support up to 8GB of DDR2-667/800/1066 memory in dual channel configuration. We'd recommend installing 2GB RAM from the start if running you're planning to run Windows Vista.
Motherboards even just two years old can be rather limited in the onboard feature they offer. One of the nice attributes of the TPower I45 platform is the broad assortment of SOHO and enthusiast friendly features it includes. Foremost on this list are six 3GB/s Serial ATA II ports (RAID 0, 1, 0+1, 5 care of Intel's ICH10R Southbridge) for data storage, two eSATA ports at the rear(RAID 0,1) for connecting external drives easily and without a speed penalty, a Gigabit network card, 7.1 channel High Definition audio and twelve USB2.0 ports (6 rear/6 via header). There are no Firewire ports on this board, but it does still have an IDE header for legacy optical drives, and two PCI brackets for legacy cards. Further expansion comes care of two PCI Express x1 slots. There are a few other tasty features that make the TPower I45 a pleasure to use, we'll touch on those a bit later...
Now the big question, how much does this full size ATX motherboard cost? If shop online the Biostar TPower I45 motherboard can be yours for around $160USD ($160CDN / £80GBP). That's quite affordable given it's hidden overclocking streak I'd say.
Power Draw and Power Savings
The Biostar TPower I45 doesn't feature any specific power saving software like ASUS and Gigabyte have been showcasing recently. If you configure the BIOS carefully, Intel Speed Step will automatically decrease clock speed in scenarios where the system is idle to decrease power consumption. The TPower I45 test system was stressed with Prime 95, resulting in a total system power draw of 183.3W on PCSTATS' Extech 380803 Power Analyzer. While sitting idle at the desktop, the system's power draw hovered around 126W. The hardware test configuration is outlined later in this review.
Tweakers Delight?
Biostar's TPower I45 is well laid out and in many ways this gives it the feel of a high end motherboard.. For example power sockets are located far away from the videocard and CPU sockets for easy accessibility, the serial ATA sockets are set at 90 degrees so they won't interfere with long PCI Express videocards, and memory sticks can be installed or swapped out without touching the back of the videocard. Little touches like leaving plenty of space around the CPU socket for large low noise tower heatsinks are appreciated.
On top of that the Intel P45 Express chipset and CPU MOSFETs are cooled with a passive (ie. silent) heat pipe chipset cooling system. There are physical power and reset buttons and a two digit Port 80 card displays alphanumeric error codes if your tweaking pushes the board too far.
Here are four things that caught the experienced eyes of PCSTATS while testing the Biostar TPower I45 mobo.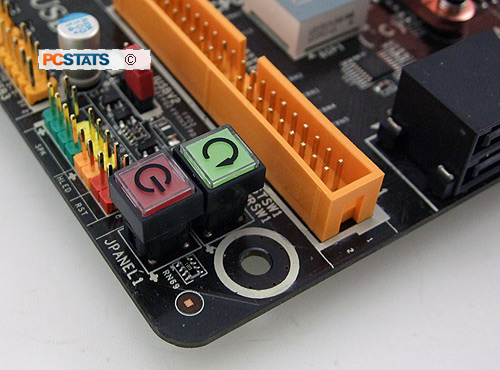 1.) Tweakers who run their PCs without a case will absolutely love the hard power and reset switches, put those paper clips away! The buttons are backlit too.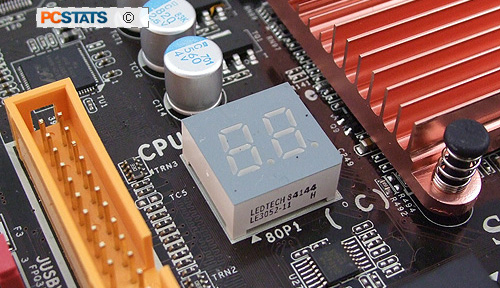 2.) The Port 80 card offers a broader range of error codes than blinking LEDs used by some board makers, and the error codes are largely standardized. Turn to page 48/49 in the manual for a full index of the Port 80 POST codes.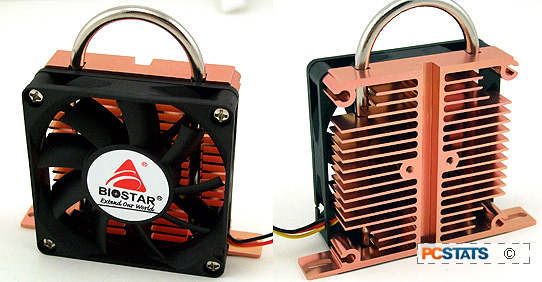 3.) Biostar's TPower I45 comes with this screw-on MOSFET heatpipe heatsink for an extra cooling boost. Remove the name plate, then attach this heatsink after apply a little thermal compound.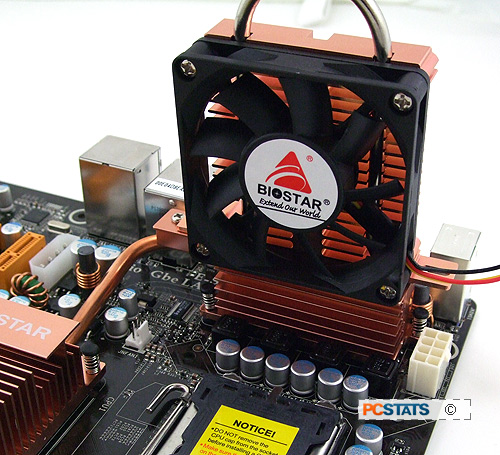 Install the extra heatsink so the fan is blowing towards the rear of the PC case, or away from the processor heatsink.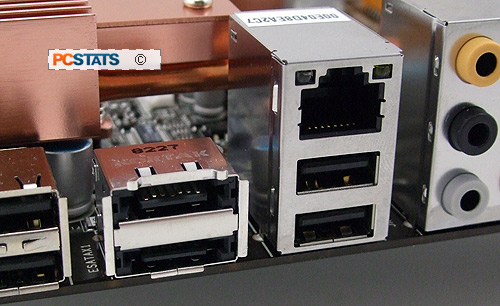 4.) The two eSATA ports at the rear I/O support RAID 1 and RAID 0. External Serial ATA allows you to connect external hard drives to the computer with no loss in data transfer speed.
Like many Tier one board manufacturers, Biostar are only using low ESR solid state polymer capacitors on the TPower I45 board. This kind of solid capacitor has a longer lifespan than the electrolytic variety, which can be prone to bursting. Compared to the electrolytic variety which contain a liquid electrolyte, the 'all-solid' style polymer capacitor lasts longer under identical conditions for improved reliability down the road.
Next we'll take a quick look at the Biostar TPower I45 motherboard's highlights, and what's bad about this board...