Evergreen's Performa 500 Review
---
Probably the first question on everyone's mind is; 'what's a Performa 500'? Well, in its most basic form it's simply an upgrade in a box - a Celeron 500Mhz processor, heatsink and slocket. Looking a bit further, it is an upgrade, with a disc to determine if a BIOS upgrade is necessary, technical support, and warranty.
For the extremely tech savvy, a trip to the local computer store for a processor, decent heatsink and slocket will come to mind about now. The tech savvy would naturally know what kind of motherboard they have, where to find the BIOS upgrades on the web and how to flash the BIOS. This is where the Performa finds its niche. It is designed to be the upgrade solution for everyone else - the non tech savvy, the business, the school, the average user. Once again, a complete upgrade in a box.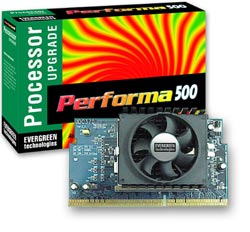 Along with the CPU, DirectX7.0 and Acrobat Reader 4.05 are included. A little program also allows you to "copy flash BIOS image to floppy", or check out the installation manual for reference. The printed manual has the complete instructions, and a handy trouble shooting guide if windows starts spitting out error messages left right and center. Another card provides point by point instructions on how to flash your particular BIOS, and drop in the actual CPU.
Who is this for?
I'm going to get this out of the way right off, because I'm sure everyone is thinking commercial upgrade = more expensive then bare components themselves. To be honest that was my first thought too, but after checking out prices and doing a little figuring out, I was startled to see that the Performa costs about the same as getting all the components separately...
| | | |
| --- | --- | --- |
| | Components | Performa 500 |
| OEM Celeron 500Mhz CPU | ~$106 | incl. |
| Avg. Slocket | ~$18 | incl. |
| Decent heatsinks | ~$14 | incl. |
| Warranty | none | 3 years |
| | | |
| Total | $138 USD | $149 USD |
I say surprised because with any product made for the masses, large markups usually follow. There is currently an $80 rebate, so I guess without that it is more expensive than the components. But on the other hand this is really designed to be a drop-in solution for people/companies with 233Mhz class machines, who don't want to take the time to reinstall (as in getting a better motherboard and processor) let alone spend the time at the local computer store amassing all the necessary components.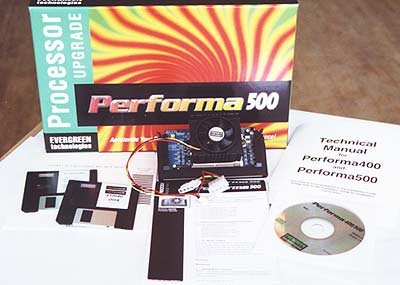 With all that said, it should be clear who this upgrade is intended for, and looking at some of the documents Evergreen sent over with this evaluation unit make the point clear as day. Acer, AST, Compaq, Dell, Gateway, IBM, Packard Bell... this is definitely a commercial upgrade :) Anyway, let's take a look at what comes with this upgrade, and how the benchmarks look for it.