Motherboards that support two memory types are always pretty popular because they allow you to straddle the memory line until prices come down, or you actually need the newer memory standard. With the Intel P35 Express chipset, users have two memory options; DDR2 and DDR3 RAM. The latter is certainly the future-proof option although it is still somewhat costly, while the former is firmly on the road to obsolescence as far as Intel processors are concerned. The reality for consumers weighing the benefits of a DDR3 or DDR2-based Intel motherboard, the choice primarily comes down to cost.
As with past periods of memory transition, motherboard manufacturers have made sure there are a couple boards out on the streets which support either DDR2 or DDR3 memory. When you're ready for a quad core processor and DDR3 prices have come down to earth, you can switch.
In this review PCSTATS is pleased to be testing MSI's P35 Platinum Combo motherboard, an Intel P35 Express and ICH9R platform that supports both DDR2 and DDR3 memory formats (though not at the same time). The MSI P35 Platinum works with 45nm Intel Core 2 Duo and Core 2 Quad processors, and every other socket 775 chip that runs on a 800/1066/1333MHz Front Side Bus.

MSI P35 Platinum Combo



Includes:
User's Manual, Driver CDs, 4x Serial ATA cables, 2x Molex to Serial ATA Power Cables, Ultra/133 IDE Cable, Floppy Cable, IEEE 1394a Bracket, I/O Shield, 2x DDRS/DDR3 Switch card, front panel IO jumpers.
MSI have equipped the P35 Platinum motherboard with four DDR2 and two DDR3 memory slots so it accommodates 8GB of DDR2-1066/800 memory or up to 4GB of DDR3-1333 RAM. Mixing DDR3 and DDR2 is not permitted. To work, the motherboard requires the unused slots be populated with a special set of DDR3/2 Switch Cards. There are two cards, and each is keyed on one side for DDR2 and DDR3 DIMM slots. The side of each switch card is illuminated with some fancy LED light work, bringing a nice dose of bling into the PC case. In all other respects the MSI P35 Platinum Combo is a nice well featured motherboard; it's got twin PCI Express slots for crossfire compatible videocards, a healthy collection of onboard features, and a nice passive chipset heatsink called Circu-pipe. The MSI P35 Platinum Combo motherboard retails for an affordable $140 CDN ($140 USD, £70 GBP).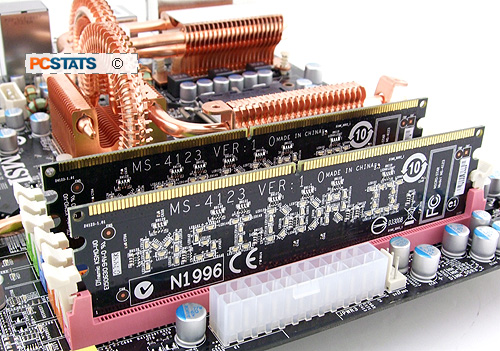 In terms of features and expandability the MSI P35 Platinum Combo motherboard is well equipped. Like all recent Intel P35 Express based platforms, the board has two physical PCI Express x16 slots for ATI videocards. The PCI Express x16 slots operate in PCIe x16 and PCIe x4 mode respectively, and support AMD Crossfire. Additional expansion options include two PCI Express x1 and two 32 bit PCI slots.
Data storage is well represented on the P35 Platinum Combo motherboard. The board has one IDE channel (RAID 0, 1, JBOD) and five SATA2 hard drives (RAID 0, 1, 5, 0+1) via the ICH9R southbridge. There are two eSATA ports at the rear I/O for external storage devices. I don't think I could live without eSATA ports, and they are certainly something I look for in a board.
When it comes to doing regular data backups, the eSATA jack makes it really easy to hook up an external drive enclosure like this and pull over 20 or 30 gigs of data rapidly.
Rounding out this boards' feature set is a Gigabit network jack, 7.1 channel High Definition Azalia audio, two IEEE 1394a ports (one header, one at rear I/O), and six rear USB2.0 ports (six via header). Four of the USB ports are spaced widely apart to accommodate chunky cables and dongles placed side-by-side at the rear IO.
To accommodate overclockers and PC enthusiasts, MSI have strapped on a big copper chipset heatsink called CircuPipe. The passive heatpipe based thermal solution connects the North and Southbridge chipsets together with the MOSFETS, and positions cooling fins around the processor socket where airflow from the CPU fan is utilized. Other nice touches are the 'clear CMOS button', multi-colour illuminated DDR3/2 Switch Cards, and an easy board layout to work with.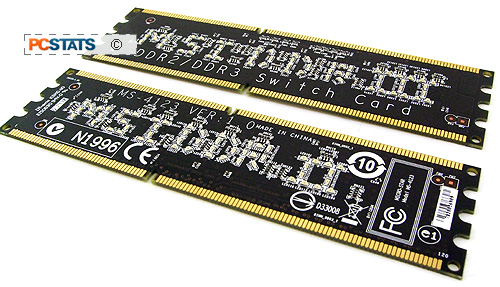 The MSI P35 Platinum Combo motherboard uses DDR2/3 Switch Cards to close off the unused memory slots.
If you're a novice computer, you'll appreciate the colour coordinating the various ports, headers and memory slots. If you run into difficulty, the User's Manual is a great resource for information. Tweakers who prefer to build a PC in the open before installing it into a chassis will like the hard clear CMOS button.
MSI used only low ESR solid state polymer capacitors on the P35 Platinum Combo motherboard. This kind of solid capacitor has a longer lifespan than the electrolytic variety. As temperatures increase inside the computer case, the lifespan of electrolytic capacitors begins to decline. Compared to standard Electrolytic capacitors which use a fluid electrolyte, the 'all-solid' style polymer capacitor last longer under the same conditions.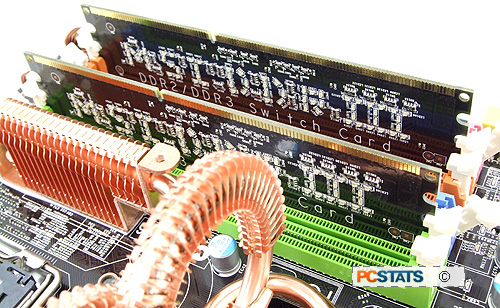 The Switch Cards install into the unused memory slot to enable the opposite memory format. Rather than using a dull piece of PCB, MSI has stacked multi-coloured LED's all across the side to spell "MSI DDR II" or "MSI DDR III".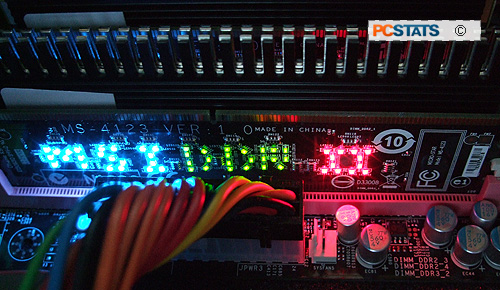 The solid-state Low ESR conductive polymer capacitors are housed in very distinguishable aluminum cans; they will not dry out, leak, or suffer gas buildup and burst. Good capacitors will not make your computer faster, but they can ensure it runs reliably longer.
Next up, PCSTATS skims over the Intel P35 chipset, the motherboard highlights and then it's onto overclocking!