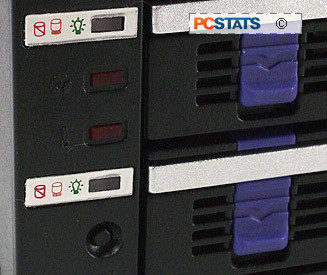 We're going to forgo hard drive data transfer benchmarks because there is no difference between a SATA hard drive attached directly to the motherboard, and one hooked up up through a SATA device like the IcyDock MB454SPF-B.
The IcyDock MB454SPF-B 4-bay hot swap hard drive module is a simple three unit high 5.25" device which enables users to add four additional 3.5" hard drives into a system. It offers easy access to the disks inside, and would be a great unit to use specifically with a dual RAID 1 array if your motherboard supports such options. It retails for about $105 CDN ($ 105USD/£50GBP).
Each SATA hard drive is held in place with rails along the sides, and can be removed from the unit without digging around in the bowels of a desk drawer for keys. There is no way to lock the individual drives into place in the unit, so if security is a concern keep that in mind.
The unit is constructed of aluminum and plastic, and should stand the tests of time well enough. Drives slide in and out of the 4-bay unit smoothly, and plugging in the small collection of data and power cables in at the rear of the unit need only be done once.
The IcyDock MB454SPF-B's 80mm cooling fans spins quietly, while drawing a moderate amount of cool airflow over each hard drive from the outside front of the case towards the interior. An adjustable temperature alarm can be useful to highlight overheating, but there is no way to disable it permanently. Dust buildup over time can become an issue as air is drawn from the front of the unit into the case. The best way to deal with this is to periodically power down and dust off each drive caddy.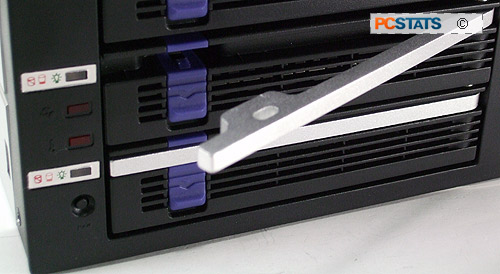 PCSTATS has tested a few drive caddy's in our day, but the IcyDock MB454SPF-B has one of the most convenient form factors we've worked with. Most importantly, it packs a lot of hard drive into a very compact space. Vantec's MRK-200ST EZ-Swap unit, for example, would require four 5.25" bays to accommodate the same number of hard drives. Overall PCSTATS has been quite pleased with the the IcyDock MB454SPF-B 4-bay hot swap hard drive module, and certainly recommends it for home work station or even light storage server applications.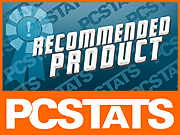 Find out about this and many other reviews by joining the Weekly PCstats.com Newsletter today! Catch all of PCSTATS latest reviews right here.
Related Articles
Here are a few other articles that you might enjoy as well...
- IcyDock MB453SPF-B SATA Multi-Bay Backplane Module Review
- Thermaltake BlacX SATA Hard Drive USB Docking Station Review
- Western Digital RaptorX WD1500AHFD 150GB Clear Top SATA Hard Drive Review
- DataTec DS350 eSATA External Hard Drive Enclosure Review
- IcyDock MB452 eSATA/USB2.0 External Hard Drive Enclosure Review
- IcyDock MB122SKGF SATA Hard Drive Rack Review
- Super Talent 2.5" Flash IDE 8GB Solid State Drive Review
- Vantec NexStar GX USB2.0 Hub & HDD Enclosure Review
- Western Digital Caviar SE16 WD4000KD 400GB SATA Hard Drive Review