Hot-swap bays are such a convenient way to mount hard drives into a PC system, particularly the new "rails-only" variety, that I can't see ever going back to the old method. But forget about those old 5.25" plastic tanks from the days of IDE (remember these beasts? ); they were unreliable, cumbersome and expensive for what you got. May they rest in the bowels of the recycling bin, ground up and turned into little BiC pens or something... Today's hot swap bays are aluminum, sleek, and almost tool free.
Serial ATA hard drives have dramatically changed the world of hot-swap bays, mainly because the SATA connector on every hard drive is mechanically hot swappable by nature. That, and an uptick in onboard RAID options has propelled multi-drive hot swappable SATA drive bays into the limelight like never before. I don't think I can even run a desktop system without at least one pair of hard drives in RAID1... the alternative is just too horrible to mention. Data loss. Aarrgh, one such event brought you such great articles as PCSTATS Guide to Hard Drive Data Recovery and How to Backup and easily Restore Data. I can't tell you how many emails we've fielded from distraught users who have just lost their entire photo collections; RAID 1 them thar photos!
Why do hard drives need to be mounted in a removable bay the first place? Convenience and cooling spring to mind, lack of internal 3.5" drive space can be an issue too. Working in an IT environment will quickly teach you that the right hard drive caddy can save time and make securely storing one, three, or even five hard drives a lot simpler at the end of the day.
In today's review, PCSTATS is looking at Icydock's MB454SPF-B multi-bay hot swap module. It's an aluminum box the size of three stacked 5.25" optical drives which contains up to four 3.5" SATA hard drives. Each drive slides in with rails-only, and is individually hot swappable. At the back of the unit are two power and four SATA data connectors.

IcyDock MB454SPF-B 4-Bay Hard Drive Module

Includes:
Instructions, HDD screws, mounting screws, cooling fan.
The MB454SPF-B differs from port-multipling SATA devices in that each SATA hard drive requires an individual data cable connected to the motherboard. The cables are centralized along with power and hard drive access jumper cables at the rear of the unit, so wire clutter is minimized. An 80mm cooling fan at the back draws cool air over the hard drives and keep temperatures from escalating too high in the confined space. The fan can be removed if not needed.
Used in the free 5.25" bays of a full tower case or dropped into a standalone external storage chassis, the IcyDock MB454SPF-B provides a convenient way to increase data storage capacity in any computer case with at least three free 5.25" drive bays. It has the added benefit of hot swapping connections, and supports SATAI or SATAII hard drives with SATA power connectors only.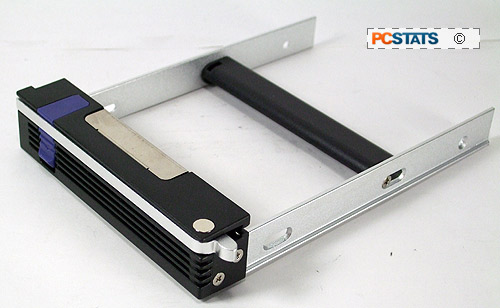 The four hot swap hard drive caddy's are a mix of aluminum rails, sheet metal EMI shielding, and plastic. Once inserted, the caddy's clip into place smoothly, without any provisions for a keyed lock. Seeing as most computer locks on removable hard drive racks are utterly useless, and infuriatingly easy to loose, the absence of this part is welcome.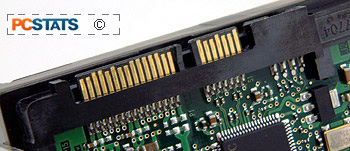 There is no need to hook up any wires to the individual drives, the SATA data and power connectors on the hard drive are what mesh with the backplane directly. These ports automatically engage with the backplane of the unit when drives are inserted. As the electrical connections disengage, data flowing to the drive is stopped, and power cut off.
Furthermore, unlike IDE devices, because each drive has its own SATA connection to the motherboard, the multi-bay module is effectively transparent. In other words, data transfer speeds are identical whether the hard drive is connected via the IcyDock MB454SPF-B or plugged directly into the motherboard SATA header.
The IcyDock MB454SPF-B SATA hard drive module will accommodate most PC chassis configurations, but there are at least two critical areas which may conflict with some chassis designs.