The expansion slots for the PCI and PCI-e cards use a tool free plastic sliding design that has to be squeezed down in order to secure cards. Thermaltake didn't remove the screw holes, so you can still firmly attach heavy videocards... I wouldn't trust the plastic tabs to keep a $700 1 kilogram Radeon HD 4870 X2 or HD 3870 X2 in place. The plastic retention bracket makes it difficult to fit a screwdriver by the screw head, so take your time.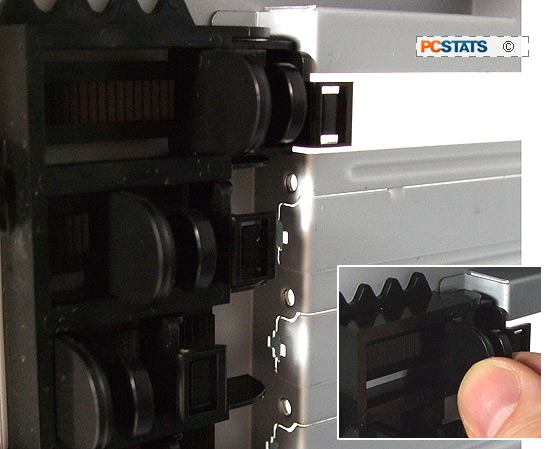 The PCI brackets are held in place with this tool free retention mechanism.
Hold on we're not done just yet.
Conclusions on the Thermaltake M9 Case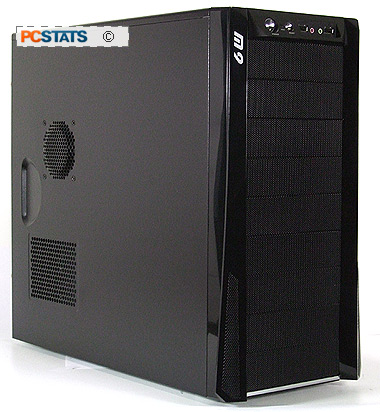 The Thermaltake M9 is a mix of average and interesting design. It's not a particularly attractive case, but not overly illuminated or cartoonishly tacky either. With little to differentiate it from no-name OEM cases on the market, it's really an alternative to beige white boxes both in build and colour. The front of the Thermaltake M9 features a floor-to-ceiling mesh grill, funky plastic triangles and somewhat hard to use USB and audio jacks. The side is plain black with a couple air vents. It's not like any of the M9's design elements really came together or were constructed particularly well for this case, but it's not a total write off either.
The front panel's reset buttons and USB connector placement could use some re-designing to make them more useable, but the foam on the front grating is definitely an appreciated touch.
The interior layout also shows some signs of carelessness on Thermaltake's part - with graphics cards getting longer and thicker, it's especially annoying that this case mounts its hard drives parallel to the PCI Express slots, rather than perpendicular to them.
The drive cage for the hard drives is also a problem, since there's only room available for three 3.5" drives in the Thermaltake M9's default configuration. Why have six 5.25" bays left available?
Many PCSTATS readers are running RAID, have multiple drives, or prefer to keep their older drives inside their PC as back-up or archives for data. The provided three-bay hard drive cage with fan attachment is useful, but the M9 should really come with a pair of them, preferably a set that mounts perpendicularly for easier cabling.
Installation is the Thermaltake M9 is a smooth process except for the aforementioned caveats with longer video cards. The securing mechanisms for the PCI cards and 5.25" bays fit well and were easy to slide or twist into place, and the provided standoffs built into the motherboard tray make installing an ATX or MicroATX board fairly simple. The sliding mechanism is a little weak for users with 4870X2s and other heavy graphics cards(who will also likely have trouble getting their longer video cards to fit in the case anyway). Watch out for sharp edges on the thin steel chassis. Most obvious corners are rounded, but not all.....
For about $80CDN, the Thermaltake M9 isn't doing much to justify its price - the Antec 300 mid-tower can be found for as low as $60, had more accommodating interior bays and, in my opinion, looks better. Without the Thermaltake branding, the M9 could easily be mistaken for an OEM product, and the flimsy feel of the side panels, sharp edges on the break-out SECC I/O shield only add to the feeling that Thermaltake wasn't giving the M9 their all when they designed it. If the Thermaltake M9 came with a 400W power supply for $80 it would be a much better deal.
Anyone with a large video card or multiple hard drives should probably think twice before getting the M9. For users who are looking for a case that doesn't have a door, have a lot of 5.25" drives, and want a case that gives some flexibility with its placement of 5.25" and 3.25" bays, the Thermaltake M9 could potentially be for you - but you should also take a look at similarly designed, but lower-priced offerings that come with a power supply from competitors and OEMs first.
Find out about this and many other reviews by joining the Weekly PCstats.com Newsletter today! Catch all of PCSTATS latest reviews right here.
Related Articles
Here are a few other articles that you might enjoy as well...
- Cooler Master HAF 932 Full Tower Case Review
- iStar Nitro AX Full Tower Computer Case Review
- Gigabyte 3D Aurora 570 Aluminum Chassis Review
- iStar D-Storm D300 3U 19-inch Rackmount Chassis Review
- ASUS Vento 3600 Case Review
- Gigabyte 3D Aurora GZ-FSCA1-AN Aluminium Case
- AOpen A600 Aluminum ATX Case Review
- AOpen H420 MicroATX Case Review
- CoolerMaster WaveMaster Black Aluminum Case Review
- Raidmax Scorpio Silver Aluminum Case
- Coolermaster ATC-201B SXT Aluminum Case Review
- Aopen QF50A Budget Case Review