The Thermaltake M9 is a mid-tower case that doesn't deviate too much from the generic ATX format - its 3.5" drives mount parallel to its expansion slots, it's got a pair of fans in front and rear, and the power supply is mounted on the top of the case.

Thermaltake is trying to stand out from the crowd by throwing in a few extras; tool-free drive bays, two front panel USB and audio jacks, as well as a nifty removable hard drive cage. The M9 is a straight forward case with all the nods towards keeping itself modern and useful.

Thermaltake's M9 stands 17" tall and 7.5" wide (although that swells out to 9" at its widest point), and is constructed out of plain old SECC steel, glossy black plastic, and mesh grating along its front bays.

There's room inside for six 5.25" optical drives and three 3.5" bays in its default configuration, although that can be changed to open up as many as nine 5.25" bays by removing the hard drive cage.

The M9 case (model: VI1000 BNS) PCSTATS is evaluating retails for $80 CDN, ($70 USD, £40GBP) and doesn't include a power supply or case window.

Other variations of the Thermaltake M9-series (such as the VI1000 BWS model) ship with a side panel window and either a Thermaltake 400W or 430W power supply.

Thermaltake Mid-Tower Case

Includes

Instructions and necessary mounting hardware (screws, brass stand offs and rails), keys, fan scoop. No power supply is included.
The front panel of the Thermaltake M9 is made of a rougher matte black plastic than the glossy fins on the front of the case, which is good as it keeps greasy fingerprint marks to a minimum. A pair of USB ports flank a headphone and mic ports - it's a little strange to have the audio jacks between the USB interfaces, since plugging in a device that uses dual usb cables (like a portable 2.5" hard drive) will likely require you to remove your headphones. The close proximity can also cause issues when using a really wide USB key and the headphone jack, as one or the other will not fit.
The power and reset buttons are both recessed into the plastic front panel, and while the power button is large and easy to press, the reset button is annoyingly small, and difficult to hit, even with my skinny fingers.
The side panel on the Thermaltake M9 case comes with an attached air guide, which you can use or leave off. The air guide (or air scoop as they are called by Antec) help funnel cool intake air from outside the case to the CPU heatsink fan. This can theoretically help keep CPU temperatures down, but it's also a good idea use the rear mounted fan to draw hot air out of the case or the chassis will pressurize and airflow stall. The plastic air guide projects from 3-4" into the case, which leaves enough clearance for default AMD socket AM2 and Intel socket 775 heatsinks. It may interfere with CPU coolers taller than 4", but if that's the case the scoop can be easily unscrewed from the side panel. A standard 80mm fan could also be mounted to the grill here if you choose.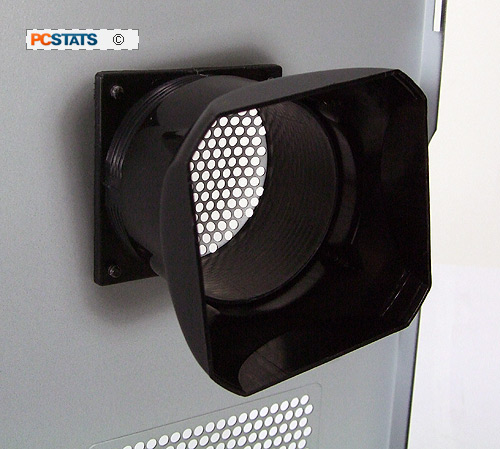 The M9's nine 5.25" drive bay covers are made out of metal mesh with a foam dust filter underneath. The dust filter is a great idea, since it keeps interior components clean, which in turn helps keep the system cooler over time. The mesh is flexible, so take care when removing them from the drive bays. The entire front of the Thermaltake M9 case is covered by 5.25" gratings.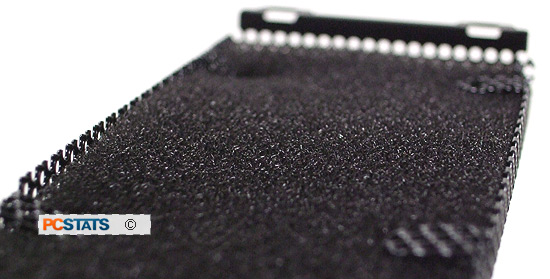 The Thermaltake M9 comes with one mesh bay cover and internal railing for a 3.5" drive in the 5.25" space. This is useful for media card readers, or for users who still have floppy disk drives. The interior railing is slid into the top 5.25" bay by default, so make sure to remove it before trying to fit in an optical drive in that slot.