Inside the Cooler Master Stacker 830 SE there is a good amount of space to work with, but much of the area on the parameter of the removable motherboard tray is occupied by drive racks. The Cooler Master Stacker 830 SE will easily accommodate a full sized desktop ATX motherboard up to 38 cm wide. Large server or workstation type motherboard shouldn't have a problem with the Cooler Master case either, but anything longer than 40 cm though would be a no go the hard drive rack extends from one side of the case to the other with no clearance for an extra wide motherboard to slip under.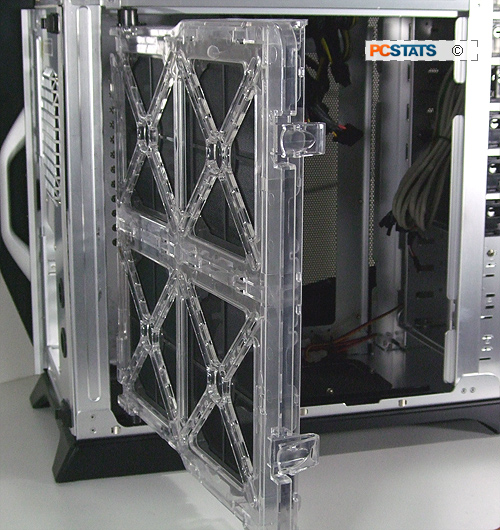 Attach four additional 120mm fans to this pivoting door to keep toasty videocards cool (blowing onto, or exhausting heat from the case).
Motherboards mount to small stainless steel stand offs. You will need to install these on the removable motherboard tray to match the mounting hole pattern of your motherboard (you would be surprised how often we hear about people forgetting to do this). The motherboard tray attaches to the chassis with two clips.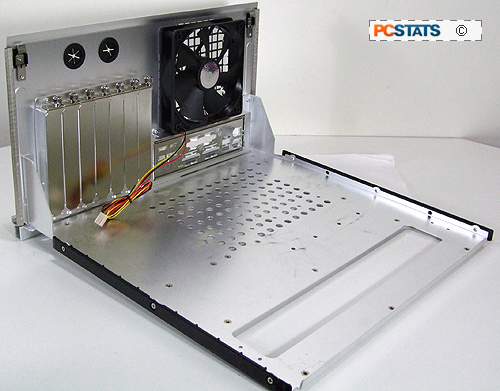 Removable aluminum motherboard tray.
The 5.25" optical use captive rails and tray mechanisms to support the drive when they are installed into the chassis. If you want to secure the drives further, you can screw attach screws to the 5.25" drives.The rails click into the drive slot, squeezing the hand hold releases it.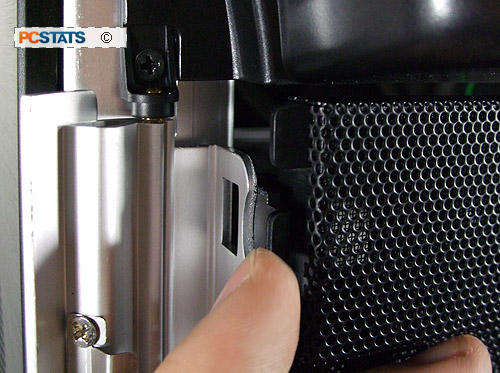 Tool free removal of bay covers are hidden behind little metal flaps.
On the topic of rounding over all the sharp edges and corners, the Cooler Master Stacker 830 SE does a good job for the most part. Areas you hand is likely to hold are rounded over, the motherboard tray and the aluminum on the bottom of the case is quite sharp and can break the skin if you're not careful.