The three main advancements with the Intel X48 Express chipset over the Intel X38 are support for DDR3 - 1600 memory and Intel Extreme Memory Profiles (think EPP/SLI memory for DDR3), the PCI Express 2.0 standard, and 45nm 1600MHz Front Side Bus multi-core processors. Most everything else about the Intel X48 Express chipset is identical to the Intel X38 which preceded it.
In this review PCSTATS is pleased to be testing out MSI's flagship Intel X48 Express motherboard, the aptly named MSI X48 Platinum. If you consider yourself an enthusiast who craves speed and won't game with anything less than dual videocards, this is one motherboard you're going to love. We'll get into the specs momentarily, but first let's look at what makes the MSI X48 Platinum such a nice enthusiast platform.
At the top of the list is a simple thing, space around the PCI Express 2.0 x16 videocards slots for fat dual slot videocards. Boards like the Asus Maximus Extreme may have a fully loaded feature set and watercooling compatible chipset heatsinks, but just go ahead and try to run Crossfire with a pair of Radeon HD 4870 X2 videocards... it's not fun. Dual slot videocards need extra room to breath, and the MSI X48 Platinum provides this. With two spaces between the primary PCI Express x16 slots you've got plenty of room for bulky VGA heatsinks.
Next on our list is information. That may sound incredibly dull, but if you don't know why the motherboard isn't working with certain overclocked settings, it's not much fun troubleshooting. The MSI X48 Platinum motherboard has a dot matrix LED readout tucked away in one corner, which aside from being customizable, acts as a plain english Port 80 card when trouble arises. You'll also appreciate the hard power and reset buttons on the board, and the best of all, a push-button CMOS reset at the rear I/O in case you take overclocking too far!

MSI X48 Platinum Motherboard



Includes:
User's Manual, Driver CDs, 6x Serial ATA cables, 2x Molex to Serial ATA Power Cables, Ultra/133 IDE Cable, Floppy Cable, 4x SATA cable, USB/IEEE 1394a Bracket, I/O Shield, 2x Crossfire bridge connectors, front panel IO jumpers.
The raw specs for MSI's X48 Platinum motherboard are equally impressive. The board is based on the Intel X48 Express and ICH9-R variant Southbridge, and supports DDR3-800/1066/1333 and 1600 (XMP) memory formats. It has four DDR3 memory slots which may accommodate up to 8GB of RAM in a dual channel configuration. There is a minor limitation when running DDR3-1600 memory, but more on that in a moment. The MSI X48 Platinum supports 45nm Core 2 Duo/Quad/Extreme processors, and every other socket 775 CPU that runs on a 800/1066/1333/1600MHz Front Side Bus.
UPDATE: this board appears to have compatibility issues with Intel Core 2 Duo E8500 CPUs.
The real beauty of MSI's X48 Platinum is broad accommodation of videocards. There are four physical PCI Express x16 slots, split into two pairs with slightly different capabilities. The primary slots are PCI Express 2.0 compliant and supply 16 PCI Express lanes to each videocard (in blue). These allow you to run dual AMD videocards in Crossfire mode, for example. The other pair of PCIe x16 slots run in x4 mode, so you could install another pair of light-weight graphics cards here if you desire more monitor space (in yellow). The extra eight PCI Express lanes needed for this additional slots come from an addition core logic, the IDT 89HPES16T7ZH. A single PCI slot is provided for legacy devices, along with two PCI Express x1 slots.
The Intel X48 Express chipset supports AMD Crossfire for multiple videocard gaming, and while MSI recommend a minimum 450W power supply for this configuration, PCSTATS would suggest a 750W or higher unit. In terms of data storage, the X48 Platinum board provides users with one IDE channel and four SATA2 jacks (RAID 0, 1, 5, 10 via the ICH9R southbridge), and two additional SATA2 connectors (RAID 0,1,JBOD) care of a Silicon Image chip. There are two eSATA ports at the rear I/O for external storage devices. External drive enclosures like this are almost a must have, and eSATA transfer speeds are very quick.
Rounding out the MSI X48 Platinum's feature set are dual Gigabit network ports, a 7.1 channel High Definition Azalia audio controller, two IEEE 1394a ports (one header, one at rear I/O), eight USB2.0 ports (four more via headers), optical SP/DIF, and a Trusted Platform Module header (TPM chip not included).
Addressing the heat produced by the Intel X48 and ICH9R chipsets is MSI's passive Circu-pipe copper heatpipe and MOSFET cooling system. The MSI X48 Platinum motherboard retails for about $270 CDN ($250 USD, £130 GBP), which is pretty average for its class.
Layout and Bling - no expense spared!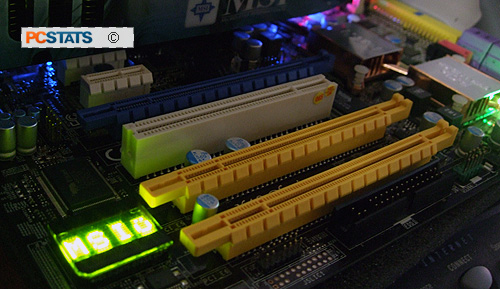 The layout of the MSI X48 Platinum motherboard is user friendly and accommodating. Most of the ports and headers are placed in accessible locations, and all are well labeled. There's plenty of space between the two videocard PCI Express x16 slots for dual-slot graphics cards.
In another example, the four primary SATA jacks are set at 90 degrees to the motherboard so full length videocards won't get in the way. The IDE connector is also at 90 degrees, so MSI has cleared the way for ultra long videocards.
At the rear I/O we find four SUV-spaced USB2.0 jacks, and four additional ports with standard spacing. As an MSI rep explained it to us during a recent event in Shanghai, the wide-spacing USB jacks make it easier to plug in a couple bulky USB drive keys next to one another.
Also on the rear I/O are dual gigabit network jacks, one IEEE1394 firewire, two eSATA jacks, a CMOS reset button and the usual assortment of audio and optical SP/DIF ports. MSI provides a detailed manual that will walk you through the X48 Platinum's installation, hardware setup, BIOS, and bundled audio and system tweaking software.
Overclocker Friendly
The MSI X48 Platinum motherboard gives great feedback to overclockers, and is even helpful for newbies who are often confused by cryptic system beep codes. The built-in four digit LED Port 80 card monitors motherboard status and peripheral errors to let you troubleshoot problems quickly. These POST codes are commonly signaled by beeps from the motherboard's internal speaker.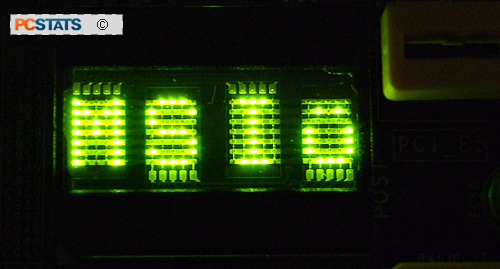 MSI didn't stop there with the lights though, there are another 17 LEDs located next to every ram slot, PCI slot, and PCI-e slot, as well as another 6 LEDS to monitor the system status, power, stand-by and hard-drives.
Aside from being useful for diagnosing problems (no more having to plug voltmeters into slots to check for electrical shorts, hooray!), the overall effect is also quite pleasing visually to boot.
The MSI X48 Platinum uses all solid-state polymer capacitors, which are much more durable than the standard liquid-based electrolytic capacitors. Solid state capacitors won't increase the performance of a motherboard, but they will give it a longer, more reliable lifespan.
PCI Express slots and other expansions
The MSI X48 Platinum motherboard has four physical PCI Express x16 slots. The yellow slots are used for peripherals, and run with four PCI Express lanes of bandwidth each. The blue slots (which MSI calls 'mazarine') are high-bandwidth PCI Express 2.0 with 16 lanes each, and those are the ones you'll use for videocards. To round things out there are another pair of white x1 PCI express slots, and then a standard PCI local bus slot in the middle for your old Creative Audigy or Hauppauge capture card.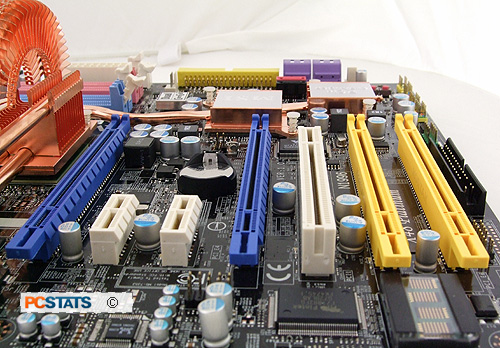 The physical layout of the expansion slots is nice because it gives good spacing for high-end, dual-slot video cards like the Radeon HD 4870 X2, so there is nough room for adequate airflow. On the downside, it's going to be difficult to run Crossfire and use a PCI card at the same time, even a single-slot video card cooler will have difficult sucking in air when placed only a centimeter away from an adjacent PCB.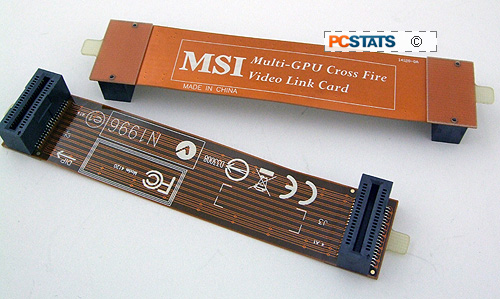 We took off MSI's Circu-Pipe passive cooler to take a peek at some of the chips underneath. This IDT chip is the PCI-E Expander, and bridges the second yellow PCI Express slot into the ICH9R Southbridge.
The PCI-E Expander is a novel idea, although its potential bandwidth is limited since it's passed through the ICH9R southbridge on a x1 lane on the way to the X48 Express Northbridge.
Crossfire on the X48 Platinum
The MSI X48 Platinum has support for Crossfire, and includes a Crossfire bridge. Crossfire cards need to be installed in the aforementioned mazarine slots (the blue ones). Crossfire can be enabled through Windows Vista/XP, making it possible to set up without having to access the BIOS.