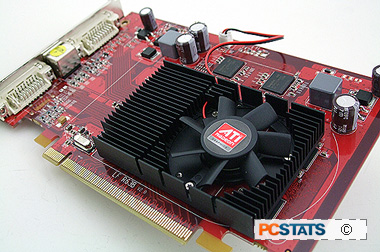 The Diamond HD 3650 PE 512 videocard is one of the least expensive discrete videocards on the market for PCI Express. These cards fall in to a sub-$100 price point and as such are not intended for gaming performance, they're usually purchased when an integrated graphics chipset fails or doesn't provide the proper support or outputs required for higher-resolution displays.
With that being said, the Radeon HD 3650 GPU is still a bit faster than most integrated graphics processors, including Intel's GMA X4500 HD, and does allow for some lightweight gaming - Quake IV was playable at resolutions up to 1600 X 1200 on the Diamond HD 3650 PE 512. However, Quake IV was just as playable on the cheaper, older Radeon 2600XT. The feature sets between the two cards are nearly identical, as are the included bundles. In our benchmark tests, the newer AMD card was consistently outperformed by its older sibling.
This makes it difficult to recommend the Diamond HD 3650 PE 512 - PCI-Express 2.0 and DirectX 10.1 support aside, there's no compelling reason to buy this card as a discrete graphics solution - for simple 2D output there are cards that go even lower on the price scale. The Diamond HD 3650 PE 512 retails for around $70 CDN ($60 USD, 35 GBP), nVidia 8400 GS and AMD's own Radeon 3450 series can be had for as low as $40. Likewise, gamers can get a much more powerful Radeon 3850 or nVidia 8800GT for around $100, a price difference that's less than the cost of your average PC game.
Diamond's Radeon HD 3650 suffers from being placed in an awkward marketing position - if the price on it were to drop lower than some of last year's entry level parts, it might be more competitive, but with its current pricing scheme it reflects relatively poor value for money.
Find out about this and many other reviews by joining the Weekly PCstats.com Newsletter today! Catch all of PCSTATS latest reviews right here.
Related Articles
Here are a few other articles that you might enjoy as well...
- Palit Radeon HD 4870 X2 Videocard Review
- Asus EN9600GT Top/HTDI/512M Geforce 9600GT Videocard Review
- Foxconn 9600GT-512NOC Geforce 9600GT Videocard Review
- Palit Geforce 8800GT Super+ 1GB Videocard Review
- Biostar V903GT52-NV1AN 512MB Geforce 9600GT Videocard Review
- Palit 9600GT Sonic 512MB Geforce 9600GT Videocard Review