The battle for top video card performance has been going on for years between AMD/ATI and nVidia. While it's usually the expensive flagship videocards that get the lion's share of attention, it's the mainstream graphics solutions that are most purchased by users. Today PCSTATS is taking a look at one of AMD's recent mainstream GPUs, in the form of the Diamond HD 3650 PE 512 videocard.

The Diamond HD 3650 PE 512 is a single-gpu PCI Express videocard. The card's GPU runs at a core clock speed of 725MHz, paired with 512MB of GDDR2 running at 800MHz. The ATI Radeon 'RV635' GPU is built on a 55nm process, has 120 unified processors, a 128-bit memory interface and supports DirectX 10.1. It's aimed at fulfilling a need in the mainstream market where more power and functionality than an integrated graphics might provide is requred. In other words, the videocard is not designed to play the latest 3D games with all the eyecandy turned on, but in a pinch it can be used to run older, non shader-intensive titles, or recent titles at more lax visual settings.

The Diamond HD 3650 PE 512 videocard currently retails for about $70 CDN ($60 USD, $35 GBP), which puts it in the same price range as nVidia's 8500GT. We'll draw our comparisons a little later in this article, let the battle of the entry-level video cards begin!

Diamond HD 3650 Radeon Videocard




Includes:

User's Manual, Driver CD, (2) DVI to analog converters, component output dongle cable, composite output dongle cable.
Diamond's Radeon 3650 comes with a basic hardware bundle; just a pair of DVI to VGA adapters for users who still have analog-only displays, an S-video to component cable, as well as a S-video to composite cable, CD and installation manual. The card is run entirely off PCI Express bus power, so no additional molex connectors and power adapters are required.
The included manual is a generic installation guide that explains how to attach the card into a PCI Express slot and plug in video cables into the appropriate slots. Diamond doesn't provide any additional software with this card aside from the basic drivers needed to install it. So it's a little spartan, to say the least. This isn't an expensive card, and we weren't expecting free hats or t-shirts or even stickers with funny slogans on them - but it never hurts.

The Radeon 3650 card has a pair of DVI ports and an S-video output on its I/O panel, but our particular model lacked the HDMI + audio output - that's also available as a separate 3650 model from Diamond.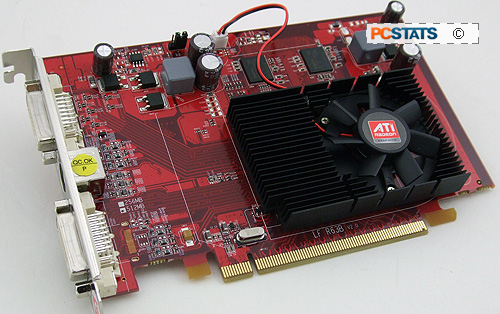 AMD Radeon HD 3650 Technology
The AMD Radeon RV635 graphics processor is based on the RV670 GPU that powered the Radeon HD 3870 and HD 3870X2, but significantly stripped down to make it cheaper to produce.
The Radeon 3650 GPU is also built on the same 55nm process as the RV670 GPU, but only has 120 stream processors, eight texture units, and 378 million transistors on its rather small silicon die..
While very similar to AMD's older HD 2600 Pro in many ways - same amount of stream processors and texture units - that card is built on the larger 65nm process. Because of the Radeon HD 3650's faster core clock speed and memory, we expect it to outperform its older brother, but we'll find out for sure during out benchmark tests.
As a further update to the HD 26XX- series, the AMD Radeon HD 3650 GPU is now PCI express 2.0 and DirectX 10.1 compliant, these standards have yet to become a real requirement for any hardware or software on the market today, but might give the card the ability to migrate into later motherboards as a back-up at some later date.
Overclocking is next!