It's a good time to be on the market for a new video card. After floundering in second place behind nVidia for the past few years, ATI's Radeon 48xx-series videocards promise to boost AMDs marketshare back up to a healthy margins by delivering fast framerates for a very competitive price. The release of the Radeon HD 4850, HD 4870 and HD 4870 X2 videocards certainly underscores the fact that AMD is making all the right moves to draw back gamers back under its wings, even if its processors aren't.
Despite the hype that surrounds AMDs more expensive HD 4870 and HD 4870 X2 graphics cards, we believe the Radeon HD 4850 may be the most important card of AMD's new lineup - cards in the $200 range have typically been the sweet spot for enthusiasts looking for a videocard with decent performance numbers but without the huge price premium flagship cards demand. Mid-range videocards not only tend to be ideal for today's games, they often overclock to match the speeds of the more expensive members of their family! Generally speaking, the Radeon HD 4850 currently represents the best value for money for gamers looking to stretch those system-building dollars.
In this review PCSTATS is going to toss a bunch of benchmarks at ASUS' EAH4850 HDTI/512/M/A videocard and find out if it has what it takes to enter the hallowed halls of history with the likes of the Geforce 8800GT, ti4200, Radeon 9800 Pro and X1950 Pro.... the md-range videocard hall of fame. The Asus EAH4850 packs a single Radeon 4850 'RV770' GPU running at 625MHz under the hood, and 512MB of DDR3 RAM running at a smooth 1000MHz. This PCI Express 2.0 compatible videocard supports ATI CrossfireX for multiple videocard teaming, is HDCP compliant and retails for about $200CDN.
Will the Asus EAH4850 HDTI/512/M/A videocard beat out nVidia's Geforce 9800 GTX+? Let's find out!

Asus EAH4850 HTDI/512M/A Videocard




Includes:

User's Manual, Driver CD, Component Output cables, DVI-to-Analog converter, DVI-to-HDMI converter, Composite adaptor, Crossfire cable.
Okay, for starters the Asus EAH4850 HDTI/512/M/A videocard isn't nearly as long and bulky as its HD 4870 X2 brethren, it only occupies a single card slot of space which is a nice change. The videocard has twin DVI outputs along with standard composite video, component video output and HDMI 1.3 (via bracket, 7.1 channel audio included). The box includes a DVI to VGA adaptor, a DVI to HDMI adaptor, component video/S-video adaptor (Y, Pb, Pr), a CrossfireX bridge connector and associated CD manuals and drivers.
Maximum supported DVI monitor resolution is 3840 x 2400, CRT monitors are supported up to 2048 x 1536 resolutions.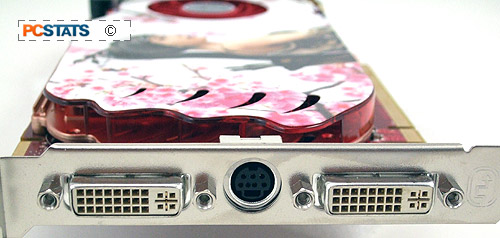 ASUS makes sure you have all that you need to take advantage of the onboard video options, specifically the special DVI to HDMI converter which on this specific card includes both video and 7.1 channel audio signals. With a price point of $200 CDN, the ASUS EAH4850 Radeon videocard can be forgiven for not including any games to showcase its prowess.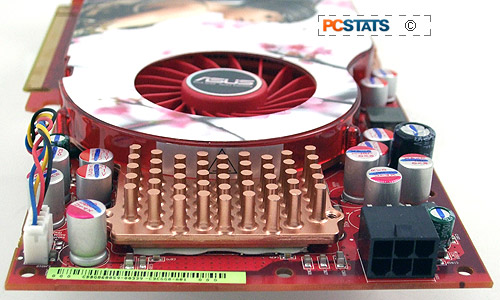 Also included in the box is a Molex-to-PCI Express video power connector, which might seem unnecessary as most current power supplies have at least two of these connectors. If your power supply doesn't you might want to consider upgrading it to a modern unit like this.