Remember the days when AMD's Athlon64 was THE breakthrough in processor technology, and Intel's Pentium 4 couldn't keep up? The tables have certainly turned in the other direction now, but AMD still makes very affordable processors which are ideal for mainstream PC and gaming demands. We'll leave the Core 2 Duo vs. Phenom argument for another article (like this). Suffice it to say, if you're running an AMD socket AM2 Athlon64/Phenom chip right now, you're going to like what the AMD 790FX chipset and MSI's K9A2 Platinum motherboard have to offer.
Retailing for about $170 CDN ($170 USD, £90 GBP), the MSI K9A2 Platinum motherboard features four PCI Express x16 slots for multiple videocards, some nice overclocker friendly BIOS options and the regular host of integrated goodies. The MSI K9A2 Platinum is built on AMDs venerable 790FX and SB600 chipsets, which incorporate Hypertransport 3.0 and bus speeds of up to 2600MHz. The board accomodates all socket AM2/AM2+ AMD Athlon64/Sempron/Phenom CPUs and inexpensive DDR2 RAM.
The K9A2 Platinum can be installed with up to 8GB of 533/667/800/1066 DDR2 memory, and of course it's compatible with the AMD64 architecture, enabling simultaneous 32-bit and 64-bit computing. Expansion options are pretty diverse, starting with the four PCI Express x16 slots (two in x16/x16 mode for Crossfire videocards, two in x8/x8 for other peripherals), the K9A2 Platinum also offers up a PCI Express x1 and two PCI slots for legacy devices.
Integrated goodies cover all the basics that any motherboard released in the last year wil have; two 300MB/s external SATA jacks round back, six SATAII headers (two of which are SAS ready, all offer RAID 0,1,0+1 support), a Gigabit network card, 400Mbps IEEE 1394 Firewire (one rear, one internal header), jack-sensing 7.1 channel High Definition Azalia audio, IDE and seven USB2.0 jacks. This motherboard has almost everything a person needs, except perhaps a Port 80 card which would have been a nice added touch.

MSI K9A2 Platinum Motherboard




Includes:

User's Manual, Driver CD, Ultra/133 IDE Cable, Floppy Cable, four SATA Cables, two Molex to Serial ATA Converter Cables, USB Header, IEEE 1394a Header, I/O Shield
Around back at the rear IO ports on the K9A2 Platinum you'll discover four USB2.0 jacks along with a pair of eSATAII ports and an IEEE 1394a Firewire jack. There is an additional Firewire port available via the supplied bracket / motherboard header. The rear I/O is fairly legacy free, no parallel printer or serial jacks, but it does have PS/2 mouse and keyboard connectors. Additional outputs include a 6-channel audio out and SP/DIF optical audio out.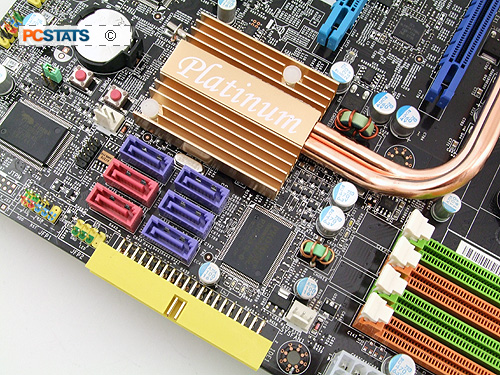 We particularly like the fact that there are two external SATAII jacks on the K9A2 Platinum; when it comes to adding in additional storage there is nothing as convenient as eSATA for this role.
As a bonus, the MSI K9A2 Platinum supports RAID 0,1,0+1 across both eSATA ports, so you can potentially RAID 0 a set of external drives and install your video game software into the resulting array for a nice boost in load times.
MSI includes pretty much everything you'll need to take advantage of the onboard peripherals in the box. There are plenty of Serial ATA cables, two flexible Crossfire bridge connectors, a pair of Firewire/USB2.0 brackets among others.
Quad Videocard Support
MSI's K9A2 Platinum motherboard is equipped with no less than four PCI Express 2.0 x16 videocard slots!
In Crossfire mode the dark blue 'Mazarine' PCI Express x16 slots run in full x16/x16 mode (receiving a full 16 PCI-e lanes each), and the light blue slots will become unavailable for use.
The light blue PCI Express x16 slots themselves run in x8/x8 mode if you aren't running Crossfire. If all four physical PCI Express x16 slots are used, they will each operate in x8/x8/x8/x8 mode. Unlike many other boards, the lone PCI Express x1 slot remains usable regardless of how the PCI Express x16 slots are populated.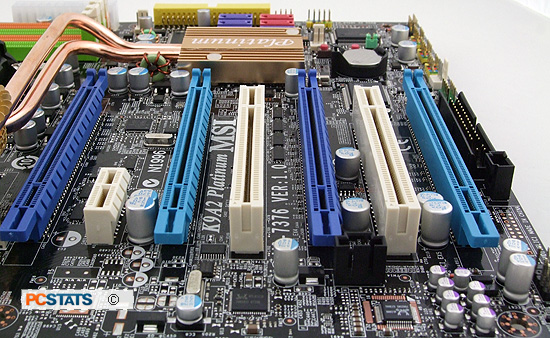 MSI's K9A2 Platinum motherboard is equipped with no less than four PCI Express 2.0 x16 videocard slots!
Passive 790FX Chipset Thermal Solution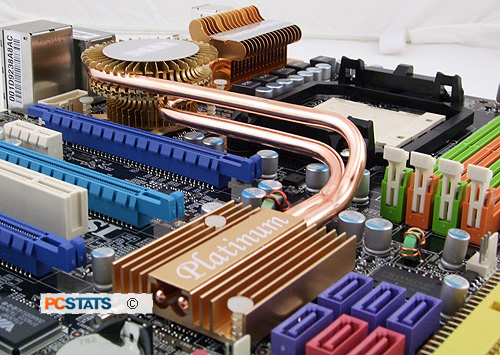 The MSI K9A2 Platinum motherboard features a pair of copper heatpipe-based thin fin heatsinks covering the AMD 790FX and AMD SB600 southbridge chipsets.
The two AMD chipsets generate a moderate amount of heat, but this totally silent thermal solution is better than using a bunch of little noisy fans. Chipset fans have a bad habit of failing over time, or becoming hopelessly clogged with dust.
AMD's 790FX chipset is capped with distinctive round finned heatsink wrapped with heatpipes. A pair of heatpipes snake their way through the components on the K9A2 Platinum, connecting the Northbridge heatsink to a large thin fin copper heatsink mounted to the processor power supply MOSFETs.
The thin copper fin heatsink on the CPU power supply MOSFETs to the left of the AMD AM2 socket harnesses the exhaust airflow from the processor heatsink fan for its cooling. A clever solution for sure, and one that most motherboard manufacturers have embraced as a quiet way of managing the heat from chipsets.
As always, it's important to remember that if water cooling is used here, you have to point a fan in the direction of these passive heatsinks or the chipsets will not be adequately cooled. In our experience with the MSI K9A2 Platinum we found it's passive chipset solution quite effective at keeping temperatures in check.
Solid Capacitors for motherboard longevity
MSI have assembled the K9A2 Platinum motherboard with entirely conductive polymer aluminum solid capacitors. These are the same type of capacitors mostly found on videocards, and being a solid device they don't leak or burst years down the road. There's an interesting back story behind the wide adoption of polymer capacitors on higher end motherboards, if you have time read this PCSTATS article It's actually a rather complicated story revolving around industry espionage...
Next up, PCSTATS takes you in for a closer look at the MSI K9A2 Platinum motherboard, and then it's onto overclocking and a round of benchmarks as we seek to find out if this board is worth your time and money.