As integrated graphics processors (IGP) have matured they've also started gaining features and capabilities that were once the sole province of discrete videocards. Features like video acceleration, HDMI output with audio and support for higher resolutions and widescreen aspect ratios all originated on high end videocards for gamers, but are now increasingly common even on budget motherboards. These new capabilities have propelled IGP-based motherboards to become viable alternatives to discrete graphics for the user who doesn't care about 3D gaming.
With that in mind, it makes sense that there are now increasing numbers of full-size ATX motherboards with built in graphics processors, like the Biostar TF8200 A2+ that PCSTATS will be reviewing in this article. It's a board that promises a lot of versatility and room for expansion, while still providing enough integrated capability that only a stick of RAM, a CPU and a hard drive are required to turn it into a fully functional PC. For around $100 CDN ($80 USD/£40 GBP), the Biostar TF8200 A2+ offers up the nVidia Geforce 8200 chipset on a platter along with support for socket AM2 AMD's Athlon 64, Sempron and Phenom processors.
The Biostar TF8200 A2+ supports up to 8GB of DDR2 memory at 400/533/667/800/1066 MHz speeds, a PCI Express x16 slot, two PCI Express x1 and three standard PCI expansion slots, six SATA II ports, up to twelve USB ports via the use of USB headers, and to round it out: analog VGA, DVI-D and HDMI outputs! Not bad for only one hundred dollars! 7.1 channel High Definition Audio is thrown in for good measure.

Biostar TF8200 A2+ Motherboard




Includes:
User's Manual, Driver CD, 2x Serial ATA cables, 1x Molex to Serial ATA Power Cable, Ultra/133 IDE Cable, I/O Shield.
Given the TF8200 A2+'s numerous video outputs and expansion capabilities, it's attractive motherboard for a budget PC, or as a HTPC to compliment your existing media center. The platform supports HDMI 1.3a output, which in human terms means an audio signal is transmitted along with the video over the HDMI cable. The Geforce 8200 IGP supports hardware video decoding and nVidia's Hybrid SLI in case you have a Geforce 8500GT or something similar kicking around... more on this in a moment.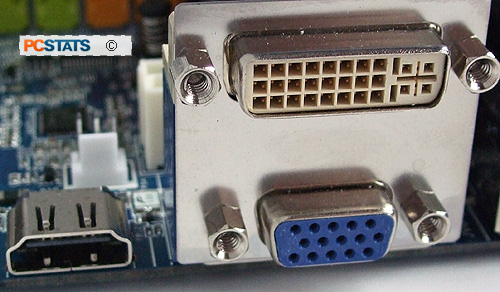 Biostar's TF8200 A2+ is a standard-sized ATX motherboard, but features an IGP that's more commonly found on compact micro-atx motherboards. Consequently the TF8200 A2+ has more expansion options that make migrating existing soundcards and wireless networking cards (for example) an easy endeavour.
Six SATAII jacks and a single IDE are provided for additional storage - the SATA ports are powered by the nVidia Media Communications Processor, and utilize the nVidia Media shield storage system, so they support RAID 0, 1, 5 and 10.
Around back at the I/O panel of the Biostar TF8200 A2+ you'll find three display ports options: a DVI-D, VGA and HDMI port mean practically any display can be supported.
The board has one slot available for a DVI-I daughter card (not provided). While the HDMI and DVI ports can't be used simultaneously to drive dual displays, either can be paired with a discrete videocard in Hybrid SLI.
There are only four USB ports on the back of the Biostar TF8200 A2+, which can be problematic - USB is, well, universal, and even casual users will max out their available USB ports by plugging in a mouse, keyboard, printer and webcam. There are four additional USB headers on the motherboard (eight more ports), but no brackets are supplied. Also absent from the Biostar TF8200 A2+ is Firewire or an eSATA jack - while these connections are a little more exotic than this class of economy motherboard merits, there are handy.
Biostar chose a simple heatpipe-based chipset thermal solution for the TF8200 A2+, which means no noise is created to cool the moderate power output of nVidia's 8200 MCP.
nVIDIA's Geforce 8200 Integrated Graphics Chipset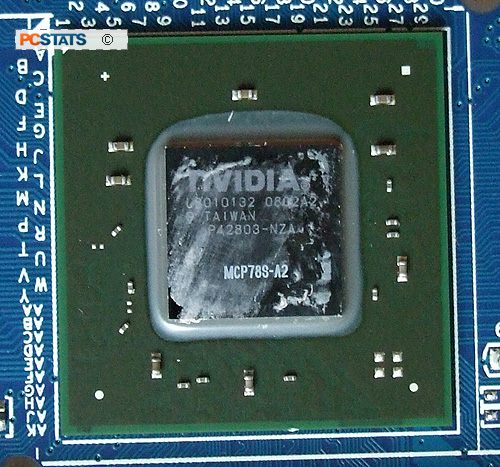 nVidia's Geforce 8200 chipset is a single-chip design, packing in the functionality of both northbridge and southbridge controllers into a single small silicon die.
The nVidia 8200 mGPU is essentially a Geforce 8400 GS videocard repackaged as an IGP. The chipset is built using the same architecture as an 8400 GS, it's also on an 80nm process, with a core graphics clock speed of 500MHz, and has 16 1.2GHz stream processors. Outside of its 3D graphics capabilities however, nVidia has added some additional features to the GF 8200 chipset.
HDMI 1.3A playback is now possible - this is the latest HDMI standard, and allows for up to 48-bit colour depth, support for resolution greater than 1080p, and Dolby Digital Plus, Dolby True HD and DTS-HD audio support. Most likely these features won't be taken advantage of by any consumer-level media content for quite some time, but additional future proofing is always nice.
One big change from nVidia's previous nForce chipsets is an update to the PureVideo HD video decoding capabilities on the 8200 mGPU. While the old PureVideo technology could only accelerate certain aspects of video playback and relied on the CPU to handle the rest of the overhead, this newer incarnation can apparently accelerate 100% of video content using the H.264, VC-1 and MPEG-2 codecs. This should make it easier to watch 1080p footage on a slower processor, without experiencing any of the buffering, tearing and stuttering that occurs when there's not enough CPU power to handle high bitrate video.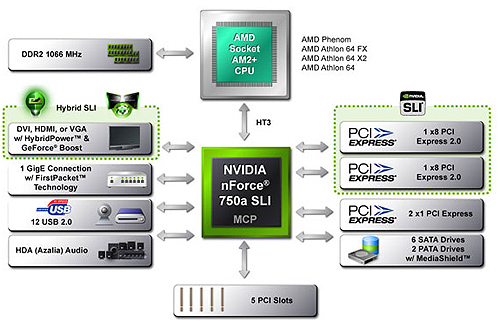 PureVideo also gives the usual dynamic contrast and leveling filters which can enhance the look of poorly exposed video - these filters are also available from both AMD and Intel's IGP offerings as well.
The final surprise nVidia has with the 8200 mGPU is Hybrid SLI.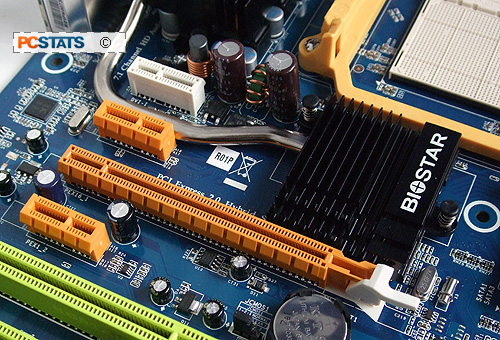 Much Like Hybrid Crossfire, this new variation of nVidia's scalable link interface technology allows the on-board 8200 mGPU to be paired up with a similar class of stand along PCI Express graphics cards for "increased" 3D rendering performance. The GPU selection is limited to the 8400 GS and 8500 GT videocards, which means that Hybrid SLI won't deliver killer graphics performance at all. In the benchmarks you'll see what we mean, PCSTATS tested the Biostar TF8200 A2+ with a Geforce 8500GT videocard in hybrid SLI, and there results are lukewarm at best, tepid given the added cost.
Hybrid SLI does offer some power advantages however, when a compliant videocard is plugged into the motherboard the videocard will automatically shut off when its 3D-graphics capabilities aren't required, leaving the low-power integrated graphics to handle simple 2D rendering and video playback.
Okay we've talked enough, let's go in for a closer look at Biostar's $100 TF8200 A2+ motherboard next...