Not all that long ago, spending less than $200 didn't get you a whole lot of videocard. The story is a whole lot different now, the latest generation of mainstream and midrange graphics cards have upped the performance curve significantly. Add some overclocking into the mix and you might even leap ahead to then next fastest videocard class... all without spending an extra cent!
In this review PCSTATS is testing MSI's R4830 T2D512-OC videocard. Retailing for about $150CDN ($100 USD 55GBP) , this pre-overclocked videocards fits in nicely between the $95 Radeon HD 4670 and the $220 Radeon HD 4850 graphics cards. Best of all, the MSI R4830 is built with the Radeon HD 4830 graphics processor, which means it's effectively a dialed down version of the mainstream Radeon HD 4850 with almost all the benefits of the Radeon HD 48XX series to draw from.
MSI have overclocked the AMD Radeon HD 4830 GPU (code named 'RV770LE') an anemic 10MHz beyond that of standard Radeon HD 4830 graphics card, yielding a core clock speed of 585MHz rather than the standard 575MHz. The R4830's 512MB of GDDR3 memory is clocked at the default speed of 1800MHz. Not very exciting out of the box as far as pre-overclocked videocards go... this is true.
However, MSI's R4830 videocard has a infinite abyss of overclocking potential to tap into! It's that potential for an additional 20% increase in speed care of overclocking, coupled with the MSI R4830 T2D512-OC's competitive price point that makes this particular PCI Express x16 videocard such an interesting option to consider.
This mainstream Radeon HD 4830 is just screaming to be overclocked.

MSI R4830-T2D512-OC Videocard




Includes:

User's Manual, Driver CD, Component Output bracket, Composite/SVideo bracket, DVI-to-Analog converter, SVideo cable.
The MSI R4830-T2D512-OC is a dual slot PCI Express x16 videocard which is CrossfireX compatible. In addition to its twin DVI-D monitor outputs, the MSI R4830 is equipped with a TV-out port that accomodates S-video, composite, and component outputs. Supplied with the R4830 videocard is a single DVI-to-analog adaptor and associated cabling for S-Video/composite-RCA/component (RGB). Sadly there is no DVI-to-HDMI adaptor supplied with this 4830-series videocard.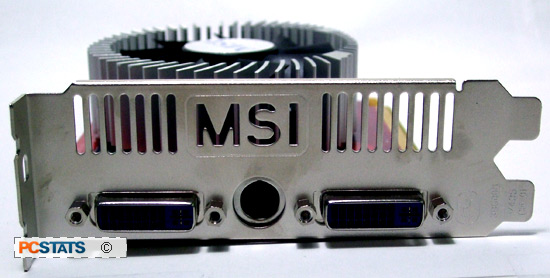 For Radeon RV770LE GPU cooling we find a simple circular extruded aluminum heatsink with MSI's special curved fan blades that are supposed to cut down on noise. At full blast the heatsink generates a moderate amount of noise, but in a case its idle fan noise should be nearly unnoticeable. There is venting at the I/O bracket for air to pass through, but without ducting from the GPU heatsink warm air isn't necessarily going to expelled out the rear of the PC case.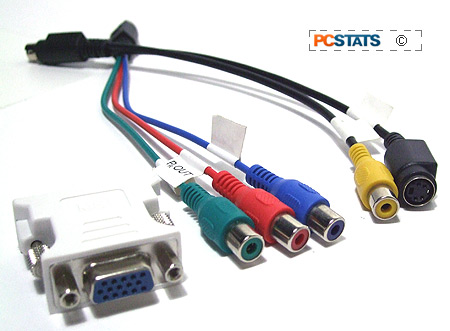 A six-pin PCI Express power connector is required in addition to the power supplied to the MSI R4830 videocard by the PCI Express slot. If your power supply doesn't include the proper you might want to consider upgrading it to a modern unit like this.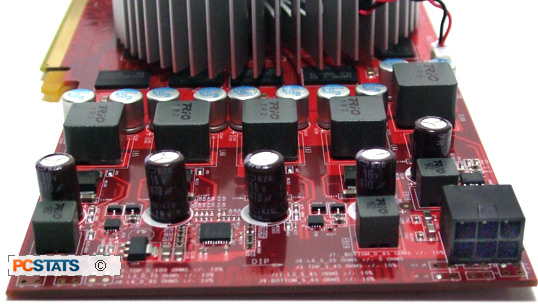 How will the MSI R4830-T2D512-OC videocard compare to some of NVIDIA's midrange graphics cards, like last year's Geforce GTS 320 which still retails for close to the same price? Stay tuned to PCSTATS, boys and girls, we're about to find out!