Abstract: The ASUS BC-1205PT supports DVD reading and writing in both the + and - formats, as well as being able to read and write to DVD-RAM and Dual-Layered DVD discs.


87% Rating:

Home > Reviews > Optical Drives > ASUS BC-1205PT-BD
Benchmarks: CD Speed: DVD+R DL, BD-DVD
Nero's CD Speed burn tests a DVD+R DL rated at 2.4x. The program emulates a burn that would fill the disc with 8.5GB of data. This test is done by simply placing blank recording media into the burner and running CD Speed the software.
Nero CD Speed: DVD+R DL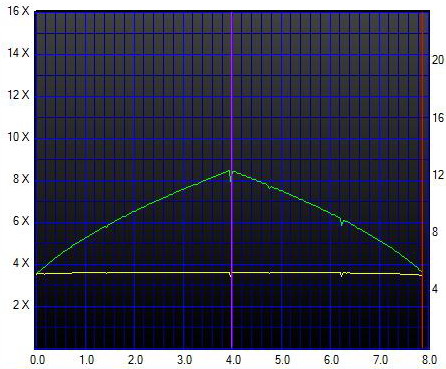 DVD+R DL
Nero CD Speed: DVD+R DL Benchmark Results

Optical Drive

ASUS BC-1205PT

LG GSA-H62N

AOpen DSW1812P

Samsung WriteMaster SE-W164

Gigabyte GO-W1616A

MSI DRI6-B

LG GSA-4120B

Media
DVD+R DL
DVD+R DL
DVD+R DL
DVD+R DL
DVD+R DL
DVD+R DL
DVD+R DL
Media Write Speed:
2.4x
2.4x
2.4x
2.4x
2.4x
2.4x
2.4x
Avg Speed:
6.32x
9.25x
9.21x
6.23x
4.3x
2.4
2.4
Start Speed:
3.52x
5.04x
5.13x
3.46x
2.4x
2.39
2.4
End Speed:
8.43x
12.35x
12.3x
8.31x
5.74x
2.4
2.4
Type
CAV
CAV
CAV
CLV
CAV
CLV
CLV
Even though the DVD+R DL test disc is limited to 2.4x, that doesn't stop the LG GSA-H62N DVD writer from operating faster. In fact the LG drive smashes even its own 10x speed limit and hits a top speed of 12.35x which is nice and quick!
Nero's CD Speed tests the read capability off a standard Blu-Ray DVD disc. This test is done by simply placing the blu-ray movie 10,000 BC into the player and running the CD Speed software.
Nero CD Speed: BD-DVD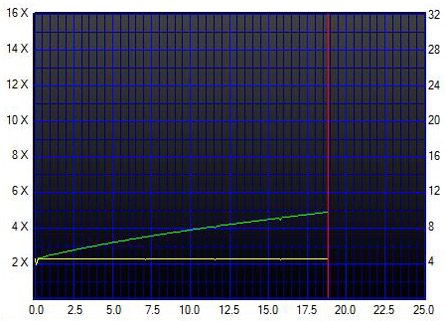 BD-DVD
Nero CD Speed: BD-DVD Benchmark Results

Optical Drive

ASUS BC-1205PT

Media
BD-DVD
Avg Speed:
3.68x
Start Speed:
2.19x
End Speed:
4.84x
| | |
| --- | --- |
| Disc Recognition Time | 0.05 |
| Disc Eject Time | 1.21 |
| Disc Load Time | 15.37 |
| | |
| --- | --- |
| | |
| Optical Drive | ASUS BC-1205PT |
| Disc Type | Blu-Ray |
| Avg Speed | 3.68x |
| Random Seek Time | 79ms |
| 1/3 Seek Time | 199ms |
| Full Seek Time | 327ms |
| CPU Use: 1x | 1% |
| CPU Use: 2X | 2% |
| CPU Use: 4X | 3% |
| CPU Use: 8X | 5% |
| Disc Load Time | 15.48 |
Blu-Ray benchmarking shows the ASUS BC-1205PT get very close to its 5x rated speed towards the edge of the disc.
Blu-Ray on the PC is a Reality

A lot of videophiles and early adopters of high-definition media adopted a wait-and-see mentality when it came to the lastest generation of optical discs, and with good reason.
There was a format war between Toshiba's HD-DVD and Sony's Blu-ray, and for a long time it was anyone's guess as to who the winner would be. Not wanting to buy into a format that would become obsolete, many video enthusiasts decided to wait it out and see who the victor would be.
As of early 2008 the format war is over, and the HD-DVD standard is DEAD. Blu-ray has emerged victorious. The end of a format war means increased competition amongst manufacturers, and that means lower prices and better products for consumers. Prices for standalone Blu-ray players have dropped considerably, but the real stars here are for internal Blu-ray drives, like the ASUS BC-1205PT.
This ASUS Blu-ray combo drive now retails for around $150CDN ($110 USD, 55 GBP), a savings of over $100 when compared to entry-level standalone players. HTPC components are also cheaper than ever, with HDMI-capable motherboards, low-cost, low-wattage processors and home theatre cases becoming widely available in retail computer outlets, instead of being niche items that needed to be special ordered. The time is ripe to give that high-definition screen the attention it deserves.
The ASUS BC-1205BT will cover pretty much every disc format in use today, making it an easy way to replace multiple legacy drives with a versatile all-in-one unit. Having a Blu-ray reader that can also burn music CDs and backup your DVD collection is something that standalone players still can't do, and can make managing a complex home theatre setup a lot easier.
PC enthusiasts can save a lot of money and gain a lot of functionality by grabbing an internal Blu-ray combo drive like the ASUS BC-1205BT. As the centerpiece of a HTPC system it's an ideal way to watch high-definition Blu-ray movies and DVDs, and as a data drive for an office PC it can read gigantic archives of data for backup or redistribution processes. Internal drives like this are the most cost-efficient and versatile ways for enthusiasts to get introduced to Blu-ray optical media. Recommended.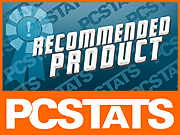 Find out about this and many other reviews by joining the Weekly PCstats.com Newsletter today! Catch all of PCSTATS latest reviews right here.
Related Articles
Here are a few other articles that you might enjoy as well...
- LG GSA-H62N SATA Dual Layer DVD-Writer Review
- AOpen DSW1812P 18x Triple Format DVD Rewriter Review
- Samsung WriteMaster SE-W164 16x16x External DVD Writer Review
- Gigabyte GO-W1616A DVD Burner Review
- MSI DR16-B Dual-Layer DVD Burner Review
- LG GSA-4120B Super Multi DVD Rewriter
- AOpen DRW8800 8X DVD Burner Review