While the rest of the PC hardware spectrum makes dramatic leaps in performance and rapid advances in technology, the humble optical drive has remained largely the same over the past five years. There have been a few minor changes, like lightscribe label burning and the introduction of Serial ATA to replace IDE, but barring malfunction there just weren't that many compelling reasons to buy a new optical drive.
Well, not until now, anyway. Blu-ray, triumphant from its victory over HD-DVD, has hit the PC platform at prices so low that you should reconsider buying a standalone Blu-ray player. Building a home-theatre PC has never been cheaper, and videophiles now have a wealth of options available to them, including ASUS' latest Blu-Ray combo drive, the BC-1205PT BD Combo.

This new optical drive from ASUS not only allows Blu-ray playback, it also doubles as a DVD and CD burner, meaning it can handle pretty much every major format of optical media on the market today (sorry Laserdisc fans, it's time to move on). The BC-1205PT supports DVD reading and writing in both the + and - formats, as well as being able to read and write to DVD-RAM and Dual-Layered DVD discs. Naturally, it can also handle and CD-R and CD-RW discs.
For around $150 CDN ($110 USD, 55GBP), the ASUS BC-1205 is probably the cheapest way to start watching Blu-ray movies at home. Many standalone players are still hovering in the $250-300 price range, and the Sony Playstation 3 is $399. To sweeten the deal even further, picking up a 24" LCD monitor capable of displaying 1080p resolution can cost as little as $350.

ASUS BC-1205PT Serial ATA DVD Writer

Includes:

User's Manual, SATA cable and molex power adaptor
ASUS' BC-1205PT is designed for use in standard-sized computer towers and HTPC cases, so fit into any free 5.25" PC expansion bay. The drive's specific measurements are 18.4 x 14.5 x 4.1cm, which make it a shade longer than some of the other optical drives that have been tested in the PCSTATS labs. The extra centimeter or two of depth won't make a difference if the BC-1205PT is going into a standard mid-tower, but certain HTPC and SFF cases might get cramped for space. Make sure to measure out your case before you buy!


This particular Blu-ray combo drive comes in black only, so owners of white or silver (or, heaven help you, chrome blue) cases might need to shop around a little to find a compatible face plate if they want to colour coordinate with their other hardware. There's always the spray-paint option for the do-it-yourself crowd, just make sure to detach the face plate or you'll void your warranty.
BC-1205PT Supported Media

Blu-Ray

DVD-RW

DVD-R

DVD-RAM

DVD-R DL

CD-R

CD-RW

Read:

5x

12x

12x

12x

12x

32x

32x

Write:

no

6x

12x

5x

4x

24x

24x
ASUS has also integrated their latest anti-skip and buffering technology into the BC-1205PT Blu-Ray drive, to ensure that the DL-DVD you're burning doesn't turn into a shiny new coaster. The ASUS BC-1205BT integrates a 4MB writing buffer when authoring DVDs as well as ASUS' own Flextralink Buffer Underrun technology. Most modern optical drives also include their own versions of these techniques, and while they all reduce the chance of burning a coaster there will always be a small chance of a disc failing to burn, whether from an unexpected buffer underrun or from an electrical hitch in the system.
Writing modes for DVDs on the BC-1205BT include DAO (Disc-at-Once) and Incremental Recording, as well as restricted overwriting and sequential recording. CD writing can also support TAO (Track-at-Once) and SAO (Session-at-Once) recording, in additional to mutli-session recording.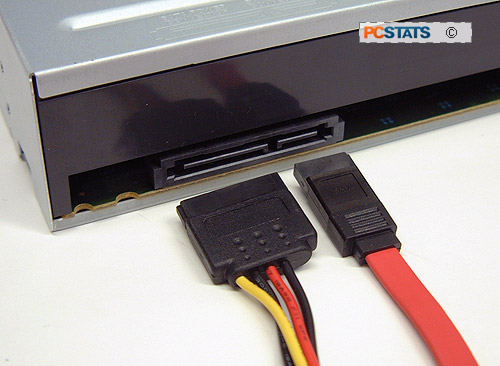 To support the high data-transfer rates of Blu-ray bandwidth, ASUS' BC-1205PT drive uses a SATA connection rather than the older PATA (IDE) interface. SATA provides a lot of benefits over PATA, including greater bandwidth and lower latencies and the ability to hot-swap optical drives. SATA has largely taken over on motherboards in place of PATA connections, with many users building systems that eschew the older data interface entirely.
Next up, drive speed benchmarks and a quick overview of dual layer DVD technology.