I'm currently writing this article on the Enermax Aurora Premium keyboard, which holds the distinction of being the blingiest keyboard I've ever had my hands on. The aluminum-bodied Enermax Aurora Premium keyboard comes in silver and in a more conservative black finish, it connects to the PC with a USB cable and includes audio and mic jacks. It retails for around $85CDN ($65 USD, 40 GBP), which definitely puts it in the price range for premium keyboards. Premium keyboards have features like back-lighting, bluetooth, on-device displays and dedicated macro functions that distinguish the very best toys from the cheaper me-too typing tools on the market. To put this in perspective, the Enermax Aurora has none of the above features - so what exactly is it doing to warrant its high price point?
Well, there is the build quality - this keyboard has a big slab of aluminum in it. To be specific, the keyboard body is made out of a brushed aluminum plate with 104 silver-painted plastic keys. The brushed aluminum is quite nice - according to the box it's diamond-cut, and certainly looks quite sharp. The edges are thankfully rounded to prevent accidental cuts while typing or adjusting your keyboard tray, and the overall weight of the keyboard feels satisfyingly hefty once it's taken out of the box.
The texture of the 104 keys is a bit of a letdown, however. While the aluminum surface of the keyboard conjures up synonyms like 'expensive' and 'opulent', as soon as your fingers slip from the metal borders to the plastic keys the fantasy crumbles, and you find that instead of an Aston Martin Vanquish you're left with a Chrysler Sebring.

| | | |
| --- | --- | --- |
| | Enermax Aurora KB007US Keyboard | |
| | | |
While the keys are of standard 19mm pitch, they feel quite slippery to my baby soft writers fingers, and slippage is the cardinal sin a keyboard can commit. Some manufacturers go as far as spraying their plastic keys with rubberized coating so they maintain a good grip, so any a keyboard that comparatively feels like you're typing on keys made out of wet soap is tricky. This is certainly not a keyboard for extreme FPS gaming, in my book at least.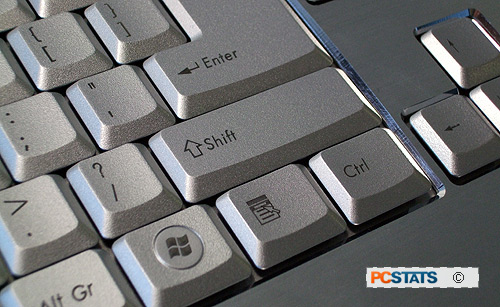 Keys are silver painted plastic. The body of the keyboard is aluminum.
Fortunately the keys, slippery though they are, do have quite a nice action to them. They feel responsive, and even though there isn't a whole lot of depression depth when compared to older, larger keyboards (think: those clackety beige IBM PS/2 keyboards from your high school computer lab), they still manage to spring back quickly after a depression. It's really easy to tap your fingers and get a long line of the letter q. For example:
qqqqqqqqqqqqqqqqqqqq
... that was pretty easy!
As USB keyboards go the Enermax Aurora comes with a few extras. There are a pair of USB 2.0 ports that allow it to function as a hub, so while it takes up a USB port when it's plugged into a computer, it'll give two more back. Daisy-chain a mouse into the keyboard, orplug in USB storage devices if you simply can't be bothered to reach all the way around to the back of your computer.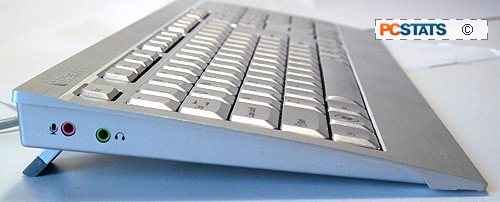 Headphone and mic jacks on the left hand side are good for users with headsets.
There's also an audio I/O panel on the left side of the keyboard for a microphone and a headset to plug into, and combined with the USB hub could make the Aurora a pretty handy method for managing cable clutter. Unfortunately the keyboard doesn't have any media keys or volume knobs, so while plugging in headphones to listen to music is easy, controlling that music while playing games or using full-screen applications isn't available at the touch of a button. Even basic OEM USB keyboards are coming with these kind of features, there's no good reason for them not to be included on the Enermax Aurora.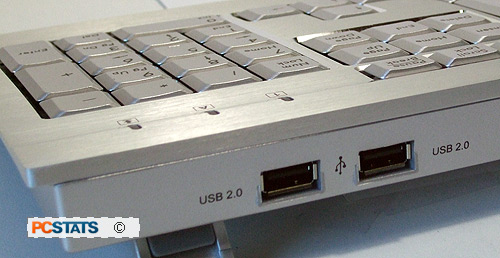 Two USB 2.0 ports available at the top of the keyboard.
For those who want a wired keyboard that matches with a case and monitor that already have a sterling silver finish, and don't mind spending quite a lot of extra cash, the Enermax Aurora Premium could very well be a contender.
Similarly, those who want a large shiny object to hang around their neck in the same fashion as Flavor Flav have definitely found a new input peripheral to add to their short list. However for those who don't really care about aluminum finishes there are keyboards that have dedicated media keys, back-lit illumination, programmable keys, detachable dedicated keypads, and built-in LCD screens, all for around the same price as the Enermax Aurora.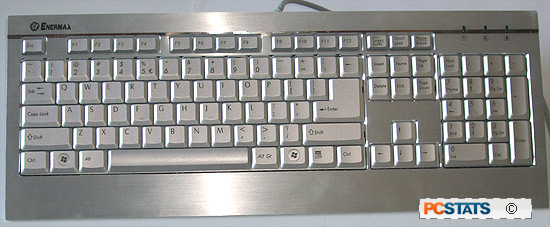 Silver keyboards are a nice change from all-plastic, but can be kind of cold to type on in the winter.
Conversely there are OEM keyboards that offer the exact same basic 104-key design for less than that of the Aurora's $85 CDN (65 USD 40 GBP) asking price. The additional built-in audio jacks, aluminum construction and USB hub just aren't enough to warrant the high cost.
Silver cases and monitors aren't quite as popular as they used to be, so it might be a little difficult to colour coordinate this keyboard with the rest of your computer peripherals - although there are certainly geeks who won't care if their mouse and monitor match up with their keyboard and case. We'll let you decide this one for yourself. Build quality on the Enermax Aurora KB0007US is good, if the price weren't so high it'd be a good alternative the ocean of of beige keyboards out there... and much more recyclable at the end of its lifespan.
Find out about this and many other reviews by joining the Weekly PCstats.com Newsletter today! Catch all of PCSTATS latest reviews right here.
Related Articles
Here are a few other articles that you might enjoy as well...
- Tom Bihn Smart Alec and Monolith Computer Bags Review
- Matrix Orbital MX212 PC-Bay Insert Review
- Waterfield Designs Gear Bags and Notebook Sleeves
- Zippy Electroluminescent EL-610 Mini-Keyboard
- Belkin 8-in-1 USB Media Reader Review
- Keyboard Roundup - Internet Style
- Vantec EZ-Swap Removable HDD Racks