nVidia's nForce 700-series of chipsets are the last SLI core logic to be made for socket 775 motherboards, which makes for some pretty high expectations from nVidia Geforce owners intent on upgrading their existing Intel PCs. After all, when it comes to SLI the nForce chipset is the only game in town. Intel's P35/P45-series core logic doesn't support multiple nVidia videocards running in Scalable Link Interface (SLI) mode, only for ATI videocards via Crossfire.
On the test bench today is the ASUS P5N-T Deluxe motherboard, one of Asus' AI Lifestyle motherboards which comfortably straddles the line between mid-range and high-end. Feture-wise, for about $225 the P5N-T Deluxe isn't quite expensive enough to receive the latter treatment. The ASUS P5N-T Deluxe motherboard is built around the nVidia nForce 780i SLI northbridge and nForce 570 SLI / nForce 200 southbridge chipsets. There are no great differences between the nVidia nForce 680i and nForce 780i other than support for 45nm processors and Tri-SLI.
As you might expect, this black beauty of a board from ASUS supports 45nm multi-core Intel socket 775 Core 2 Duo/Quad/Extreme and processors running on an 800/1066/1333 MHz Front Side Bus, and up to 8GB of DDR2 1066/800/667 memory.
Chief among its features are three PCI Express x16 slots which can support dual or three-way SLI compatible videocards running in x16/x16/x16 mode. For gamers with multiple Geforce videocards at their disposal, motherboards incorporating the nforce 780i SLI chipset have been hard to resist. If you're not a gamer and don't plan on using SLI, the ASUS P5N-T Deluxe is a little overkill. :-)

Asus P5NT Deluxe Motherboard

Includes:
User's Manual, Driver CD, (6) Serial ATA cables, Molex to Serial ATA Power Cable, Ultra/133 IDE Cable, Floppy Cable, USB/IEEE 1394a Bracket, I/O Shield, 3-way SLI bridge connector, SLI connector, Asus Q-connector, auxiliary fan.



Connectivity is pretty well taken care of with the ASUS P5N-T Deluxe; on board are six SATA II ports (RAID 0,1,5,10 and JBOD) along with a single rear eSATA port, gigabit networking, 7.1 channel audio with optical/coaxial S/PDIF output and Asus' AI overclocking BIOS tools. Additionally, there are four USB 2.0 ports round back (6 more via header), one Firewire jack (plus one header), and the ASUS EPU to moderate power use. The rear I/O panel houses the on-board audio - in this case an ADI 1988B audio codec powering Intel HD Audio, which supports 8-channel surround sound through standard stereo jacks as well as coaxial and optical S/PDIF outputs.
All Solid Capacitors
One of the current trends with enthusiast motherboards is the use of all solid state capacitors, and thankfully the Asus P5N-T Deluxe has made the switch. Solid-state capacitors won't leak, dry out or explode the way older electrolytic capacitors will - they won't improve the performance of a motherboard, but they can decrease the chance of hardware failure and extend its lifespan.
Chipset cooling is taken care of by a passive arrangement of heatpipes and copper cooling fins - so there are no fans to clog with dust or seize up down the road. The chipset heatsinks only work when harnessing airflow from an active airflow CPU cooler, however. To keep the MOSFET heatsinks from overheating when watercooling is used, a small fan is supplied that clips on top. This motherboard also has Stack Cool 2, a separate metal layer of the motherboard's PCB that serves as a large heatsink for every motherboard component, distributing thermal energy across the entire surface of the motherboard.
Bundled Extra's
The Asus P5N-T Deluxe also comes with Q-connectors, one of this reviewer's favorite motherboard extras. These little plastic blocks are designed to act as a bridge between the front panel cables from the computer case to the motherboard headers on the PCB. Instead of trying to squirm your fingers between your video card and the side of your case to push poorly labeled connector pins into their proper positions, simply slot them into the Q-connector first, then drop the entire Q-connector into the motherboard header! It doesn't sound like much until you use one yourself.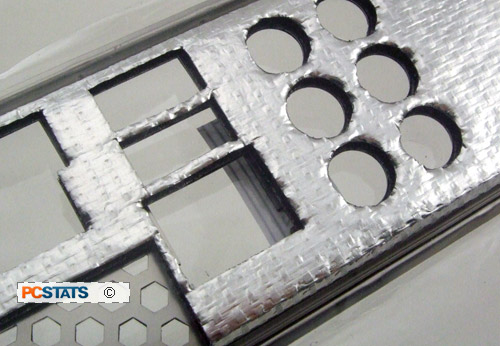 A soft EMI shield protects fingers from being cut up... if you've ever built PCs, this has happened to you at least once or twice.
Multi-videocard gaming with SLI and 3-way SLI
The big difference between nVidia's nForce 680i and 780i chipsets is support for three-way SLI (on the latter only). The trio of PCI Express x16 slots on the ASUS P5N-T Deluxe are necessary for three-way SLI, and they're positioned far enough apart that three dual-slot videocards can be placed in the system at the same time. This could turn into a potential problem for users who want to use three-way SLI and need an expansion slot for something like a tv-tuner - most likely the videocards will have eaten up all the available space.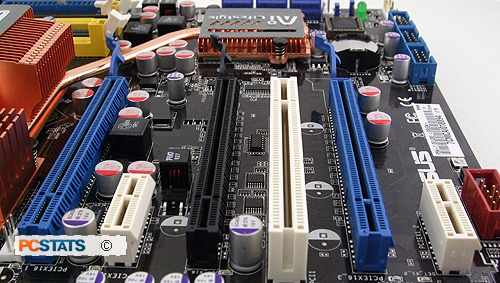 In any case, starting with the nVidia Geforce 8800 GTX and 8800 Ultra, certain high-end nVidia graphics cards are now compatible with three-way SLI. Each videocard needs to have dual SLI bridge connectors, so make sure to check the top of the videocard before running out to your local computer hardware shop for a third Geforce. Aside from the three videocards and the above bridge connector, enthusiasts looking to run three nVidia videocards in their system will also need an 1100W or greater power supply with six PCI Express 6-pin power connectors to power all those videocard. And, hopefully a case large enough to hold all three cards and cool them effectively.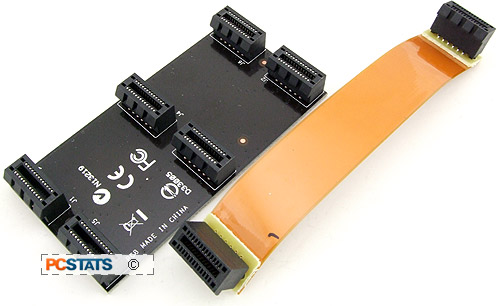 Three-way and two-way nVidia SLI bridge connectors
It's not exactly a practical solution, but fortunately the P5N-T Deluxe also includes a standard ribbon-style SLI bridge for the slightly-less-exotic two-way SLI configuration. In two-way SLI only the blue PCI Express 2.0 x16 slots are used, leaving the middle PCI Express slot open. Let's take a closer look at the ASUS P5N-T Deluxe next!