Abstract: The Biostar TPower N750 motherboard is based on the single chipset Nvidia 750A SLI MCP, which means this board supports two NVIDIA Geforce videocards in SLI.


74% Rating:

Home > Reviews > Motherboards > Biostar TPower N750
The ongoing competition between AMD, Intel and NVIDIA has become remarkably similar to a bad soap opera in the past few years. Up until recently there were actually four companies vying for your system-building dollars, then Crossfire and SLI were introduced, and the entire affair went to pieces.
Nvidia decided it didn't like SLI technology being supported on any platforms other than its nForce chipsets. AMD ate ATI alive, which caused Intel to change its mind about its new nemesis ATI making Intel chipsets ever again. NVIDIA and AMD then had a spat, with NVIDIA not sure if it could forgive AMD for cheating with ATI. Eventually both reconciled, but Intel cut nVidia out of the game temporarily until nVidia made its SLI technology available to the X58 Express chipset. And this is how it goes in the world of computers, geeks and their companies acting like soap opera stars. :-)
Today though PCSTATS is testing an unlikely marriage of an nVidia chipset and an AMD socket AM2 processor - say hello to the nVidia nForce 750a SLI integrated graphics chipset!
Wait, SLI and integrated graphics? Yup. Both.
The nForce 750a SLI core-logic is similar in standing to AMD's own 790GX chipset, in that it gives support for dual graphics cards while still offering an Integrated Graphics Processor (IGP) with all the onboard video trappings we've come to expect.
The Biostar TPower N750 motherboard is based on the single chipset Nvidia 750A SLI Media Communications Processor (MCP), which means this board supports two NVIDIA Geforce videocards in SLI. However, unlike the nForce 780a chipset that brings 16 lanes of PCI Express bandwidth to each graphics card, the nForce 750a SLI offers each videocard only 8 lanes bandwidth in SLI mode. Retailing for around $200 CDN ($165 USD, £100 GBP), the Biostar TPower N750 floats on the deep end of the pricing pool, but this motherboard is unique in that it offers features that really can't be found elsewhere.

Biostar TPower N750 Motherboard



Includes:

User's Manual, Driver CDs, SLI Bridge, HDMI-to-DVI adaptor, SPDIF audio bracket, Ultra/133 IDE Cable, (6) Serial ATA Cables, (6) SATA power cable, Floppy Cable, I/O Shield.
Aside from the SLI functionality, the TPower N750 motherboard is equipped with NVIDIA's Geforce 8200 integrated graphics processor (aka nForce 750a SLI), so it can be run without a discrete graphics card. There is one DVI video output, and this serves double duty as a monitor connection, and via the supplied DVI-to-HDMI adapter, the HDMI port for outputting 1080i HD video to a nearby big screen. The DVI/HDMI does support audio pass-through, so the TPower N750 is a viable motherboard for home theatre PC builders. The Geforce 8200 IGP supports NVIDIA's hybrid power and hybrid SLI functionality.
The rest of the Biostar TPower N750 is everything you'd come to expect from a standard AMD motherboard - support for socket AM2 and AM2+ processors, including the AMD Sempron, Athlon 64 and Phenom CPU families. Up to 8GB of DDR-2 533/667/800MHz memory can be installed with socket AM2 CPU, while additional support for DDR2-1066MHz RAM only comes with socket AM2+ chips. For storage needs, the TPower N750 boasts six SATA II ports with RAID 0/1/5 and 0 + 1 support, and expansion is accommodated via the two PCI Express x16, one PCI Express X1, and three legacy PCI slots.
The Good and the Bad
Biostar's layout of the TPower N750 leaves some room for improvement. The SATA ports are perpendicular to the PCB (rather than parallel), which can make cabling messier than it needs to be - the same is true for the IDE connector, and the USB headers are annoyingly close to the edge of the motherboard, which can make them difficult to plug-in.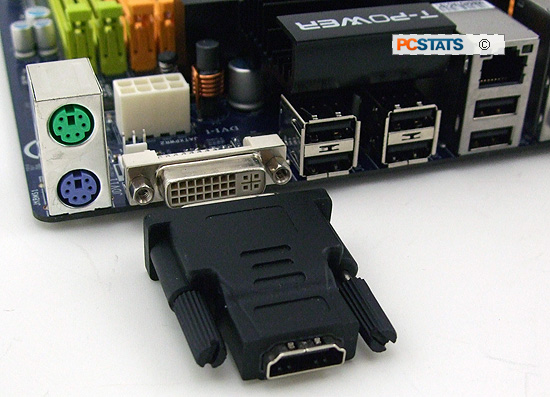 To activate the SLI functionality of the TPower N750 motherboard requires fiddling with jumpers - been a while since we've seen those - so make sure you keep the manual handy.
On the plus side the motherboard does leave enough space to accommodate a pair of dual-slot wide videocards in both of the PCI express x16 slots, with enough room left over for two PCI cards and a PCI Express x1 peripheral.
The rear I/O panel has six USB2.0 ports available. After reviewing a couple of other IGP motherboards recently with a measly four USB jacks, this is welcome.
Beside the USB ports a DVI-I connection provides a digital output that will fit the vast majority of monitors on the market, although it would have been good to see an Analog VGA connection as well. Biostar supply a DVI to HDMI adapter that does can pass through audio from the integrated soundcard.
7.1 channel audio and course a gigabit LAN are of course standard. Given the Biostar TPower N750's price, I was really expecting to find firewire and eSATA connections on the I/O panel, but no luck. At least there's is an S/PDIF and RCA stereo output bracket included for those who require more physical sound outputs.
nVidia's nForce 750a SLI and the TPower N750's MOSFETs are passively cooled by a heatpipe and heatsink arrangement that should be familiar to longtime PCSTATS readers. These thermal solutions can work excellently when supplied with an outside source of active cooling, and are dead quiet.
It's also noteworthy that Biostar built the TPower N750 with all solid-state capacitors. The solid-state Low ESR conductive polymer capacitors are housed in very distinguishable aluminum cans; they will not dry out, leak, or suffer gas buildup and burst. Good capacitors will not make your computer faster, but they can ensure it runs reliably longer.
Next up, time to meet the nVidia nForce 750a SLI chipset, then it's on to overclocking and HD playback tests! Will CPU load go through the roof, or stay low and playback silky smooth? Good question, let's find out...