A week ago I found myself wandering through a BestBuy, there to help someone pick out a LCD monitor to replace an old 50lb CRT monolith on its last legs. In this store all the LCD's were lined up along the back wall, playing the same video feed in twenty different shades of the same colour. Tiny, half-legible labels on the metal shelving conveyed the barest of specifications, and the staff weren't presenting themselves as especially informed. A wonderful environment for spontaneous technology shopping... ripe to leave you with a serious case of buyers regret too.
The range of LCD's for sale was okay, though BestBuy clearly emphasizes economical "pro-sumer" TFT/TN monitors that tout screen size and fancy bezel styles over substantive LCD technologies. Really good quality 178°/178° viewing angle S-PVA LCDs are getting rarer (not to mention expensive), so I can't knock stores for that. But, what's with the video?
Video may very well emphasize the current trend towards High Definition capable PC monitors and help sell those racks full of Blu-Ray DVD's between you and the EXIT, but Standard Definition video is certainly not comparable to High Definition video. Nor can I see how SD video enables anyone to make a substantial side-by-side comparison of different LCD monitor screens. Needless to say, we walked out of BestBuy having bought nothing, but reassured in the knowledge that PCSTATS' reviews can actually help empower consumers to make informed choices in situations like this. Next time I think I'll head over to a real computer store like Canada Computers where the staff are certainly 'quirky', but at least they know their PC gear backwards and forwards.
On the test bench at PCSTATS today is the ASUS VH242H 23.6" (hereafter 24") widescreen LCD display. This LCD computer monitor features a 16:9 aspect ratio and native resolution of 1920x1080 pixels that goes hand in hand with 1080p HD content oh so nicely.
Put another way, the viewable area measures 11.75" high by 20.75" across, or roughly two and a half sheets of 8.5x11" paper taped together if you want to compare it to your current monitor.

ASUS VH242H 24" LCD Display

SPECIFICATIONS:

Screen size: 23.6" (~24")
Brightness: 300 cd/m2
Contrast Ratio: 1,000:1
(dynamic contrast 20,000:1)
Viewing Angle: 170°H/160°V
Video Interface: DVI, Analog, HDMI
Resolution: 1920x1080
Pixel Pitch: 0.272mm
Response Time: 5ms (G-to-G)
Power Draw: 55W
Dimensions: 56.2 x 41.6 x 22cm
VESA Mount: 100x100mm
Speakers: 2W Stereo

VIDEO/MEDIA:

Aspect Ratio: 16:9
HDCP: Yes
Video: Yes
Audio: Yes
USB2.0 Ports: No


Backlight: CCFL
Panel: a-si TFT/TN


Includes: DVI and Analog video cable, AC power cable, driver/manual CD.


Putting aside the allure of HD content for a moment, it's worth noting that this 24" widescreen format makes the VH242H surprisingly well suited to business use because it conveniently accomodates two browser windows side-by-side. Big screens like this make it easier to reference one document while you work on another. With respect to HD movies, the rectangular shape is just right for watching widescreen movies full screen, at full 1080p resolution.
A 2W stereo speaker system built into the chassis of the Asus VH242H monitor is nothing to get excited about. Audio signals are passed to the VH242H over a couple different cables, for private listening the display has a headphone jack.

The ASUS VH242H monitor uses an LCD screen based on TFT/TN technology, as the majority of large LCD monitors nowadays do. The 24" panel has an anti-reflective coating and features a brightness rating of 300 cd/m2, dynamic contrast of 20,000:1 (actual contrast 1000:1) and the industry standard 5ms G-to-G pixel refresh time. Pixel pitch is a nominal 0.272mm.
Viewing angles are 170° horizontal, 160° vertical for this panel technology. A far cry from the penultimate beauty 178°/178° S-PVA screens afford their viewers, but on the upside the ASUS VH242H 24" LCD retails for an astronomically economical $240 USD! Two years ago this same size would have set you back at least a grand! An S-PVA LCD monitor of equivalent size costs $600.
The 20,000:1 dynamic contrast and 300cd/m2 brightness rating indicate that ASUS' VH242H monitor will have suitably black backgrounds and generally vibrant colours at its the native resolution of 1920x1080 pixels. The VH242H is HDCP compliant over a DVI/HDMI video connection, but you can also connect it to a PC with a standard analog VGA cable. The display does not have a built in USB hub.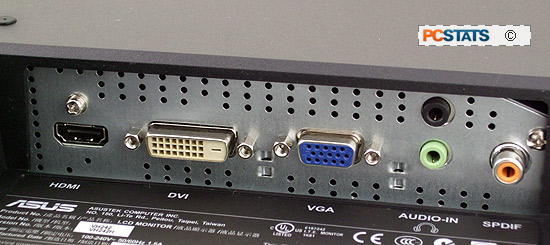 The monitor ships with all the cables you'll need to hook it up to a PC, that is except for an HDMI cable.
The most basic of stands supports the Asus VH242H, offering a few degrees of forward and backwards tilt, but no vertical height adjustment, swivel or landscape-to-portrait rotation. The stand removes without the need for any tools so the VH242H can be mounted to a 100mm VESA arm or wall plate quite easily.
Power consumption is pegged at a reasonable 55W when the CCFL backlight is powered up, and just 2W in standby mode. There is no physical power switch to cut down on phantom power consumption, the power supply is self contained in the back of the screen.
Monitor Control Panel
The first stop on every LCD monitor review is the control panel. Good control panels are nice, bad control panels can make adjusting an LCD quite a chore.

There are six control buttons on the face of the Asus VH242H display. Adjacent to the power button is a orange/blue LED to indicate panel status.
In dark environments the light gray icons over each key are nearly impossible to read, and the way the function keys are organized takes a little getting used to. The On Screen Display menu is concise, but the interface is a little awkward. The control buttons make a nice click sound when pressed, and the orange power button is unmistakeable.
A dull blue LED status light on the right side of the power button indicates connectivity. The second button from the power switch cycles between HDMI, DVI-D and Analog video inputs. Curiously, the user needs to key this button each time to cycle through the display's inputs.
To curb potential theft the ASUS VH242H is equipped with a Kensington lock receptacle on the back. ASUS' VH242H display is Microsoft Windows Vista compatible.The display comes with a manual, DVI and Analog video cables, and audio cable and power plug.
Now that we've covered the basics, let's go in for a closer look at this affordable positioned widescreen 24" LCD display...