There are three SATA data and two standard 4-pin molex power connectors on the back of the IcyDock MB673SPF-B module. Either SATA I or SATA II hard drives can be used with the product. You'll need to supply three SATA cables to connect each of the three SATA data connections to the corresponding SATA headers on the motherboard.
The headers next to the SATA jacks in the picture below are there to support various modes of HDD failure signal and power signals, these are mainly for server motherboards or rack-mountable RAID array cases.
The only other control you really may be interested in is the temperature alarm which can be set to buzz off at 45°C, 55°C, or 65°C. The 80mm fan clips into place with a special set of power jacks, and is hot swappable (it is shown removed in the picture above). In the likely event the instruction manual is misplaced there is a sticker with all the pin-outs affixed to the bottom of the unit.
Now let's wrap up this review and highlight some of the aspects of IcyDock's product that are likely to be of most interest to you.
Conclusions on IcyDock MB674SPF-B multi-drive: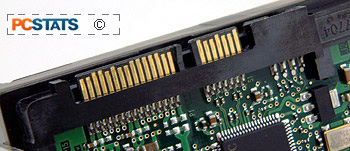 In the space of two 5.25" optical drives the IcyDock MB673SPF-B module packs in three 3.5" SATA hard drives, all hot swappable, all accessible without lifting a single screw driver.
There's no need to open up a cramped computer, no HDD rails to fuss with, and a fan ensures a modicum of airflow over your drives to prevent excessive heat build up.
Just open up a bay door, slide a bare SATA hard drive in and close it. The SATA drive is automatically connected and within a few moments should be accessible from the desktop. As the electrical connections disengage, data flowing to the drive is stopped, and power cut off.
We'll forgo data transfer benchmarks because there is no difference between a SATA hard drive attached directly to the motherboard, and one hooked up to the IcyDock MB673SPF-B module. The ICYDock MB673SPF-B 3-bay hot swap hard drive module is such a simple device, but until PC case makers start including SATA backplanes in every case you'll want to consider spending the $110CDN ($ 105USD/£50GBP) the MB673SPF-B commands. For anyone who runs a RAID 1 arrays, it's definitely worth while.
Slightly Flimsy Construction Feel Doesn't Affect Performance
Functionally the IcyDock MB673SPF-B module is handy, but in places the build quality leads to a very flimsy feeling. That isn't to say it's made from excessively cheap materials that will break, it's just that the drive bay doors are connected by pins which allow a lot of excess movement, and the use of plastic catches further adds to this.
Take for example the aluminum lever which prevents the three doors from opening. Hidden behind it is a little purple plastic lock that your finger needs to press in to disengage first, allowing the door to freely open after. During our tests it was not uncommon to find ourselves pulling on the door until it clicked open... And because the joints are all pretty loose this happens easily.
The hard drives themselves slide in and out of the 3-bay unit smoothly, ICYDock has used stainless steel in very specific areas to ensure smooth running with any parts that contact the metal hard drive. This serves a double purpose by electrically grounding the metal chassis of the hard drive too.
The single 80mm cooling fan spins quietly, while drawing a moderate amount of air over each hard drive to help keep temperatures in check. To some degree the all aluminum chassis further aids conductive cooling of the hard drive chassis. The main issue you may encounter with the IcyDock MB673SPF-B is dust buildup over time. Given that air is drawn in through the front of the unit into the computer case, and the openings are all quite small, it seems to filter out dust very quickly.
There is no denying that IcyDock IcyDock MB673SPF-B is convenient to work with. If you find yourself looking for extra SATA hard drive space, or have a RAID array you need at hands reach, the tool free IcyDock MB673SPF-B adds three HDDs in the space of two 5.25" drive bays. It could be just what the doctor ordered. Overall PCSTATS is quite pleased with the the IcyDock MB673SPF-B and we recommend it, and its 4-bay cousin , for PC work station or light storage server applications.
Find out about this and many other reviews by joining the Weekly PCstats.com Newsletter today! Catch all of PCSTATS latest reviews right here.
Related Articles
Here are a few other articles that you might enjoy as well...
- IcyDock MB674SPF-B 4-Bay Tooless Hard Drive Bay Module
- Icydock MB664US eSATA/USB External Hard Drive Enclosure Review
- IcyDock MB454SPF-B SATA 4-Bay Hot-Swap 3.5-inch Drive Bay Review
- IcyDock MB453SPF-B SATA Multi-Bay Backplane Module Review
- Thermaltake BlacX SATA Hard Drive USB Docking Station Review
- Western Digital RaptorX WD1500AHFD 150GB Clear Top SATA Hard Drive Review