After I lost a hard drive and just barely managed to recover 90% of the data I vowed never, NEVER, to save my important work on a single hard drive ever again. From then on it's been smooth sailing under the protective cover of RAID 1.
RAID stands for Redundant Array of Independent Disks, and the "1" designates the kind of RAID array where the same data is mirrored on two identical hard disks. If one drive fails, there's always an up to date working copy at hand. Take a look at this PCSTATS Guide to RAID if you'd like to learn more, it's not difficult to set up since RAID is a standard feature on most motherboards these days.
Lately I've found hard drive racks the most convenient way to manage the pairs of RAID 1 drives in my PC. Forced cooling is often part of multi-bay drive racks to prevent excessive heat build up, something that isn't always so with PC chassis. A hot swappable backplane means I never have to fiddle with plugs and data cables, and the drives are always at hand for remote backups or upgrades.
Icydock recently introduced a nice tool free hot swap module called the MB673SPF-B which stores three hard drives in the space of two 5.25" drive bays, no hard drive rails required. Just open up one of the three bays, slide a SATA hard drive in and close the door. The hard drive automatically engages with SATA data and power connectors, no screws required! The ICYDock MB673SPF-B is a really convenient Serial ATA hard drive backplane module that retails for about $110 USD (HDD not included).

IcyDock MB673SPF-B 3-Bay Hard Drive Bay Module

Includes:
Instructions, mounting screws, cooling fan.
(HDDs not included)
The module provides a convenient way to increase data storage capacity in any computer case with at least two open 5.25" drive bays. It has the added benefit of hot swapping data/power connections for each drive, and supports SATAI or SATAII standards. Only hard drives with SATA power connectors can be used.
At the back of the unit all cables are centralized, so wire clutter is minimized. An 80mm cooling fan draws air over each drive and this helps to keep temperatures from escalating in the confined space. The fan can be removed for cleaning as well.

Serial ATA hard drives are inserted right side up into the ICYDock MB673SPF-B almost all the way. The door can then be closed, and doing so pushes the hard drive back to engage it with the SATA data and power connectors on the backplane. That's it, literally.
To remove the hard drive a little aluminum lever is lifted up on the somewhat flimsy plastic door, this releases an equally flimsy catch and allows the door to open. Each door is mechanically linked to a small metal lever which automatically disengages the hard drive from the SATA data and power connectors. By the time there is enough hard drive to grasp the drive has powered down and can be gently handled by the edges without any special precautions.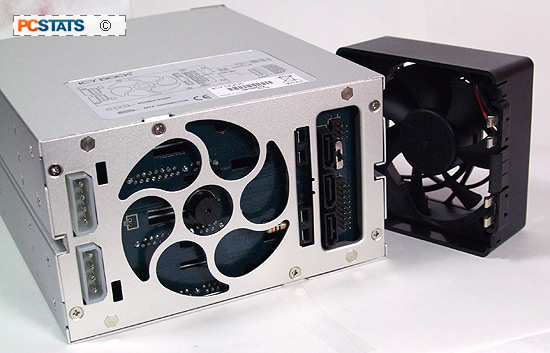 The ICYDock MB673SPF-B doesn't have any locking mechanisms to prevent a hard drive from being removed, so in that respect it's not very suitable for publicly accessible computers.
That's about all there is to the ICYDock MB673SPF-B multi-bay hard drive module. The device is effectively transparent to the Serial ATA hard drives that are installed in it, with no impact on data throughput. The IcyDock MB673SPF-B SATA hard drive module will accommodate most PC chassis configurations but... there are at least two critical areas which may conflict with some chassis designs.