The AMD 790GX Chipset has become a mainstay for AMD's new Dragon platform, serving as the bridge between AMD's flagship Radeon 4870 X2 videocard and the new 45nm Phenom II X3 and X4 processors. The chipset's biggest asset is its incredible versatility; support for socket AM2, AM2+ and AM3 processors in conjunction with DDR2 or DDR3 memory, the ability to run CrossfireX and Hybrid CrossfireX, as well as its own integrated graphics.
The ASUS M3A78-T motherboard supports up to 8GB of DDR2 memory at 667/800MHz speeds with AM2 CPUs, and 4GB DDR2 1066MHz in single-channel mode with socket AM2+ CPUs. The Hyper Transport 3.0 interface runs at 5200 MT/S with socket AM2+ CPUs, 2000/1600 MT/s for AM2.
The ASUS M3A78-T motherboard features AMD's latest Integrated Graphics Processor, the Radeon HD 3300. The interesting point about this IGP is that it has 128MB of additional DDR3 Sideport memory just for itself. In previous reviews of 790GX motherboards we've seen that this is one of the fastest integrated graphics processors on the market, mainly because it's more like an integrated videocard than standard IGPs which are not equipped with dedicated RAM. The AMD 790GX chipset is essentially a cherry-picked Radeon HD 3200 IGP, overclocked from 500MHz to a 700MHz core clock.
The on-board Radeon HD 3300 VGA powers the HDMI port that's located on the I/O panel of the ASUS M3A78-T motherboard, along with Analog-VGA and DVI display outputs. The HDMI port can output High Definition content at 1920 x 1080 resolution at 60Hz (1080p / HDCP), and the Radeon HD 3300 can accelerate video-decoding as well, making this motherboard very well-suited for home theatre PC use. If you think about it, there is no reason to buy a standalone Blu-Ray DVD player in this day and age - your PC can do all that.
Although the M3A78-T motherboard has integrated graphics there is plenty of expansion space for discreet videocards. There are three PCI Express 2.0 x16 slots, a single PCI Express x1 slot, and a pair of legacy PCI slots for older peripherals. There are also 5 SATA II ports that support RAID 0/1/5 and 10, as well as an IDE and one 3GB/s eSATA port care of the AMD SB750 southbridge. Gigabit LAN, (2) Firewire, (12) USB2.0 and 7.1 channel audio come standard.

ASUS M3A78-T Motherboard



Includes:

Manual, Driver CD, (3) SATA cables, (2) SATA power cables, IDE cable, Floppy Cable, Q-Connector, I/O shield
With a recommended street price of just $178 CDN ($140 USD, $110 GBP), the ASUS M3A78-T motherboard offers quite a few additional capabilities that won't be found elsewhere, including a very fast integrated graphics processor. How will it perform versus other IGP-based competitors, like Biostar's TF8200+, based on the NVIDIA nForce 750a chipset, or the Foxconn A7DA-S, which also uses the AMD 790GX chipset? The battle of the Socket AM2+ IGP motherboards is about to begin, and PCSTATS has all the coverage you need.
The ASUS M3A78-T supports AMD videocards in CrossfireX mode, with three PCI Express 2.0 x16 slots for connectivity. A pair of graphics cards will run with x8 lanes of PCI Express 2.0 bandwidth apiece (blue + white). A single card will receive x16 lanes (blue) and the third slot offers only x4 lanes (black). There are a couple different variations for configuring CrossfireX, but if you decide to use tripple cards it works out to x8, x4, x8.
Running two dual-slot-wide PCI Express x16 videocards in the blue and white slots will take up much of the available space for PCI Express expansion cards, so make sure to plan accordingly if you're looking to build a high-end Crossfire rig on the ASUS M3A78-T motherboard.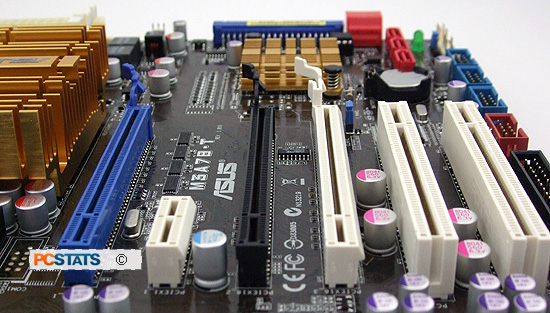 ASUS has split the SATA II ports into two groups, with two mounted at 90 degrees to the PCB and the remainder standing straight up. The option makes it easy to keep cabling clean and tidy, as well as run eSATA cables to the front panel of your computer case. The remaining front panel headers are grouped together on the bottom edge of the motherboard, with three USB headers and an additional firewire port. These can be connected through ASUS' Q-connectors, which make them quick and easy to set up. There's also a S/PDIF output, and an AAFP header for Azalia high-definiton audio.
The I/O shield for the ASUS M3A78-T is rounded to prevent nasty finger cuts when being installed, and houses six USB ports, DVI, VGA and HDMI ports, as well as a firewire and eSATA ports for connecting external hard drives. Gigabit lan ports and PS/2 ports are included as always. In addition to using the HDMI for audio output, ASUS have provided an optical S/PDIF output and a seven-channel surround-sound stereo output.
Really, everything you'd expect to find on a top-tier motherboard is available on the M3A78-T board.
ASUS didn't bother with heat-pipe cooling for the M3A78-T motherboard, but the large copper heatsinks on the MOSFETs, the 790GX northbridge and the SB750 southbridge are find as long as they're used in conjunction with an active CPU cooler.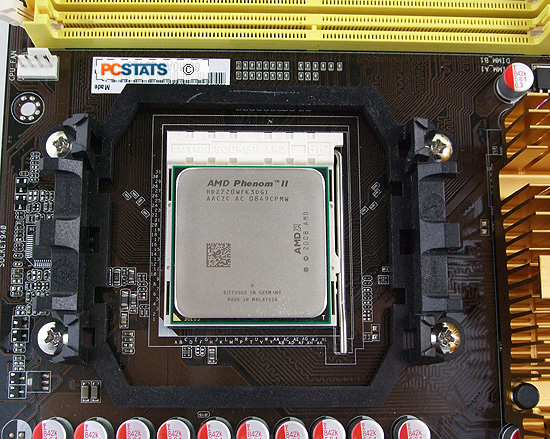 During several rounds of IGP benchmarks the AMD 790GX did occasional cause instability when the passive heatsinks got too hot. Pointing a small fan in the direction of the Northbridge heatsink solved this.
This review of the ASUS M3A78-T marks PCSTATS first use of the new AMD Phenom II X3 720 Black Edition CPU. While this is a Socket AM3 part, it's dual memory controllers make it backwards compatible with this Socket AM2+ DDR2 motherboards. PCSTATS recently reviewed the Phenom II X3 720 processor, and it's significantly faster than the socket AM2 Athlon X2 5000+ CPU we've relied on for previous motherboard reviews. Make sure to take a careful look at the benchmarking charts so that you don't get results from the different CPUs mixed up.
How will the M3A78-T motherboard handle High Definition video decoding? Will it pass the PCSTATS power draw tests? Good question, let's find out...