Lay your computer case down flat so that the motherboard and heatsink are facing you.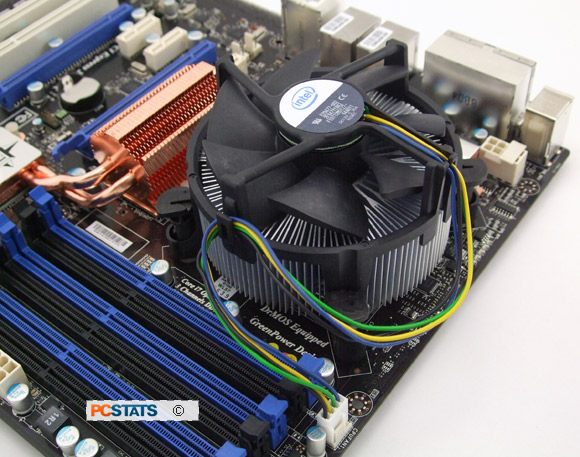 Using the flathead screwdriver, rotate the top of each of the fastener 'legs' of the heatsink 90 degrees counterclockwise. This will unlock the fasteners from the motherboard. Now pull up on each leg to release it, then remove the heatsink from the motherboard by lifting it up vertically. A slight twisting motion may be necessary.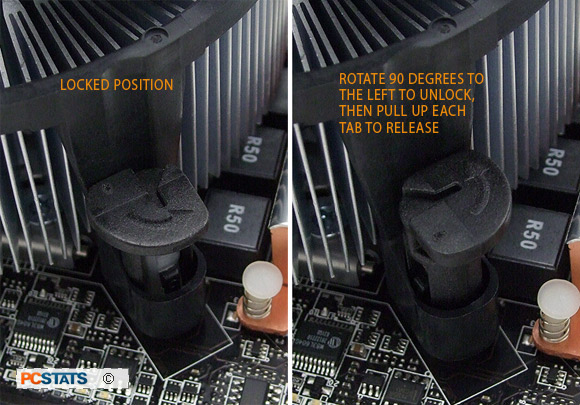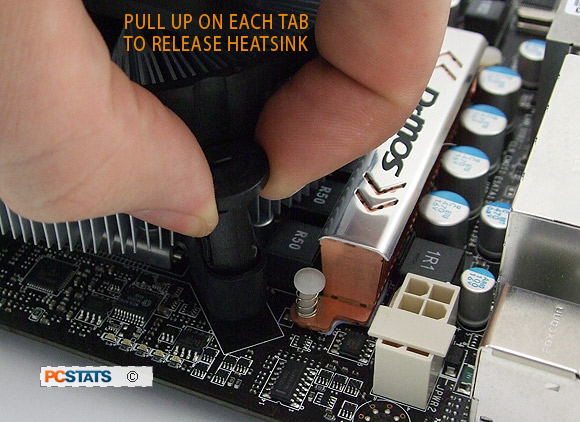 If you are planning to reuse the same heatsink, reset each of the fastener 'legs' by using your screwdriver to twist each one 90 degrees clockwise.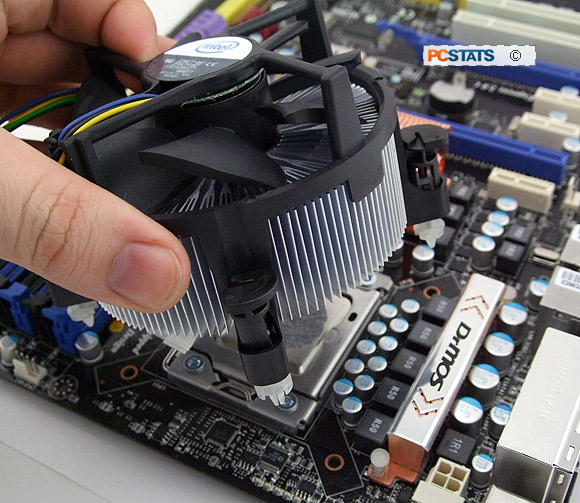 To remove the Intel socket 1366 processor, first release the socket lever by pressing it down and away from the socket, then lift it up so that it hangs loose.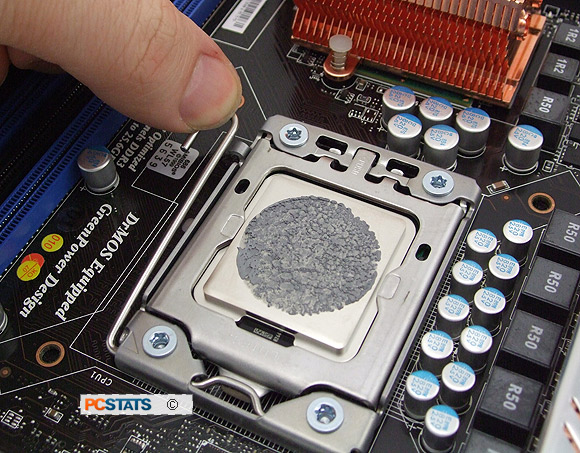 Using the metal tab at the back of the load plate, lift the load plate up gently to expose the processor.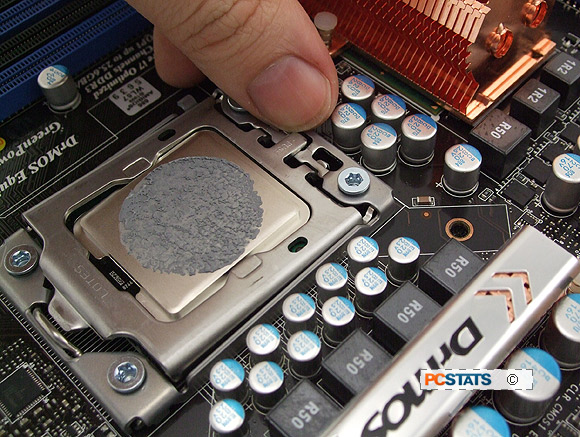 Pick the processor up gently with your thumb and forefinger. There are two gaps in the plastic wall of the socket that correspond to each finger, making it easier to grasp the CPU (where the orange arrows are in the picture below).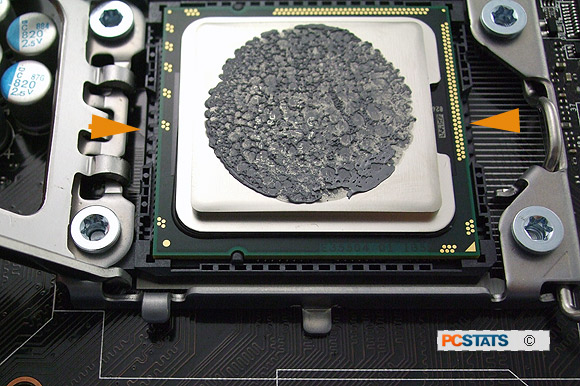 Lift the processor vertically out of the socket and place it back in its plastic protective cover.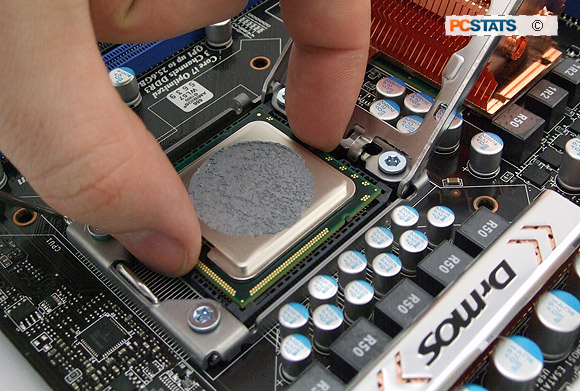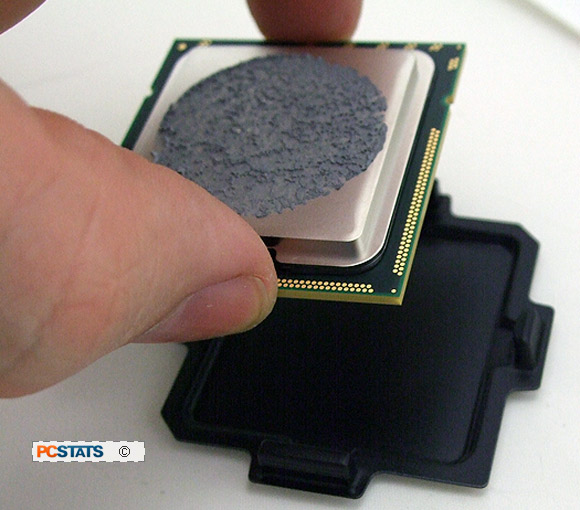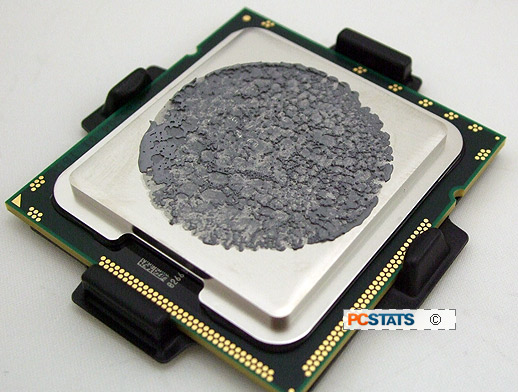 If you are not installing a new CPU, snap the plastic protective cover back over the socket and close the load plate. Then lock it back into place with the lever. You're done!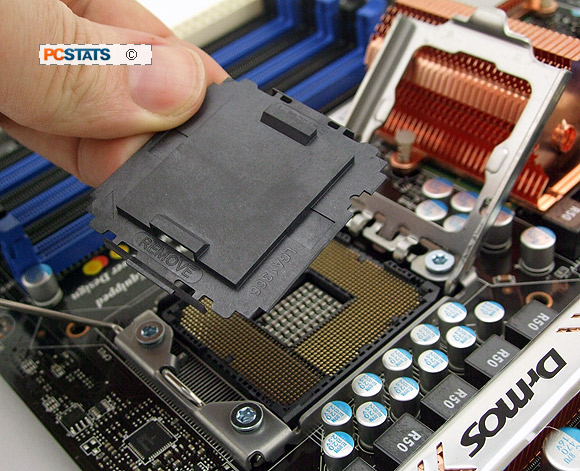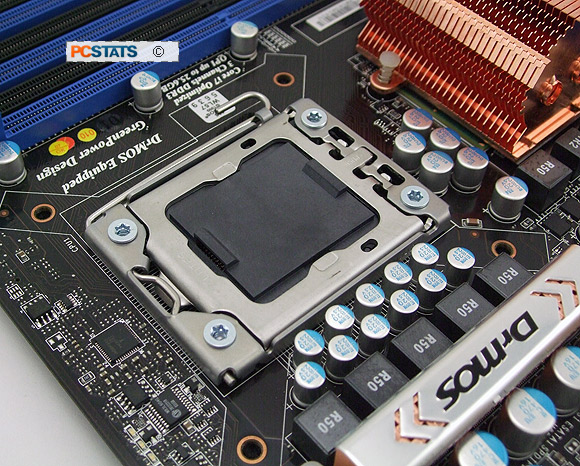 The steps outlined in this PCSTATS DIY Guide work for both Intel socket 1366 and Intel socket 1156 processors.
What's the Best Socket 1366 Heatsink?
Our sister site Frostytech.com has some good recommendations on the best Intel Core i7 compatible heatsinks, have at Frostytech's Top 5 Heatsinks chart if you're looking to upgrade your CPU cooler. And before you ask, no, Intel LGA775 heatsinks are not compatible with the socket LGA1366 format. The mounting pins that you just used to affix the heatsink to the motherboard are spaced differently; socket 1366 motherboards have holes placed 80mm apart, for socket 775 motherboards that distance is 72mm.
Most heatsinks introduced after the first quarter in 2009 are being sold with both LGA1366 and 775 mounting brackets, and are designed to accommodate the thermal demands of both CPU formats. The integrated heatspreader on the socket 1366 Intel Core i7 processor is lot larger than the heatspreader on socket 775 Core 2 Duo processors, so not every old Intel heatsink is really suitable for the Core i7 CPUs anyway.
If you have any comments or questions, please post them in the PCSTATS Forums. Find out about this and many other reviews by joining the Weekly PCSTATS.com Newsletter today! Catch all of PCSTATS latest hardware reviews right here.