Overclocking Results:
stock
overclocked
gpu speed:
850 mhz
965 mhz
memory speed:
(975) 3900 mhz
(1200) 4800 mhz effective
voltage tweaked to 1.387v (gpu)
gpu speed:
850 mhz
1000 mhz
memory speed:
(975) 3900 mhz
(1200) 4800 mhz effective
if you're new to Overclocking and not sure what to do, check out these two excellent Guides for some pointers:
Overclocking the CPU and Memory
Overclocking the Videocard
The ASUS EAH4890 HTDI/1GD5/A videocard ships with its ATI 'R790' GPU running at 850MHz, the 1GB of GDDR5 memory is clocked at 975MHz, or effectively 3.9GHz (quad-pumped means 4x975= 3.9GHz).
This Radeon HD 4890 is a special case though; on top of its widely acknowledged overclockability ASUS has enabled GPU voltage tweaking via its SmartDoctor monitoring/overclocking tool. SmartDoctor allows users to change GPU and memory clock speeds, and tweak the ATI RV790 GPU voltage from a default of 1.312v to as high as 1.45v. PCSTATS does not recommend you go quite that high unless you really know what you're doing.
For this round of overclocking we'll tweak the GPU voltage to a maximum 1.40v, and then only to improve stability. Voltage adjustments are a handy overclocking tool, but generally speaking you always want to keep voltages as close to the stock values as possible... so use it sparingly.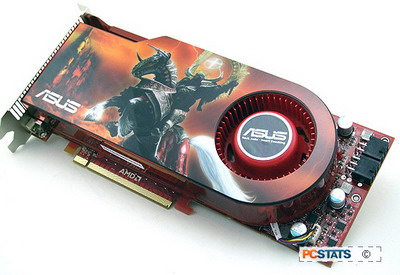 As always, PCSTATS overclocked the videocard through ATI's Catalyst Control Center using ATI Overdrive. The fan was set to run at 100% from the start. PCSTATS started with the GPU first, pausing to test the results with a quick 3D benchmark before continuing. We take note of any stability problems or artifacts, then list the maximum stable and artifact-free overclocked speed the videocard achieves. The same process is repeated with the memory, then both GPU and memory are overclocked together.
ATI's Radeon RV790 GPU was slowly increased from 850MHz in roughly 10MHz jumps, and in a matter of minutes we had it operating at 975MHz without any visible artifacts or instability. I was able to push the GPU as far as 980MHz, but after a few minutes of 3D benchmarking it would crash back to the desktop.... a voltage boost may fix that. For the time being we settled on a pure overclocked GPU speed of 975MHz.
Next came the 1GB of GDDR5 memory on the ASUS EAH4890 HTDI/1GD5/A videocard. With the GPU re-set to 850MHz, PCSTATS aggressively overclocked the RAM from 975MHz to 1000MHz, then 1135MHz.. 1165MHz.. 1180MHz and finally 1200MHz (the max the slider would go in ATI Overdrive). The GDDR5 memory overclocked like a dream, no noticeable artifacts or polygon tearing at all. End result, the maximum memory overclock was a staggering 1200MHz, or effectively 4.8GHz!
GPU and Memory Max non-volted Overclock
The ATI RV790 GPU didn't play nicely at its standalone overclocked speed with the 1GB GDDR5 memory so we were forced to reduce the GPU overclock to 965MHz. Without any GPU voltage tweaking the maximum stable overclock PCSTATS was able to squeeze from the ASUS EAH4890 HTDI/1GD5/A videocard was 965MHz GPU / 1200MHz memory. Nice! This resulted in a good bump up in 3DMark scores which you can see in the benchmark section.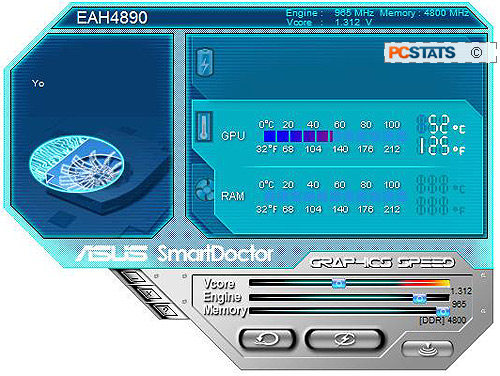 ASUS Voltage Tweak - ATI RV790 GPU Overclocked with extra juice!
With a baseline overclock of 965MHz GPU /1200MHz memory established, PCSTATS set about overclocking the ATI RV790 GPU with the aid of a slight voltage boost from 1.312v (default) to 1.375v with the ASUS SmartDoctor software. Success! The small voltage tweak brought the EAH4890 to 975MHz GPU / 1200MHz memory without any fuss! Now, how much further would it go.... 986MHz GPU @ 1.375v / 1200MHz memory - Check!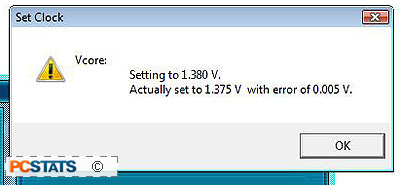 How about 1000MHz GPU @ 1.387v / 1200MHz memory - Check! Having maxed out both the memory and GPU sliders as far as they would go, PCSTATS called it a day. I have to say that ASUS' EAH4890 Radeon HD 4890 did not disappoint; the card overclocked very well through the usual methods, while the Voltage Tweaking basically unlocked its full overclocking potential.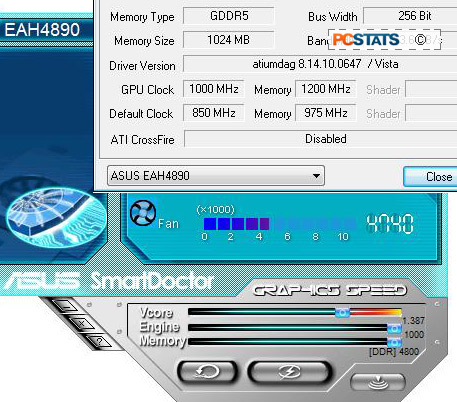 In the end PCSTATS overclocked the ASUS EAH4890 to 965MHz GPU / 1200MHz memory without any voltage changes, and an even better 1000MHz GPU / 1200MHz memory by tweaking the GPU to 1.387v. Fantastic results from this ASUS Radeon HD 4890 wouldn't you say?!
Prelude to Benchmarks
The details of how the ASUS EAH4890 HTDI/1GD5/A videocard was configured for benchmarking; the specific hardware, software drivers, operating system and benchmark versions are indicated below. All benchmarks for the videocard were run in Windows Vista Ultimate, the reference video cards were tested in both Windows XP and Vista for the DX10 benchmarks.
PCSTATS is in the process of making the transition to a Windows Vista and Intel CPU test platform, so keep this in mind as you scan the benchmark results. In the second column are the general specs for the reference cards this Radeon HD 4890 videocard is compared against.

PCSTATS Test System Configurations
Benchmark results are organized by GPU manufacturer first (AMD/ATI or nVidia), then by GPU generation, and then by GPU class (high end, mainstream, value). This approach provides a clearer view of how performance can differ from generation to generation, and class to previous generation. The product being tested is marked with the red colour bar.