As you might have guessed, ATI's new Radeon HD 4890 videocard is well placed to compete with enthusiast videocards like the Radeon HD 4870 1GB and Geforce GTS 260 Core 216, as well as the recently released nVidia Geforce GTX 275. In terms of performance, the Radeon HD 4890 has the potential to beat all of the above, with its most direct competition coming from the more-expensive Geforce GTX 285 videocard. These are the fastest single-GPU videocards available on the market today, and are all more than powerful to handle gaming on anything less than a 30"-wide LCD display at resolutions of 2560 x 1600. For smooth gaming at extreme resolutions like that, a multi-GPU setup is still the best option.
Compared to the venerable Radeon HD 4870 (RV770), ATI's Radeon HD 4890 (RV790) is more of a "GPU refresh" than a change in architecture. This means a bump in both core and memory clock speeds to increase overall performance and memory bandwidth to 124.8 GB/sec, but not a substantial bump in the sticker price that new GPU architectures tend to command. The RV790's microarchitecture remains largely the same as existing Radeon 4000-series GPUs: both have 800 stream processing units, both are built on a 55nm process, both have 256-bit memory interfaces and both use GDDR5 memory. The Radeon HD 4890 is essentially a highly overclocked Radeon HD 4870 if you want to think of it that way, with a slightly different power supply design.
In this review PCSTATS will be testing ASUS' EAH4890 HTDI/1GD5/A videocard which is largely based on the reference card design. The Radeon HD 4890 GPU is clocked at 850MHz on this card, and accompanied by 1GB of GDDR5 memory that runs at an effective speed of 3.9GHz (975MHz quad-pumped). The card is PCI Express 2.0 x16 compliant, supports ATI CrossfireX, HDCP, DX10.1, SM4.1, and Unified Video Decoder 2 for HD content decoding.
ASUS' EAH4890 HTDI/1GD5/A PCI Express x16 graphics card retails for about $270USD / $350CDN / £150GBP at stores like Newegg and CanadaComputers.What makes the ASUS EAH4890 particularly stand out from the crowd is a special tool in its overclocking feature set - GPU Voltage Tweaking.
Using ASUS' SmartDoctor overclocking software, you can adjust the RV790 GPU voltage from 1.312v to as high as 1.45v to improve the stability of the GPU if you choose to overclock it. And if PCSTATS own overclocking tests are anything to go by, pushing the Radeon HD 4890 to 1000MHz core / 1200MHz memory is certainly within the realm of possibility!

ASUS EAH4890 HTDI/1GD5/A Videocard





Includes:

User's Manual, Driver CD, Component Output adaptor, DVI-to-Analog converter, DVI-to-HDMI converter, Composite adaptor, Crossfire cable, Power adaptor, pleather mouse pad.
The ASUS EAH4890 HTDI/1GD5/A is big for a single GPU videocard, measuring 240mm long and taking up an extra slot for its massive thermal solution - by comparison the double-GPU Radeon HD 3870 X2 is 270mm long. The HD 4890's heatsink relies on a squirrel cage fan to move air through the hefty block of copper and heatpipes that form the GPU heatsink. It is cleverly designed so hot air is expelled out the back of the PC rather than just below your computer's CPU.

Like most performance videocards the HD 4890 is a bit of hog, it requires two 6-pin power connectors and comes with one 6-pin-to-molex power adaptor in case your existing power supply only has a single SLI power cable available. The card is rated for a max power draw of about 190W, so it's not surprising that ATI recommend a minimum 500W powersupply, 700W if you anticipate moving to a dual VGA CrossfireX set up at some point in the near future.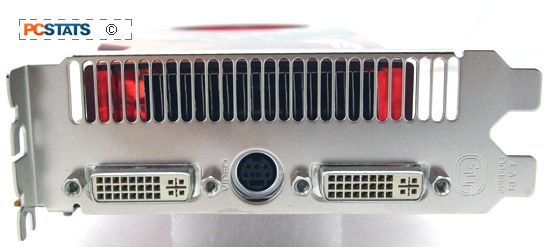 The 65mm diameter PWM controlled squirrel cage fan is pretty quiet under idle and moderate GPU loads, but when it needs to it ramps up to a very loud 4700RPM. During testing PCSTATS kept the fan spinning at 100%, at that speed GPU temp remained below 40C but it was like sitting next to a vacuum cleaner. It's generally a good idea to keep the slot immediately below the videocard empty so the fan won't be drawing in heat from other expansion cards.
Video Outputs and Bundled Accessories
The ASUS EAH4890 HTDI/1GD5/A videocard comes equipped with two dual-link DVI outputs, and combination composite video/component output/s-video port.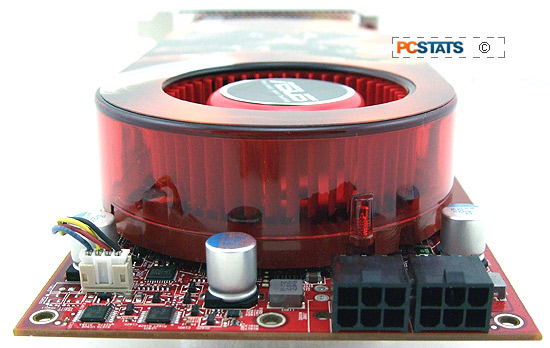 The box includes a DVI-to-VGA adaptor, a DVI-to-HDMI adaptor, component video adaptor (Y, Pb, Pr), composite video adaptor, CrossfireX bridge connector, spare power connector and associated CD manuals and drivers. ASUS have also thrown in a nice pleather mouse pad.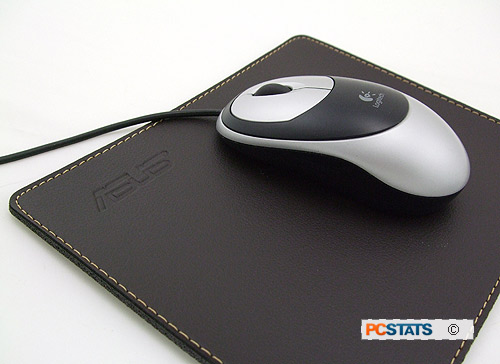 The DVI-to-HDMI adaptor supports 7.1 channel audio passthrough, in case you wondered. The Radeon HD 4890 supports a maximum digital resolution of 2560x1600, 2048x1536 for analog CRT monitors.