Before we dive into PCSTATS' super awesome review of the Asus Geforce GTS250 videocard, alone and doubled up in SLI, I've got a question for you. What do you consider more important: A) a videocard with a performance-implying name or B) the performance you actually get from it?
A lot of hardware sites have spilled a lot of pixels over the fact that nVidia's 'G92' GPU at the heart of the Geforce GTS250 videocard isn't nearly as new as its name implies. The nVidia 'G92' GPU first reared its head in the Geforce 8800GTS 512MB, then shortly afterwards changed its name to Geforce 9800GTX so it could be part of a new product line. A few weeks later the Geforce G92 GPU underwent a die shrink from 65nm to 55nm, so nVidia started calling it the 9800GTX+. nVidia's latest G92-based videocard now goes by the Geforce GTS250 nomenclature (and sports some lower power consumption figures), but really it's the name that has changed most about this graphics processor rather than anything else.
I suspect the recurring name changes were done to homogenize the Geforce branding of what is (still) a good mainstream videocard. The common GPU architecture is about all that has remained, the now 55nm graphics processor is now clocked at 740MHz, its 512MB of GDDR3 RAM runs at a quick 1100MHz (2200MHz DDR) and the shaders crackle away at 1836MHz.
Enter the Asus ENGTS250 DK (for Dark Knight) HTDI/512MD3/AR/A PCI Express 2.0 x16 videocard. ASUS's ENGTS250 DK videocard should draw less power and produce less heat than the Geforece 9800GTX+, and in this case makes use of a very nice and pretty quiet heatsink. It uses four heatpipes and an open framework to cool without any of those distracting noises that reference nVidia VGA heatsinks can create. This adds up to potential for some serious overclocking, which PCSTATS will get to later on in this review.

Asus ENGTS250 DK Videocard




Includes:

User's Manual, Driver CD, DVI-to-Analog converter, DVI-to-HDMI converter, component video output, SLI 6-pin power cable, SP/DIF jumper.
What can you expect to pay for a GPU with some history? Well, the Asus ENGTS250 DK is priced at a reasonable $200 CDN ($160 USD, £110 GBP). That's about par with most mid-range videocards and also happens to be the exact same price of AMD's Radeon HD 4850 videocard. PCSTATS had a few flattering comments for the Radeon HD 4850 in the excellent-value-for-money category, so it looks like we'll have a real fight on the PCSTATS test bench today.
It will be interesting to find out whether the Geforce GTS250 or Radeon HD 4850 offer the best value for the gaming enthusiast on a moderate budget. And just because we like you (thank you for reading our reviews!), we've nabbed a second Geforce GTS 250 from Asus so you can see how two of these bad-boys will perform in SLI mode.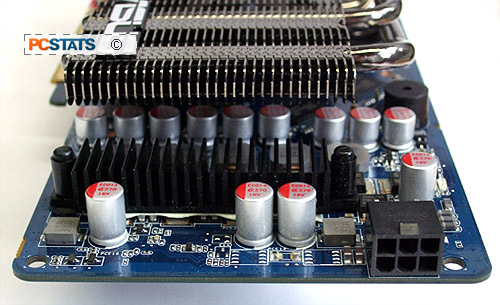 The ASUS ENGTS250 DK HTDI/512MD3/AR/A videocard is quite obviously based on the nVidia reference design. On the top right hand corner of the ASUS ENGTS250 DK HTDI/512MD3/AR/A videocard is a six pin PCI Express x16 power connector. Don't forget to plug that in before powering on the system or you'll make it angry. At the top left hand corner of the videocard you'll see the SLI bridge connectors; the card can be run with one or two other GeForce GTS 250 videocards (or a Geforce 9800GTX+ videocard, as long as both videocards have the same amount of memory) class in SLI mode for a little extra 3D goodness.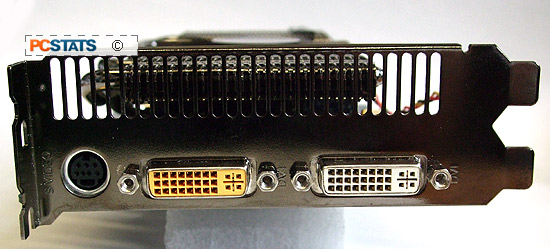 PCSTATS tests all graphics cards in a motherboard sitting on top of a desk, so you can bet that noisy videocards are like water torture for our geeky ears. Thankfully the ASUS ENGTS250 DK is pretty quiet. The videocard heatsink is equipped with a 70mm fan, and for the few moments it spun up to full speed, noise levels weren't too loud. It's not loud enough to distract you when you're knee deep in the digital mud of a good DX10 game...
The box contents includes a DVI-to-VGA adaptor, a DVI-to-HDMI adaptor, component video adaptor (Y, Pb, Pr), SP/DIF jumper, spare power connector and associated CD manuals and drivers. The Geforce 250 GTS supports a maximum digital resolution of 2560x1600 over its dual-link DVI adapter, or 1920x1080 resolution when using the HDMI adapter.

Because of the size of this card's cooler, it will take up two slots inside a motherboard, which is typical for gaming videocards. On the plus side it is considerably shorter than the Geforce 9800GTX, which makes it easier to fit into small cases.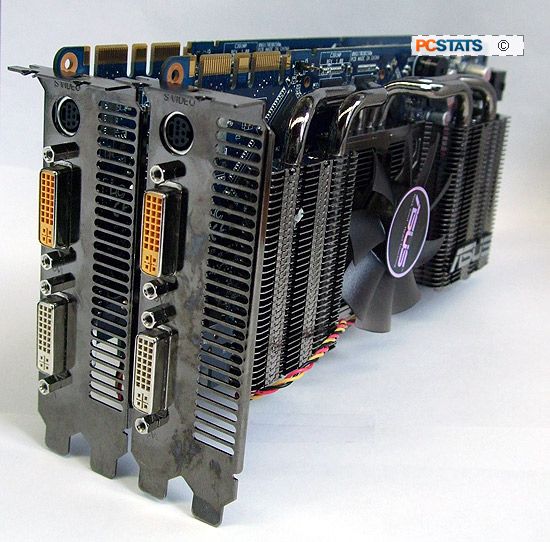 Okay, a look at the nVidia G92 core is next, and then we'll dive into benchmarks, SLI performance figures and overclocking!