Everyone's wanted to trade up at times. Sure, you can get the 8oz steak for $15, but the 12oz steak is only $17.... Sometimes the choice can be as easy as calculating performance versus price, but other times it's worth to pay more if it will really satisfy your needs. In this review PCSTATS is testing out Intel's Core 2 Duo E8500 processor, paced at just a hair faster than the popular Core 2 Duo E8400 CPU.
The 3.16GHz Intel Core 2 Duo E8500 CPU is a dual-core chip based on the 45nm 'Wolfdale' core that falls into the upper end of family, supplanted only by the relatively expensive Core 2 Duo E8600.
This socket 775 processor packs in 6MB of L2 cache and operates with a 1333MHz Front Side Bus speed. The Intel Core 2 Duo E8500 retails for around $230 CDN ($200 USD, £130 GBP), which makes it considerably more affordable than quad-core processors with equivalent clock speeds and cache.
The base multiplier for the Core 2 Duo E8500 processor is 9.5x, and having a such a high frequency multiplier will likely be a big benefit for overclocking, so PCSTATS is anticipating expecting good overclocking results. The more important question is whether that extra jump in performance will make your computing experience that much better.
Intel's Core 2 Duo E8500 processor is physically similar to the Core 2 Duo E6750 (Conroe) and Socket 775 Pentium D processors that came before it. All of these processors use the Land Grid Array 775-pad package.

45nm Intel Core 2 Duo E8500 Processor

Tech Specs

Core 2 Duo E8500
Clock: 3.16 GHz
Code name: Wolfdale
Cores: 2
L1: 2 x 64K
L2: 6MB
Multiplier: 9x
FSB Bus: 1333 MHz
Package: LGA775
Socket: 775
organic mPGA
Core: 45nm
Transistor: 400M
Power: 65 Watts
Vcore: 0.850-1.3625V
Cost: $230 CDN
Intel's move to a 45 nanometer manufacturing process means the silicon die here is approximately 104mm2 in area and contains around 410 million transistors. While the Core 2 Duo E8500 is a Socket 775 CPU, it isn't compatible with all Socket 775 motherboards, due to different voltage requirements and processor power envelopes.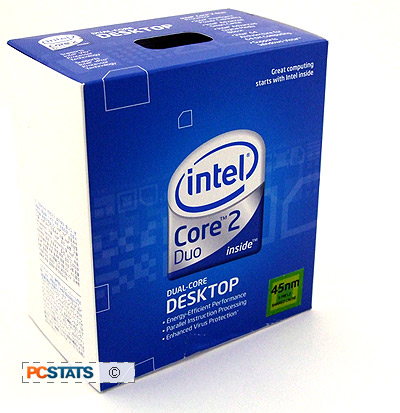 Currently the Intel X48, X38, P45, P35, G35, G33 and G31 chipsets have native support for 45nm 'Wolfdale' processors and will support the 1333MHz Front Side Bus speed. Motherboards with older chipsets may support Wolfdale processors like the E8500 processor though BIOS updates, although compatibility isn't universal. As always, check the vendor's support page before you pick up any new parts.
Due to its 45nm die-shrink, the Intel Core 2 Duo E8500 processor can be clocked at higher speeds yet maintain the same thermal design power (TDP) as the older 65nm E6000 series of processors. The typical TDP for the Core 2 Duo E8500 processor is 65W.
1333 MHz Front Side Bus Speed / 45nm Wolfdale Core

Wolfdale processors are currently Intel's fastest dual-core processors. You can identify a Wolfdale processor by its family series. The Intel E5000, E7000 and E8000-series are all based on the Wolfdale core, and share the same 45nm manufacturing process.
The Intel Core 2 Duo E8500 is a member of the highest end family. All E8000-series processors have 410 million transistors, 6MB of L2 cache, run at a 1333MHz front side bus, and have a TDP of 65W. The lower end of the Wolfdale dual-core processor families scale down accordingly: the E7XXX family of processors have 3MB of cache and run at a 1066MHz FSB, and the Intel E5XXX family, which has 2MB of cache and runs at 800MHz FSB.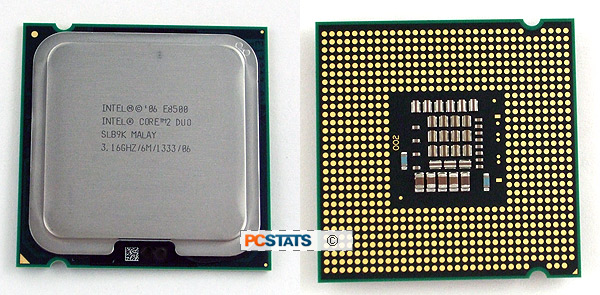 Intel has also added some new instruction sets for its Wolfdale (dual-core) and Yorkfield (quad-core) 45nm processors. The new SSE4 (Supplemental Streaming SIMD Extension, if you were wondering) instructions consist of 47 new vector instructions, most of which focus on improving the processor's co-ordination with graphics and video acceleration.
Intel Socket 775 'Wolfdale' 45nm Processors

Processor Models

Thermal Design Power
Clock Speed
FSB
L2 Cache Size

Price (USD)

Intel Core 2 Duo E8600
65W
3.33 GHz
1333MHz
6MB
$266
Intel Core 2 Duo E8500
65W
3.16 GHz
1333MHz
6MB
$183
Intel Core 2 Duo E8400
65W
3.0 GHz
1333MHz
6MB
$163
Intel Core 2 Duo E8300
65W
2.83 GHz
1333MHz
6MB
$163
Intel Core 2 Duo E8200
65W
2.66 GHz
1333MHz
6MB
$163
Intel Core 2 Duo E8190
65W
2.66 GHz
1333MHz
6MB
$163
Intel Core 2 Duo E7500
65W
2.93 GHz
1066MHz
3MB
$133
Intel Core 2 Duo E7400
65W
2.8 GHz
1066MHz
3MB
$113
Intel Core 2 Duo E7300
65W
2.66 GHz
1066MHz
3MB
$133
Intel Core 2 Duo E7200
65W
2.53 GHz
1066MHz
3MB
$113
Hardware virtualization has also improved, better for applications like VMware. Intel's improved hardware assisted virtualization is better at managing requests from the virtual manager, which allows both the virtual machine and the native operating system to make calls to the hardware without conflicting with one another. The larger, 6MB cache on the high-end Wolfdale processors is also very useful in these environments.
Intel's also talked a lot about how power efficient these new 45nm Wolfdale processors are going to be - so of course PCSTATS is going to put their claims to the test...