When comparing the Geforce 9600GT to the AMD Radeon HD 4770, the most applicable term would be 'less power'. The good news is that the ASUS EN9600GT DI/512MD3/A videocard does indeed draw less power than the Radeon HD 4770. In fact, it draws so little power that you don't need an auxiliary 6-pin power connector to run it. NVIDIA's move to a 55nm production process, and a new stepping that has reduced voltage requirements helps make this videocard compatible with a lot of older PCs.
The bad news is that the ASUS EN9600GT DI/512MD3/A videocard is less powerful than the Radeon HD 4770 graphically. It's 600MHz core clock and 512MB of GDDR3 clocked at 900MHz is actually a little slower than standard Geforce 9600GTvideocards. On top of that, the lack of auxiliary PCI Express power connector means that the overclocking performance of the Asus EN9600GT is mediocre at best: it was possible to get the core overclocked to 726MHz and the memory up to 944MHz, which is well short of what's been achieved with other Geforce 9600GT graphics cards.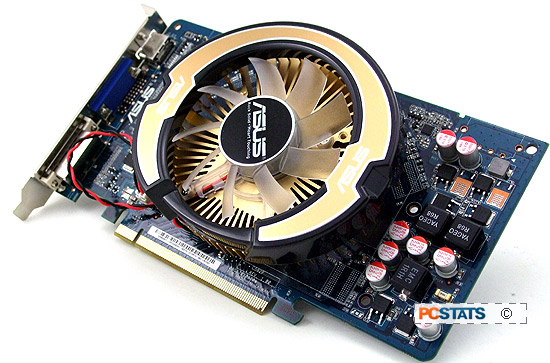 But you do get HDMI onboard, which reinforces our initial impression that the ASUS EN9600GT DI/512MD3/A videocard is a home theatre oriented product.
In every 3D benchmark the ASUS EN9600GT DI/512MD3/A videocard lost out to the Radeon HD 4770, typically achieving only 50-70% of the Radeon HD 4770's results. While it's still better than integrated graphics, the ASUS EN9600GT DI/512MD3/A videocard isn't fast enough to keep up in newer benchmarks, and capitulates completely when resolution and image quality settings are turned up.
The feature set of the Asus EN9600GT is a little more compelling. Getting HDMI, VGA and DVI on a single videocard is definitely useful, although like all NVIDIA videocards the Geforce 9600GT requires an S/PDIF passthrough in order to carry audio over HDMI.
This, combined with the low wattage requirements, might make this videocard a match for those looking for a decent videocard to sit inside a home theatre PC, but the flies have found their way into that ointment as well. There are other low-wattage videocards that can offer video acceleration and HDMI output as well. The Radeon HD 4550, for example. It's also $40 cheaper than the 9600GT, and it only takes up a single expansion slot. It can even be configured to work in half height mode for a slim computer chassis.
At $110 CDN ($100 USD, 60 £GBP), the ASUS EN9600GT DI/512MD3/A videocard is an odd duck. If you want performance and gaming, go and get the Radeon HD 4770, it's about the same price as the ASUS EN9600GT and considerably faster. If you're looking for HDMI output and video acceleration for an HTPC, there are plenty of entry-level videocards that are not only less expensive, but are also passively cooled and completely silent.
While NVIDIA's G94 GPU and the Geforce 9600GT have given us some good times, they've simply grown too old to keep up with today's new entry-level videocards. It's time to let these once-proud veterans of the videocard wars retire to greener pastures. Or at least give them a price cut.
Find out about this and many other reviews by joining the Weekly PCstats.com Newsletter today! Catch all of PCSTATS latest reviews right here.
Related Articles
Here are a few other articles that you might enjoy as well...
- Sparkle GTX260 Core 216 GeForce GTX 260 Videocard Review
- Gigabyte GV-R477D5-512H-B Radeon HD 4770 Videocard Review
- ASUS EAH4770 HTDI/512MD5/A Radeon HD 4770 Videocard Review
- ASUS ENGTS250 DK Geforce GTS 250 Videocard Review
- ASUS EAH4890 HTDI/1GD5/A Radeon HD 4890 Videocard Review
- Gigabyte GV-N96TSL-1GI Geforce 9600GT Rev.B Videocard Review
- ASUS EAH4550 Radeon HD 4550 Half-Height Videocard Review
- MSI R4830-T2D512-OC Radeon HD 4830 Videocard Review
- Asus EAH4850 HTDI/512M/A Radeon HD 4850 Videocard Review
- ASUS EAH3870 X2 Top/G/3DHTI/1G/A Radeon HD 3870 X2 Videocard