Abstract: The Radeon HD 4770 has been widely praised for its lower power consumption, in no small part due to its die-shrink to 40nm. Will NVIDIA's new steppings allow the Geforce 9600GT to compete in terms of power efficiency?


72% Rating:

Home > Reviews > Video Cards > ASUS EN9600GT DI/512MD3/A
Lately it feels like everywhere you look is overrun by affordable videocards in the newly trendy $100-200 price-point. AMD has released the Radeon HD 4850, introduced the excellent entry-level Radeon HD 4770, and lowered the price on the Radeon HD 4870. NVIDIA has responded by pushing down the price of the Geforce GTX 260, renaming the Geforce 9800 GTX+ as the Geforce GTS 250, and have now brought back an old friend, the NVIDIA Geforce 9600GT.
Now, while you might be familiar with Geforce 9600GT videocards from last year , NVIDIA has a bit of a surprise in store. The first is a die-shrink, moving the NVIDIA G94 GPU from 65nm to 55nm. The second is a brand new stepping, aimed at cutting power consumption. It reduces the core voltage from 1.1V down to 1.0V, and does away with auxiliary power connector altogether. Everything else stays pretty close to the original Geforce 9600GT videocard you know and love. The ASUS EN9600GT DI/512MD3/A videocard has a core clockspeed of 600MHz, a 1500Mhz shader clock and 512MB of GDDR3 memory clocked at 900MHz. The nVidia G94-359-B1 GPU that powers the EN9600GT has 64 unified shader processors, 16 raster operators, and a 256-bit memory bus interface.
Since the nVidia G94 GPU is based on familiar technologies, we'll just mention that continues to be DirectX10, Shader Model 4.0 and HDCP compliant. Additionally, the card accomodates OpenGL 2.1, 128-bit HDR, nVidia Quantum Effects physics processing, and Microsoft Windows XP/Vista/7 operating systems. It supports Purevideo HD 2/VP2 to accelerate High Definition content and reduce CPU load. An HDMI output on the videocard makes it ideal for home theatre PC use, the absence of a power connector good for users with older PCs seeking newer PCI Express 2.0 x16 gaming goodness.
The ASUS EN9600GT DI/512MD3/A should retail for around $110 CDN ($100 USD, 60 £GBP) which makes this videocard a direct competitor with AMD's Radeon HD 4770 . The Radeon HD 4770 has been widely praised for its lower power consumption, in no small part due to its die-shrink to 40nm. Will NVIDIA's new steppings allow the Geforce 9600GT to compete in terms of power efficiency? Can last year's midrange videocard keep up with the new entry-level videocards of today? All this in more, just past the jump!

ASUS EN9600GT DI/512MD3/A Videocard




Includes:

User's Manual, Driver CD Utlity CD, SPDIF jumper cable.
The ASUS EN9600GT DI/512MD3/A videocard is fully HDCP compliant and features a dedicated HDMI port for 1080p HD content (it can carry audio via a SP/DIF pass-through cable into the card). Alongside the HDMI jack there are Analog and DVI video outputs that support a maximum resolution of 2560x1600 pixels.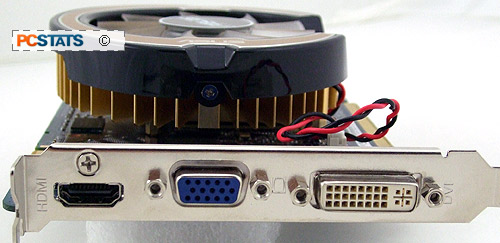 While typical Geforce 9600GTs only take up a single slot inside a case, the size of Asus' cooling solution for the EN9600GT turns this videocard into a dual-slotter. In pretty much everything but the tightest of SFF cases, this won't be a problem.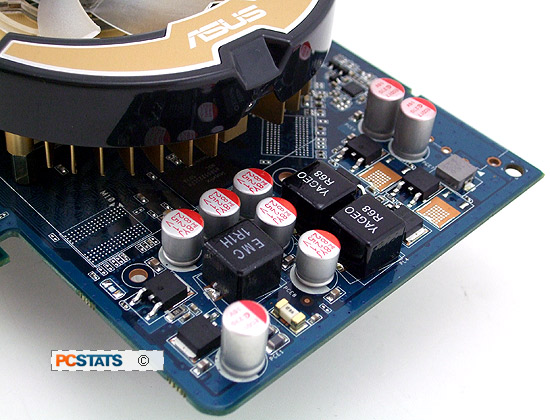 If you look carefully, you still won't see the auxiliary PCI Express power adapter, because there isn't one. The Asus EN9600GT uses only power that's transmitted along the PCI Express bus. It can be powered by a x16-size PCI Express 2.0 or 1.0 slot.
Home Theatre Ready?
At the business end of the Asus EN9600GT videocard you'll find the option most important to any serious home theatre PC builder, the HDMI output. Unlike AMD Radeon videocards, the Geforce 9000-series of videocards does not have a built-in audio codec. You'll need to connect the supplied SP/DIF jumper to the motherboard or sound card SP/DIF header if you wish to include the audio stream with the HDMI output.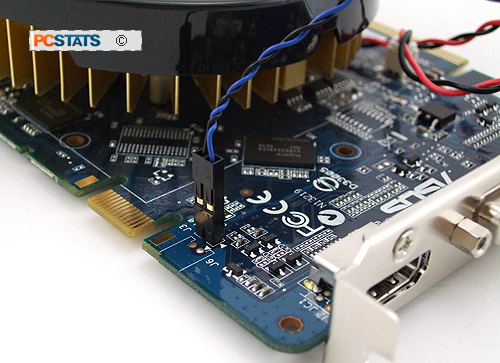 DVI and VGA video connectors adapters are handy for users with older CRT monitors still. Dual monitor output is supported with one monitor being fed signals via DVI and the other through VGA or HDMI.
nVIDIA GeForce 9600GT Revision B
While NVIDIA still refers to this graphics processor, and all Geforce 9600GTs by the same 'G94' code name, there are a number of differences between the GPUs on stock nVidia Geforce 9600GTs and those that power the Green Edition Geforce 9600GT videocards. The most obvious is that the reduced stepping has lowered overall power consumption figures to the point where auxiliary power connectors are no longer required.
Although standard Geforce 9600GT videocards consume about 95W of power and require a 6-pin PCI Express adapter, the Nvidia G94-359-B1 GPU has received a die-shrink to 55nm and cut its power draw significantly. The ASUS EN9600GT DI/512MD3/A videocard is compatible with the PCI Express 2.0 bus interface. Nvidia SLI is supported via a single SLI card edge connector, a maximum of two Geforce 9600 GTs can be linked together in SLI mode. Now it's time to take a look and see just how much power savings a 55nm die-shrink and some new stepping will mean for you...