Western Digital recently began simplifying its range of desktop Caviar hard drives into three colour-coded product families - Green, Blue and Black. The WD Caviar Blue and Green-series are geared towards everyday mainstream storage needs and "Earth-friendly" power efficient everyday computing.
The Western Digital Caviar Black series is the performance oriented member of the group, though a solid step below the legendary WD Velociraptor's.
The features that distinguish each hard drive family are more than skin deep, with the Caviar Blue series replacing the legacy Caviar, SE16, SE models, and acting as the basic footprint upon which Caviar Green and Caviar Black hard drives are refined.
The Caviar Green series' main angle is reducing hard drive power consumption - the obvious side benefits are cooler operation and lower noise levels. It does this with a balance of memory caching, lower spin and seek speeds - collectively known as 'Intellipower' - for power savings reportedly up to 40%.
WD's Caviar Black series SATA II hard drives feature a faster spindle speed and 32MB of onboard cache. Drive capacities range from 500GB through to 1.0TB, but all the Caviar Black series drives use Perpendicular Magnetic Recording and dual processors (what doesn't these days?) to reduce CPU overhead.

Western Digital WD1001FALS Hard Drive
Western Digital backs the Black series with a fantastic 5-year warranty and a long list of marketing phrases that represent its efforts to protect the drive and lengthen its lifespan. This include the bracing 'StableTrac' which secures the motor shaft at both ends to reduce vibration and the ethereal 'NoTouch ramp load technology' which spreads the recording heads apart so there is no contact between them and the three delicate recording platters when the HDD comes out its parked state.
On the PCSTATS test bench is the finest 1.0TB example Western Digital has to offer from its Caviar Black series. The Western Digital WD1001FALS has a capacity of 1 TeraBytes (1,000 GB) and is equipped with an industry standard 32MB cache. The three platters beneath its shiny metal exterior rotate at 7,200RPM and have a density of 333GB, so this 3.5" SATA II HDD should come close to attaining is listed sustained transfer rate of 106MB/s in PCSTATS' benchmark set.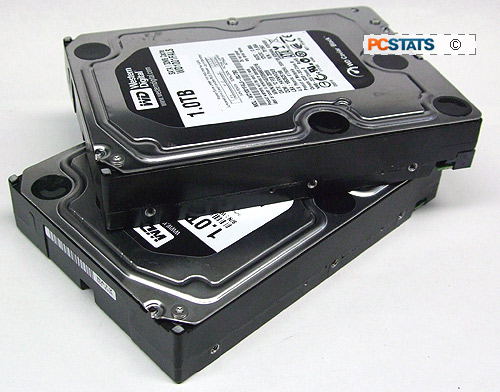 Western Digital's 1.0TB WD1001FALS SATA hard drive retails for about $145 CDN ($130 USD, £70 GBP), and two of them in this little beauty of a hot swappable multi-drive bay make a great RAID 1 array... we'll discuss how the Caviar Black 1TB holds up on the RAID 0 front in a moment.
The Caviar Black series WD1001FALS is Serial ATAI and SATA II. Physically the drive is 3.5" wide by 1" thick, it weighs 690 grams. Power is supplied by SATA style power connector only.
According to WD, the Caviar Black series WD1001FALS is rated for average latency of 4.2ms. WD also states that the 1TB Caviar Black hard drive supports a sustained data transfer rate of 106MB/s from disk to host. The peak transfer rate for this SATAII hard drive is 3Gb/s.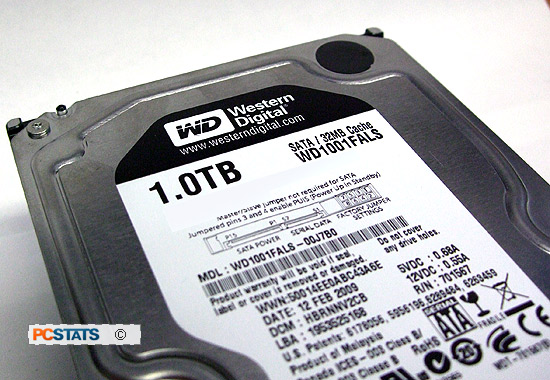 The Western Digital Caviar Black WD1001FALS has three platters with a total of six read/write heads. The WD1001FALS isn't too loud by our standards, idling at 24dB and generating 33dB of noise when seeking. When operating in 'quiet seek mode' the drive hums at a moderate 29 dBA. The Caviar Black is not nearly as loud as the WD Raptors we use each day in the PCSTATS test labs.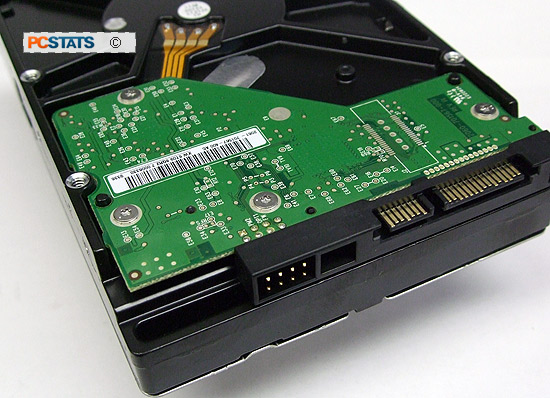 According to Western Digital, the WD1001FALS is rated to run in an environment temperature between 0 to 60 Celsius. Clearly, no one in WD's marketing department is particularly concerned by a product whose name essentially reads "Western Digital 1000&1 falls." Ouch. Let's take a look at a few ways WD aims to keep data stored in the Caviar Black safe.
There are two basic data protection features with this disk, Data Lifeguard which includes shock, environmental and real-time data-error protection, and ShockGuard which WD claim will instantly protect the drive from "bumps" and "vibrations" while it's operational.
Alrighty, let's power the 1.0 TeraByte Caviar Black SATA hard drive up and test it in single and RAID 0 configurations....