If you've been keeping up with PCSTATS you'll know that in the Asus EN9600GT videocard review we mentioned that there are other, more affordable graphics cards better suited to playing movies on a HTPC. As luck would have it, one of them magically appeared in the PCSTATS labs this week.
ASUS' EN9400GT is a half-height Geforce 9400GT videocard specifically made for those cramped Home Theatre PC situations that are a pain come upgrade time. It packs in VGA, DVI and most importantly an HDMI output right on board, and best of all, for older PCI Express x16 equipped PCs it does the High Definition video acceleration itself! Ever try to do HD decoding on an older PC? Take our word for it, without an HD accelerator it ain't pretty. ASUS' EN9400GT-1GB is HDCP complaint, meaning it can output both audio and video from Blu-ray discs and other protected sources at full quality, to HDCP compliant displays. Not sure what HDCP is or means? Read this PCSTATS guide to get the low down.
At the heart of the ASUS EN9400GT is nVidia's legacy G96 GPU, a budget-oriented graphics processor that's been around the block a few times. It's used in the Geforce 9500 GT, and derived from the G92 GPU that formed the basis of the popular Geforce 9600GT. However, this stripped down GPU has 16 stream processors, a core clock of 550MHz, and on the Asus EN9600GT comes with 1GB of GDDR3 memory paced at 800MHz. We'll see if that extra memory helps this videocard at all in the gaming benchmarks later on, but don't hold your breath...
While nVidia might like say that the Geforce 9400GT "has a 2x performance increase over the comparable 8 series graphics cards allowing you to play the latest PC games", the reality is it's not capable of handling most modern 3D games at anything near 60FPS. You may be able to game in a few less image intensive titles at 1024x768 resolution, but mostly the ASUS EN9400GT videocard is good for another reason. For starters, compared to most integrated graphics chipsets it offers a slight performance edge, and I do mean slight, but mostly it's the little HDMI connector on the back of the half-height, $50 ASUS EN9400GT card that makes it particularly special.
HDMI stands for High Definition Multimedia Interface, and it's the de facto standard for sending HD video and digital audio signals to today's generation of LCD flat screen TV's, like this sweet 52" baby from Samsung called the A850. Pop a graphics card with onboard HDMI into your PC and you can essentially turn that computer into a media center; good for playing back downloaded movies, home videos, or even just the Windows desktop onto a bigger screen the family (or office) can comfortably gather around.
The Asus EN9400GT runs about $50 CDN ($46 USD £28 GBP), so it's an affordable way to get HD output into a compact PC that can't accept full size videocards, or that lack the power and outputs to be effective home theatre system. As you'll see in the benchmarks, mainstream graphics cards slay the Geforce 9400GT when it comes to 3D gaming performance, but for those of you that predominantly just work in email, word or surf the web it's more than sufficient.
Simple desktop applications don't require fancy gaming videocards. If you don't game but are fed up with perhaps Windows Vista's Aeroglass interface slowing down the computer's integrated graphics chipset, or worse yet find it unable to support a widescreen 24" LCD at its native resolution, an inexpensive videocard like this might just fit the bill. For the budget-constrained gamers, PCSTATS will be tossing the full might of our videocard benchmark suite at the ASUS EN9400GT so you can see just how it compares to similarly classed videocards like the Radeon HD 4550 and 4350.

ASUS EN9400GT Videocard




Includes:

User Manual, Driver CD, Utilities CD, low-profile I/O shield, SP/DIF jumper cable
Included in the box with the Asus EN9400GT is a driver CD, utility CD and a half-height I/O panel. There's also an included S/PDIF pass-through cable, and manual. Not a whole lot, but everything you need to get the PCI Express x16 videocard installed and running.

Around back at the I/O panel we find VGA, HDMI and DVI video outputs can be used independently, or in dual-output mode with either the DVI or HDMI being used in conjunction with the DVI output. The dual-link DVI output can output resolutions as high as 2560 x 1600, while the HDMI output can do 1920 x 1080. The analog VGA port supports resolutions up to 2048x1536 pixels.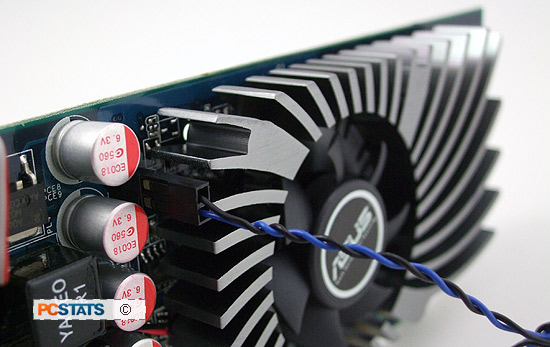 The HDMI port is HDCP compliant naturally, and can carry both audio and video from your PC out to any HDMI-compatible HD TV. To get audio off of the HDMI output, an S/PDIF pass-through cable must be connected from the ASUS EN9400GT videocard to the SP/DIF connector on the motherboard. Asus include the small jumper cable with the card, and it's not too difficult to set up. If you've thrown away your motherboard manual and the board itself isn't labeled (most motherboards indicate the 4-pin SPDIF connector with a little silk-screened label next to the header), you can always download the motherboard manual from the manufacturers website. This is one of the great aspects about Radeon-based videocards, they have a built-in audio codec which eliminates the need for any cables feeding to the videocard.
Half-Height Videocard
How does a full size videocard fit into a book-size PC chassis? The answer is simple, it doesn't unless you have a half-height videocard. ASUS have thoughtfully supplied a half-height metal I/O bracket along with the EN9400GT videocard so you can swap out the brackets yourself. The analog VGA port is mounted via flexible cable to the videocard PCB, and the half-height bracket is two-slots wide to accommodate it.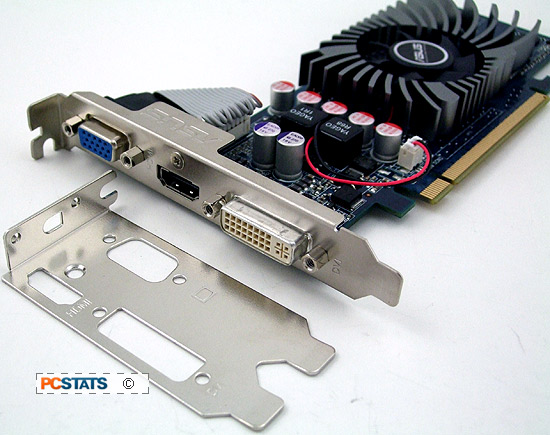 The Analog VGA connector is attached to the videocard with flexible cable because it will be repositioned above the HDMI jack when the half-height I/O bracket is used. In most computers there should be sufficient space, but you might want to double check that there is an additional slot free next the PCI Express x16. The downside to this approach is clearly that you lose an entire slot in the computer, which is a lot given that most slim PCs usually only have three or four expansion slots at the most.