I'd like to introduce you to the Seasonic M12D-750 power supply. It's big, it's black, and it's modular. This 750W power supply unit is actually in the family above the Seasonic S12 II 500W that PCSTATS tested a while back, and has many of the same ratings: it's 80 PLUS efficiency certified, has up to 99% Active Power Factor Correction (A-PFC) and universal AC support (120/240VAC). The M12D-750 is designed for the enthusiast who sees quad-core processors and SLI / CrossfireX videocards in their immediate future, so we have some pretty high expectations going into this review.
Pulling the Seasonic M12D-750 out of the box, the first thing you'll be struck with is the attractive matte black finish (which means no fingerprints), and the sheer heft of the thing. While power supplies have become increasingly complex internally over the years, one general rule of thumb is that a quality power supply should be heavy , if it feels like a hollow cookie tin you don't want it in your computer.
One of the benefits of modular power supplies is that you can remove unnecessary cable clutter from inside the PC case. A cleanly cabled system chassis can be a thing of beauty, but practically speaking it can also improve airflow inside the chassis.
The modular nature of the 750W Seasonic M12D-750 power supply means it comes with a number of optional cables that plug directly into the PSU, in case additional power connectors are needed for peripherals. However there are a basic set of cables that are internally attached to the main power unit that can't be removed. This includes the main 20/24 pin motherboard power connector, the eight-pin EPS12V connector, and the four-pin ATX12V connector that powers the CPU. There are also three on-board SATA connectors, and a pair of PCI Express power connectors that can be converted into six or eight-pin modes.

Seasonic M12D 750W Power Supply

Includes:

(3) SATA power cables, (3) molex power cables, (2) PCI Express eight pin (6+2) power cables, molex to FDD power adapter, cable bag, instruction manual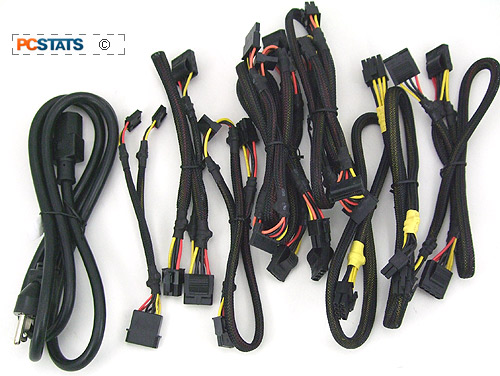 The modular cables can be attached to the PSU if more system peripherals require power. Seasonic's M12D-750 power supply comes with a pair of SATA power cables that can connect three SATA devices each, and a third SATA power cable that can connect another two SATA devices.
Similarly, there are a pair of 4-pin molex power cables with three connections each, while a third molex power cable has two power connectors. Altogether that's six power cables with eight SATA and eight 4-pin molex connectors between them, and up to four of those cables can be connected to the Seasonic M12D-750 PSU's modular peripheral outputs at once.
For the gamers with multi-videocard power demands to contend with, there are two modular PCI Express power cables that have eight pin (6+2) pin connectors. When combined with the two on-board PCI Express power connectors, as many as four PCI Express videocards (or two flagship videocards) can be powered by the 750W Seasonic M12D-750.
Finally, there's an adapter cable that splits a molex power connector out to two FDD power connectors, just in case you still have an old floppy disk drive collecting cobwebs inside your system chassis.
Altogether the Seasonic M12D-750 power supply runs about $210 CDN ($180 USD, £110 GBP), which is about average for power supplies in this wattage range. The unit comes with a five-year warranty, which is excellent as most power supplies are only protected for three years or less.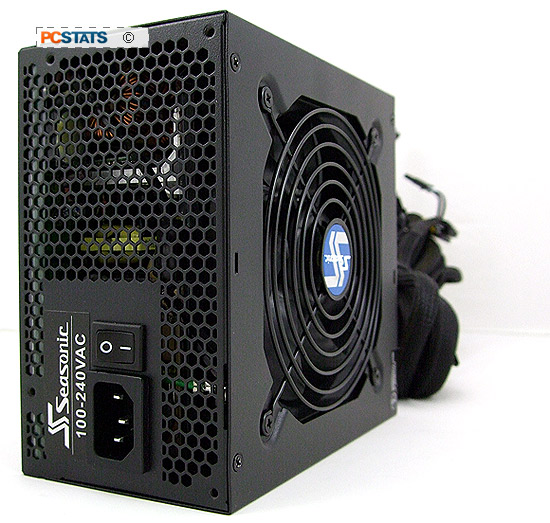 Matt Finish = No Fingerprints
The Seasonic M12D 750W power supply is standard ATX size: 150 x 160 x 86mm. There won't be any problem fitting this PSU into your case. The finish is a matte black which is what we usually prefer as it does not smudge or get dirty easily.
At the bottom of the power supply there is a single 120mm fan which draws in warm air from within the computer, expelling it out the rear via a honeycomb vent.
The M12D-750's 120mm fan is temperature controlled, so under typical operating conditions it can operate in near silence, only spinning up if internal case temperature rises significantly.
According to Seasonic, the +3.3V and +5V rails can deliver 24 Amps and 30 Amps respectively, for a total combined output of 150W. There are two +12V lines, each can output 38 Amps for a combined output of 744W.
The Seasonic M12D 750W supports Active Power Factor Correction (A-PFC) which improves efficiency, reduces heat and uses less power. A-PFC circuitry works with a wider voltage range (115VAC of North America to 230VAC of Europe).
Let's go in for a closer look at the Seasonic M12D 750 power supply from a couple different angles, and take a quick look inside... after all at PCSTATS those little "warranty void if removed" stickers aren't about to stop us!