Nero's CD Speed burn tests a DVD+R DL rated at 2.4x. The program emulates a burn that would fill the disc with 8.5GB of data. This test is done by simply placing blank recording media into the burner and running CD Speed the software.
Nero CD Speed: DVD+R DL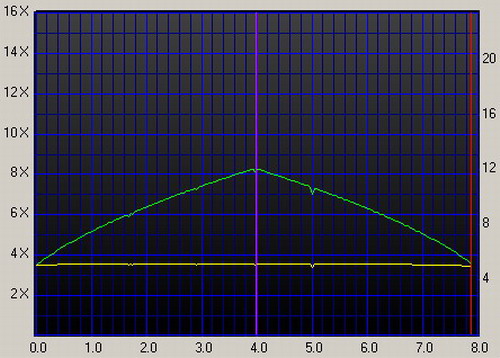 DVD+R DL
Nero CD Speed: DVD+R DL Benchmark Results

Optical Drive

ASUS BC-1205PT

LG GSA-H62N

Plextor

PXB310U

AOpen DSW1812P

Samsung WriteMaster SE-W164

Gigabyte GO-W1616A

MSI DRI6-B

LG GSA-4120B

Media
DVD+R DL
DVD+R DL
DVD+RDL
DVD+R DL
DVD+R DL
DVD+R DL
DVD+R DL
DVD+R DL
Media Write Speed:
2.4x
2.4x
2.4X
2.4x
2.4x
2.4x
2.4x
2.4x
Avg Speed:
6.32x
9.25x
6.17x
9.21x
6.23x
4.3x
2.4
2.4
Start Speed:
3.52x
5.04x
3.43x
5.13x
3.46x
2.4x
2.39
2.4
End Speed:
8.43x
12.35x
8.22x
12.3x
8.31x
5.74x
2.4
2.4
Type
CAV
CAV
CAV
CAV
CLV
CAV
CLV
CLV
The DVD+R DL test brings the Plextor PX-B310U back to normal levels. It's still a fast drive, but Asus and AOpen seem to have an edge when it comes to dual-layer burning.
Nero's CD Speed tests the read capability off a standard Blu-Ray DVD disc. This test is done by simply placing the blu-ray movie 10,000 BC into the player and running the CD Speed software.
Nero CD Speed: BD-DVD Benchmark Results

Optical Drive

Plextor

PXB310U

ASUS BC-1205PT

Media
BD-DVD
BD-DVD
Avg Speed:
-
3.68x
Start Speed:
-
2.19x
End Speed:
-
4.84x
| | | |
| --- | --- | --- |
| Disc Recognition Time | - | 0.05 |
| Disc Eject Time | - | 1.21 |
| Disc Load Time | - | 15.37 |
Optical Drive

Plextor

PXB310U

ASUS BC-1205PT

Disc Type
-
Blu-Ray
Avg Speed
-
3.68x
Random Seek Time
-
79ms
1/3 Seek Time
-
199ms
Full Seek Time
-
327ms
CPU Use: 1x
-
1%
CPU Use: 2X
-
2%
CPU Use: 4X
-
3%
CPU Use: 8X
-
5%
Disc Load Time
-
15.48
Benchmarking with movies can be problematic - while the PX-B310U had no problem playing Blu-ray movies, benchmarks can at times conflict with the embedded DRM that's on Blu-ray discs, which we suspect what is going on here. Nero simply crashed repeatedly during this test, so there aren't any results that we can report.
Blu-Ray has gone portable!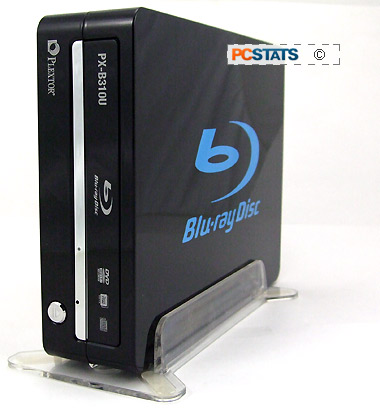 From a performance stand point, the Plextor PX-B310U drive did quite for itself, frequently coming out as the fastest drive in several of the write and read speed benchmarks. There were a few hitches with read performance, but for the most part they didn't affect the drives overall speeds.
Blu-ray reading performance was similarly excellent, although it's important to stress that you'll definitely want a dual-core processor and at least 2GB of memory for playing back Blu-ray content smoothly. Anything less that and be prepared for skipping, buffering and hitches. If you have the luxury of choice, it's generally easier to go with a SATA-based internal drive, they just tend to be a bit more reliable than external USB options and circumvent a lot of potential system bandwidth bottlenecks.
At $220 CDN ($160 USD £125 GBP) the Plextor PX-B310U is a little pricey when compared to most external Blu-Ray drives. However that extra price is buying you a whole lot of convenience. The PX-B310U is an easy way to get Blu-ray onto PCs that could otherwise be difficult to upgrade, such as non-SATA PCs or laptops.
For computers that do meet the minimum requirements, it's pretty easy to get the PX-B310U set up and playing movies. Plextor bundles this external Blu-ray reader with Cyberlink's BD suite, as well as is own PlexUtilities software. The software has everything you need to read Blu-ray discs, burn CDs and DVDs, as well as a few utilities for creating CD labels.
Perhaps the best part about the Plextor PX-B310U is that it can handle pretty much every type of optical disc that's currently in use, and since it's external this mean it has a lot of versatility. It's a suitable solution for those who need to administer multiple computers and have lots of media coming in different formats. Although if you're just someone who wants to watch some Blu-ray movies without having to spring for a standalone player or crack open your computer case, the Plextor PX-B310U will work just as well.
Find out about this and many other reviews by joining the Weekly PCstats.com Newsletter today! Catch all of PCSTATS latest reviews right here.
Related Articles
Here are a few other articles that you might enjoy as well...
- ASUS BC-1205PT-BD Blu-Ray Dual Layer SATA DVD Burner Review
- LG GSA-H62N SATA Dual Layer DVD-Writer Review
- AOpen DSW1812P 18x Triple Format DVD Rewriter Review
- Samsung WriteMaster SE-W164 16x16x External DVD Writer Review
- Gigabyte GO-W1616A DVD Burner Review
- MSI DR16-B Dual-Layer DVD Burner Review
- LG GSA-4120B Super Multi DVD Rewriter
- AOpen DRW8800 8X DVD Burner Review