While the speed, capabilities and reliability of optical drives have largely homogenized over the years, Plextor has managed to retain a loyal following who insist that the long-time optical recording specialist remains head and shoulders above the competition. Whether that's true or just good marketing is another question altogether... As a general rule, PCSTATS doesn't buy into "brands," its the specs and benchmarks that really matter.
In any event, on the PCSTATS test bench today is Plextor's PX-B310U external Blu-ray drive. In addition to Blu-ray playback (but not burning), this full sized external ODD, which connects to the PC over USB2.0 cable, doubles up as a DVD and CD burner. The PX-B310U supports DVD reading and writing in both the + and - formats, as well as reading and writing to DVD-RAM and Dual-Layered DVD discs. Naturally, it can also handle and CD-R and CD-RW formats.
External Blu-ray drives make it easy to turn pretty much any PC into a home theatre PC. With more and more HDTVs supporting PC inputs (DVI, S-Video or HDMI), it's easy to connect a drive like this to a laptop, pop in a movie and pipe the display through to a big screen TV. Blu-ray can store a massive amount of data, 50GB per disk in fact.
For around $220 CDN ($160 USD £125 GBP), the PX-B310U can bring Blu-ray playback and external CD and DVD authoring to almost any PC. Is the PX-B310U a worthy upgrade for that desktop or laptop that could use a little HD loving?

Plextor PX-B310U External Blu-Ray USB DVD Writer

Includes:

User's Manual, SATA cable and molex power adaptor
The PX-B310U is an external drive, which makes it a little bulkier than a standard optical drive (it's essentially an internal optical drive wrapped in an external case). The drive measures 22 x 16 x 4.5cm, so it's fairly easy to fit it next to a laptop or on a table beside a desktop. Power is supplied by the included CD power adaptor, and the PX-B310U connects to the PC via USB 2.0 cable. A clear plastic stand is supplied for vertical mounting, which helps save a little desk space.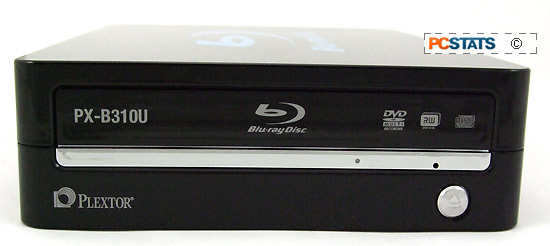 The front of the dive has one blue LED status light, and an eject button.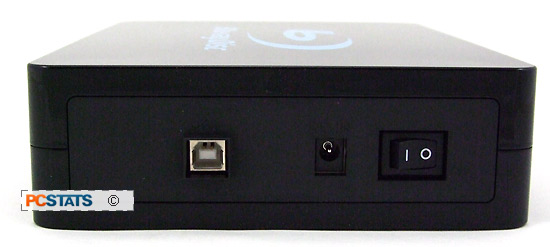 The rear of the PX-B310U features the USB-B data port, a power switch and the DC power jack. The chassis is finished in a shiny black coating that looks fantastic, but attracts dust and fingerprints like a magnet.
Since this is an external optical drive, chances are you'll be touching it frequently as you move it between computers, or to pop in media. It's probably a good idea to invest in a bit of Windex and a micro-fiber cleaning cloth.
Plextor PX-B310U Supported Media

Blu-Ray

DVD-RW

DVD-R

DVD-RAM

DVD-R DL

CD-R

CD-RW

Read:

5x

8x

16x

12x

8x

48x

32x

Write:

no

6x

12x

5x

4x

24x

24x
Writing modes for DVDs on the PX-B310U include DAO (Disc-at-Once) and Incremental Recording, as well as restricted overwriting and sequential recording. CD writing can also support TAO (Track-at-Once) and SAO (Session-at-Once) recording, in additional to mutli-session recording.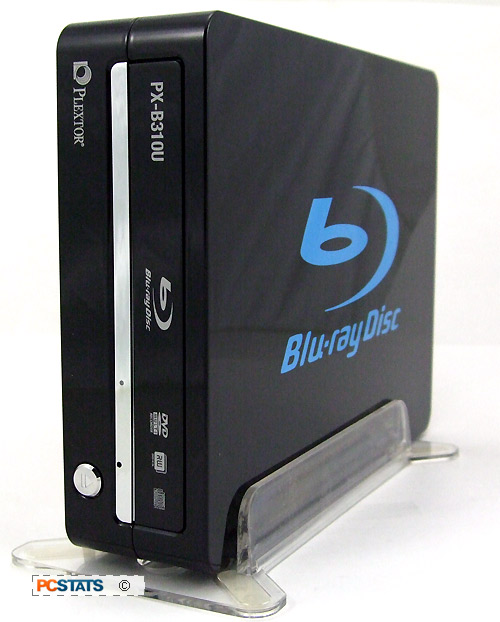 The PX-B310U's USB 2.0 interface makes it easy to hot-swap between computers. USB 2.0 has just enough bandwidth to play back Blu-ray discs, so as long as your PC has adequate processing power playing back Blu-ray video shouldn't be a problem. Let's take a closer look at Blu-Ray technology then move along to the benchmarks...