The Radeon HD 4770 has been a favorite around the PCSTATS offices since the day it launched. This entry level priced videocard has an unheard-of price to performance ratio. Better yet, when two Radeon HD 4770's are paired together in Crossfire the performance can rival more expensive high-end videocards. You get the picture. Enter the ASUS EAH4770 FORMULA - it's not based on the vanilla reference PCB, and it's got some features that could very well make it the VGA to beat for under $150 CDN ($130 USD, £80 GBP).
Looking at the basic spec sheet, you could be forgiven for thinking the Asus EAH4770 FORMULA is the same as every other Radeon HD 4770. The EAH4770 FORMULA is built around the ATI RV740 GPU, which is itself a direct descendant of the original ATI RV770 GPU. This means that the GPU core clock is still at 750MHz, and there's still 512MB of GDDR memory running at 800MHz. There's also support for ATI CrossfireX, HDCP, DX10.1, SM4.1, and Unified Video Decoder 2 for HD content decoding, just as you'd expect from any Radeon HD 4770 videocard.
Once the box is open it's clear Asus has made some big changes from the reference Radeon HD 4770, starting with the heatsink. Asus claims its new design will increase airflow volume and improve heat dispersion, but it's hard not to notice that the fan shroud resembles a Formula 1 racer.
The new heatsink promises to reduce fan noise, which means the PCI Express x16 EAH4770 FORMULA videocard should be relatively silent if installed into a home theatre PC. A notable feature because the Asus EAH4770 FORMULA is equipped with a native HDMI output, along with DVI and analog video outputs. Coupled with its small size, low power requirements and excellent price to performance ratio, the EAH4770 FORMULA videocard seems like a natural fit for those on a budget. Some electrical changes have been made too, such as the inclusion of fuses to reduce the chance of electrical shorts and overloads.

ASUS EAH4770 FML/DI/512MD5/A Videocard




Includes:

User's Manual, Driver CD, Utilities CD, DVI-to-HDMI Adapter, DVI-to-VGA adapter, Component output splitter, 6-pin to molex power cable.
The first thing you'll notice, about this videocard is the fanshroud. It looks like a Formula one racer, which is cute if that's the sort of thing you enjoy. The fanshroud itself is made out of plastic, and the design does force more air onto the surface of the videocard's PCB. The heatsink itself is made out of extruded aluminum, with individual fins that have been tooth-edged to create a larger exposed surface area for cooling.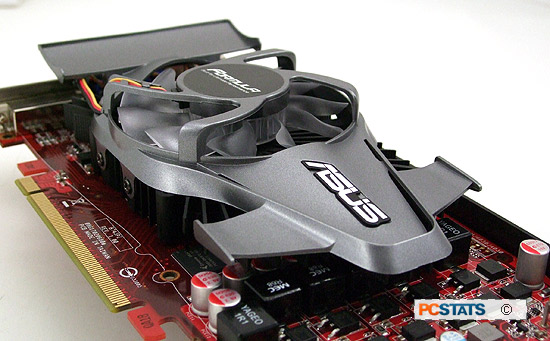 The fan itself is internally sealed off against dust. Under operation the fan is only really audible at full blast, and can easily auto-adjust itself in order to keep noise levels low.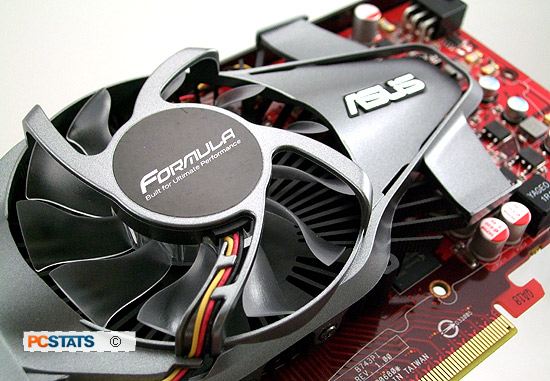 In addition to changing the heatsink design, Asus has also made some changes to the construction of the PCB and the electrical design of the EAH4770 FORMULA videocard. A quick comparison reveals that a lot of the capacitors have been rearranged or replaced, and Asus has also introduced a new type of fuse which it claims will eliminate the types of electrical short that can kill a graphics card.

Moving around to the I/O bracket we can see a few other important changes. The reference Radeon HD 4770 was equipped with two DVI ports and an S-Video out. The Asus EAH4770 FORMULA has one DVI, one Analog and one HDMI output.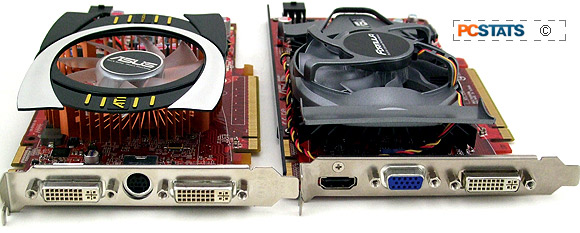 HDMI is now native on the Radeon HD 4770, which is a great new addition for HTPC builders. Rather than having to deal with DVI-to-HDMI adapters (which can cause all sorts of problems) a dedicated HDMI connection makes it easy to run this videocard directly into an HDTV. Since the Radeon HD 4770 has an on-board sound codec, getting proper HDMI output is a no brainer.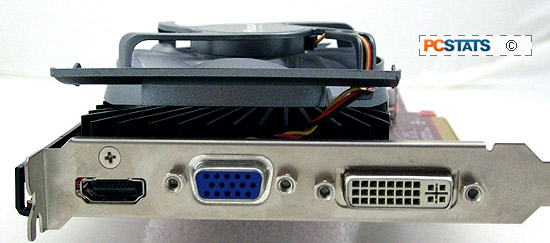 At the back of the Asus EAH4770 FORMULA there is one six-pin PCI Express power adapter.. PSTATS will be taking a closer look at the Asus EAH4770 FORMULA's power draw in a moment.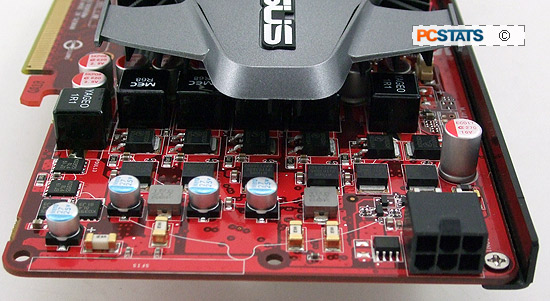 With DVI, VGA and HDMI already on-board, there's not really a whole lot of extras or adapters needed to get the Asus EAH4770 FORMULA up and running. Asus does throw in a molex to PCI Express power adapter, which can be useful if you have an older power supply. The ATI R740 GPU that powers the Radeon HD 4770 is the first 40nm desktop GPU ever made - let's take a closer look at what that means for the Asus EAH4770 FORMULA...