ASUS has put too much effort into naming every last feature, so bear with us for a moment. Along with the ASUS P7P55D-Deluxe you'll find a collection of ASUS only tools and overclocking utilities under the Xtreme Design moniker which include:
Asus TurboV Evo, Turbo Key, the Turbo V remote, a 16+3 phase motherboard power supply called Xtreme phase, T.Probe technology, Drive Expert, MemOK!, EPU version 6 power saving features, Express Gate instant on mini-operating system, Stack Cool board cooling tech., Fan Xpert, Q-shield, Q-connector, Q-Design (memory, slots an LEDs) OC Profile, CrashFree Bios 3, EZ flash 2, Precision Tweaker 2 software overclocking tools (voltage controls primarily), Stepless Frequency Selection, CPU Parameter Recall overclocking protection. Got all that?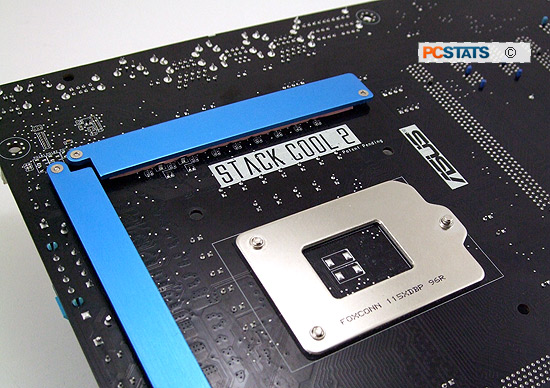 ASUS StackCool 2
Like any motherboard worth its salt the ASUS P7P55D-Deluxe uses all solid-state polymer aluminum capacitors and incorporates various power saving features to increase its efficiency and improve electrical stability when overclocked. Heatsinks are suitably placed on the 16+3 phase motherboard power supply and a thicker copper trace layer is used in the actual motherboard PCB to help spread the heat around. This decreases the overall temperature levels of board mounted MOSFETs and other ICs improving component longevity so we're told.
With a board like the ASUS P7P55D-Deluxe, it's the overclocking features that are really interesting, so let's dive into that next.


ASUS TurboV overclocking remote.
The ASUS TurboC remote control allows users to bump up CPU overclocking speeds in the middle of a game without exiting the application to launch the software OC tools. The remote can also be use to apply EPU power saving settings.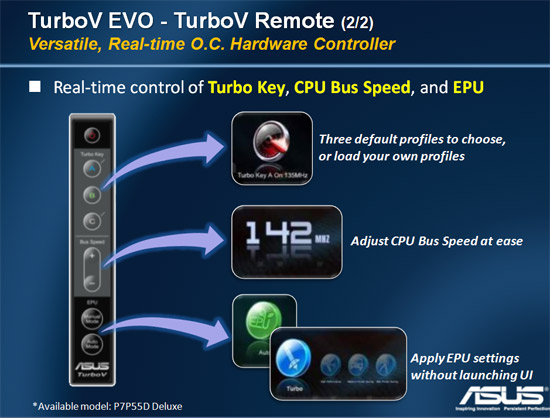 ASUS TurboV overclocking remote functions.
The ASUS P7P55D-Deluxe features newly designed memory slots which are intended to make installing or removing modules easier when a videocard is installed (which is always). One side of the memory sockets has the normal clasp, the other is fixed.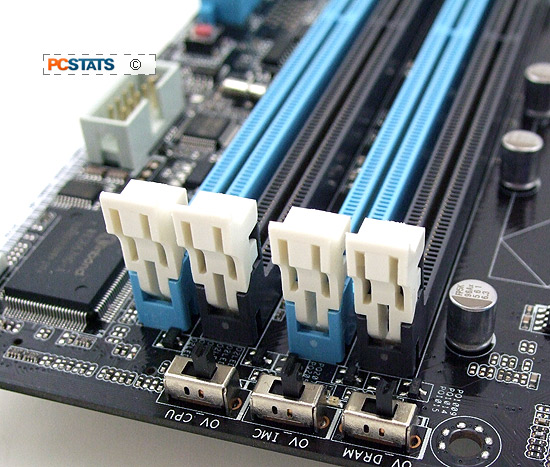 ASUS Q-Design memory module, integrated memory controller and CPU over volting
Hard core overclockers are going to like the ASUS Q-Design switches by the memory slots. These switches allow users to enable or disable the advanced memory module, integrated memory controller and CPU over-volting settings in the BIOS. The average voltage adjustment range for the CPU is between 0.85V - 1.7V, the advanced menu will boost that to a potentially chip frying 1.25V - 2.1V. Use these advanced controls with caution and read the half-page of warning text that goes with them... plus, strap on suitable cooling!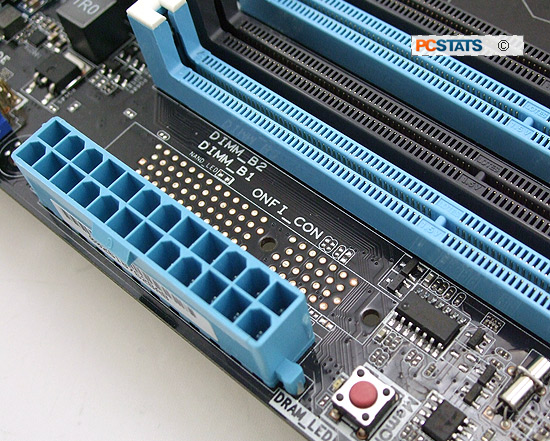 ASUS MemOK!
The MemOK! feature is a good one to have since it lights up when a memory module is not properly installed. Pressing the button will command the system to run through several failsafe memory settings at boot. The red light is part of the Q-Led system... basically a red light indicating a device isn't correctly installed, or that item is preventing the PC from booting.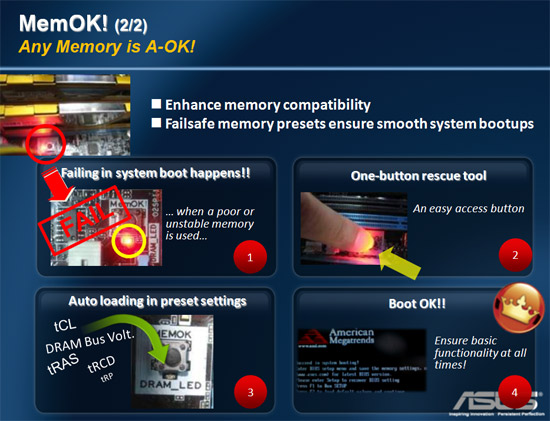 ASUS MemOK!
Now on with the preview of ASUS P7P55D-Deluxe motherboard, first on the agenda - the new LGA1156 socket!